Garden Gyan
How to get right flowers this winter
Amarjeet Singh Baath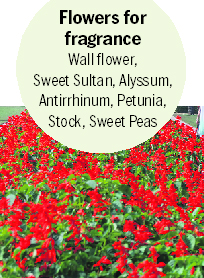 Seasonal flowers add life and colour to a garden. These are spaced between trees, shrubs and lawn and create a balance and proportion in the landscape. A majority of the winter annuals' seedlings are transplanted in the flower beds between September and November and these start blooming from December onwards. A huge variety of flowering plants are available these days and it is very easy to get lost in the huge array of colours and shapes available in nurseries.
Choosing the right seasonal plants is not an easy task. Some of the main factors that should decide the selection of flowering plants are site, space and availability of sunlight. The height of the plants and form of flowers are also important criteria for selecting a variety.
The manner in which the flowers are going to be displayed is another important factor. Always decide in advance whether the plants will be used for screening, background, border, edging or in pots and window boxes.
Seasonal flowers give an impressive display when planted against a green herbaceous border. A single variety of flowers is generally grown in small or medium-sized flowerbeds. One can play on contrast by planting different kinds of flowers in different colours in a large flowerbed. However, you will need to ensure that the blooming period and duration of the selected varieties is the same else the short blooming flowers will form dry patches and be an eye sore.
Size selection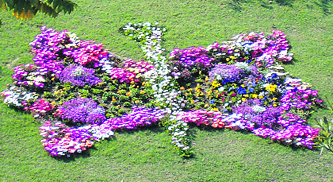 Flowering plants are planted in descending order of their height to give depth to a flowerbed. Plant the tall flower viz Larkspur, Antirrhinum, Coreopsis, Holly Hock in the background and place medium-sized flowers varieties like, Marigold, Calendula, Antirrhinum, Lupin, Sweet Sultan in the middle. Front edging is commonly planted with Alyssum (white/blue/pink) Candytuft (white) and Ice Plant (mix or single colour). Ice plant gives a sparkling effect to the garden when it is grown along the pavements.
In public gardens where there are trees under which grass does not grow wellshade-loving plants like Salvia, Cineraria or Begoia will make the dull area lively. Make circular flowerbeds around the tree trunks to give a floral base.
Where the garden area is big, a large impressive flowerbed is desirable. There could be multiple flower beds with single variety in different colours viz Petunia, Antirrhinum, Phlox, Verbina. Different kinds of flowers when planted together also form a good combination like you can try the Petunia/ Salvia/Petunia combination.
The Perfect match
Screening— Hollyhock, Lady's lace
Background— Sweet Pea, Corn Flower, Larkspur
Border— Antirrhinum, Corn Flower, Helichryson
Flowerbed— Acroclinum, Antirrhinum, Kale, Branchycome, Calendula, China Aster, Sweet Sultan, Wall flower, Cosmos, Dahlia, Sweet William, Dimor, California Poppy, Gerbera, Gypsophila, Lupin, Stock, Nemesia, Petunia, Salvia, Cineraria, African Marigold, French Marigold, Nasturtium.
Edging— Antirrhinum dwarf varieties, Branchycome, Pink, Candytuff, Sweet Alyssum, Ice Plant, Verbena, Pansy.
Pots— Bellis perennis, Branchycome, Pansy, Kale, Dahlia, Sweet William, Carnation, Pink, Matricaria, Gazania, Lupin, Ice Plant, Nemesia, Petunia, Salvia, Cineraria, Nasturtium, Pansy.
Window-boxes— Calendula, Geranium, Petunia, Phlox, Nasturtium, Verbena, Pansy.
Colour effect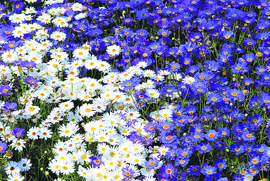 An aesthetically planned flower bed with right colour choice always gives a vibrant effect. Winter flowers are generally of warm colours and as the weather starts becoming hot pleasant colours like pink, mauve give a soothing effect. A gardener must know about the basic colours (red, green, yellow) cool colours (blue, green) warm colours (yellow, orange, red) neutral colours (black, white). White flowers are commonly grown to accentuate the colours of the accompanying flowers. Muncell Colourwheel can help in choosing the right colour scheme.