Extreme thrills
Adventure addicts, who crave the adrenaline rush and laugh in the face of danger, tempt fate with every free fall and jump. welcome to the bold, brave new holiday sports
Shobita Shivshankar
For the thrill of the moment, they risk life and limb. No sport excites them, which doesn't get their pulses racing, hearts pounding and adrenalin shooting. A free bungee fall from a 250 metre tower. A lunge from a cliff feet tied to snowboards and hands flailing. A motorbike ride down the side of a mountain on a slippery dirt track where one wrong move could prove fatal. A gravity defying ski jump. Chasing speed boats ripping through water at 300 km per hour. Or rafting against rapids, which crash into mountains.
Nothing is too dangerous for them. There's that sudden surge to defy death. And then, the plunge. The more the risks, the more the thrills.
Welcome to the world of extreme sports and meet people who tempt fate with every free fall, every ski jump and every turn of a dirt track. Nearly all survive. Though some are known to succumb to grievous injuries. Yet they keep playing the gut wrenching games, which bring them to the very precipice.
Extreme sports are compelling, intriguing, exciting, exhausting and fulfilling. And those who indulge in them claim that once you've diced with death, you are past the point of no return. From then on, they are like addictive drugs, which hook you for life.
Extreme skiing, for example, involves making your way from the top of a mountain to the bottom using only the two skis attached to your feet. Extreme skiers often have to tackle huge drops and treacherous rocks on their way to the bottom and without the help of sticks or poles used by skiers to balance their body weight.
In heli-skiing to get to the top of the mountain, the pros usually get a lift from a helicopter, while others ski up to the top with their snow boards strapped to their backs.
No limits
Even a gentle water sport like river rafting can have an altogether different connotation for a thrill seeker. The thrill of an unridden wave lurking in the gushing waters. And after you get hoisted up, then comes the steep descent, raft and all, till you come hurtling down in the water.
"I look for long, violent, extremely unrunnable stretches of river," says Viresh Saigal, a Delhi-based adventure enthusiast, who calls himself a 'River Rat' and has done extreme rafting in the Indus river in Ladakh, Teesta in Sikkim, Brahmaputra in Arunachal Pradesh and Ganges in Rishikesh.
Saigal laughs at the mention of danger. "When someone says that only a fool would challenge these rapids, I know I have found my thrill. So, when most other people are carrying boats along the bank to avoid an unrunnable stretch of the river, I am right where the action is."
The thrills are virtually the same in speedboats except here you are not driven by the elements of nature like the gushing waters and high rapids. The elation is to race these at speeds varying between 150 and 250 kmph. And more the bumps and bounces, the higher are the thrills.
At times, the exhilaration comes in pairs. Surfers harnessed to these speedboats skim the water at such unbelievable speeds that a fall can result in severe injuries, or worse, plunge the surfer fathoms into the water. So why do they do it? "Because they are constantly chasing the ultimate rush," explains Saigal.
Courting danger
When it comes to courting physical danger, there is no sport as risk-prone as bungee jumping. An insane, near-death experience, as many will call it. But for extreme sports lovers, there can be nothing more satisfying than jumping off a high bridge or a cliff with feet harnessed to a long rope.
Close to sky diving, bungee jumping has veritably seized the minds of sensation seeking people. Listen to some of the remarks.... "It's the thrill of swooping down like a bird...the free fall is the world's most awesome experience.... It's liberation man…. A complete freedom of the mind. After a 250 m bungee jump, there is no fear left in the world."
Suicide-prone maniacs? Or simply people who invite death for a lark? Psychologists say most people go for extreme sports to appear daring while a few actually crave thrills and challenge.
Is that what is compelling a growing number of otherwise normal individuals to take free falls from cliffs, ride motorbikes like daredevils, dive off bridges attached only to a large rubberband or skim over water at nerve-tearing speeds?
Psychologists say that motivations vary but the biggest draw is still the life-affirming adrenaline rush. Others say that it might not be the physical rush as much as the appearance of living on the edge that attracts some people to the perceived danger of extreme sports.
These people are true addicts who would not be happy unless they push the limits. They do what others only dream of. They follow their own desires, not people's expectations of what they should be doing. Instinctive and compulsive, they let nothing come between them and their resolve to break all rules of the game.
AN INDIAN ADVENTURE
India is a land of snow clad mountains, tempestuous rivers, unspoiled beaches, a rich coastline, and even deserts. It offers exciting sports experiences. There are a number of places you can visit in India for adventure sports.
White water rafting
Manali and the nearby Solang valley and Rohtang Pass offer skiing and heli-skiing. Lahaul and Spiti are not too far away and are known for white water rafting, trekking and mountain biking.
Skiing and tobogganing
Fagu and Kufri close to Shimla are well known for their amazing ski slopes. The snow-covered slopes here also offer tobogganing — riding downhill on a sled with handrails.
Heli-skiing and snow boarding
Gulmarg at the altitude of 2,730 metres offers heli-skiing and is home to Asia's highest and longest cable car system. The nearby Pahalgam and Khilanmarg have skiing and ice-skating.
Slalom racing
Auli in Uttarakhand has sports such as slalom racing, cross-country skiing and downhill skiing. It is also popular with trekkers. You can also enjoy the cable car rides, rope lifts and snow-boarding.
Scuba diving
The golden sands of Bangaram in the Lakshadweep Islands offer excellent deep sea adventures. Deep sea scuba diving here is one of the most thrilling water experiences.
Snorkelling
Jolly Buoy and Red Skin Islands in the Andaman and Nicobar Islands are best known for snorkelling. The sea here offers some exotic views of marine life and coral sea beds.
Hang and para-gliding
At a height of 7,500 feet, Bir-Billing in the Kangra valley of Himachal Pradesh is considered to be one of the best hang-gliding and para-gliding take-off points in the world.
Hot air ballooning
Ranthambore in Rajasthan is not just one of India's best known tiger reserves but is also known for hot air ballooning. View the tigers from the skies as your balloon soars high.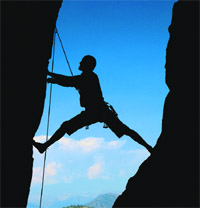 RAPPELLING & ROCK CLIMBING
Rock climbing and rappelling are tough adventure sports that require practice. While rappelling involves descending from a cliff harnessed by a rope and suspended in a standing position, climbing up a rock is more of an endurance test.
Price: Rs 750 per person for full day, including gear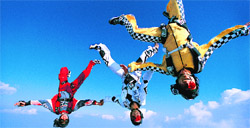 SKYDIVING
This is an adrenalin-pumping sport for those who are not daunted by dizzy heights. Skydiving is a sophisticated form of parachuting. In parachuting, one jumps off a plane from around 350 metres whereas in skydiving, the minimum height of the jump begins from 1,500 metres.
Price: Between Rs 15,000 and Rs 25,000 per sky dive with an instructor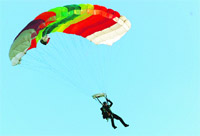 PARAGLIDING
One of the most popular adventure sports, paragliding fulfills man's dream of flying like a bird with the help of a lightweight and foot-launched engineless glider from a mountain. With favourable wind conditions, one can be airborne for hours and attain heady heights.
Price: Joy ride for around Rs 650 for two to three minutes and long flying Rs 1,500 for 10 -15 minutes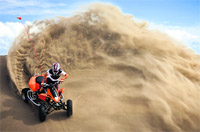 QUAD RIDING
This is adventure with an edge. Go quad biking. A quad bike is a four-wheel all-terrain vehicle (ATV) with handlebars. The bike can kick up a literal storm in the desert and is popular in places like Egypt, Israel and the Californian deserts. It can be found in adventure resorts in India also.
Price: Rs 75 per lap on a 50cc ATV.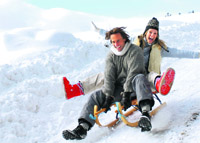 TOBOGGANING
Tobogganing involves sliding downhill snow-covered slopes on a sled with handrails. The sled is constructed of thin boards curled upward at the front end. Thrills and excitement are guaranteed when the sled gathers speed and starts hurtling down to the base of the mountain.
Price: In Canada or Switzerland, around $10 (Rs 55) per hour.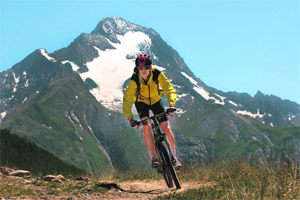 MOUNTAIN BIKING
This sport is not for the faint-hearted. Mountain biking involves riding a special bike on a rough mountainous terrain that is strewn with rocks, sharp turns and steep declines and ascents. Bikers are known to lose two to three kilos after a day of the rough and tumble of mountain biking.
Price: Rs 1,500 per person, which includes bike, packed lunch, snacks and vehicle support.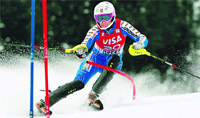 SLALOM RACING
This is another form of skiing. Though the skiing boards and hand sticks are the same, here one does not descend down the mountain freely. Instead, it involves skiing between poles that are erected some feet apart. The quick in-and-out turns makes skiing more challenging.
Price: Rs 950 per day, including equipment.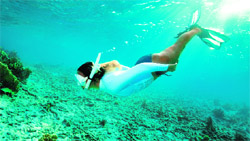 SNORKELLING
This is a gentler form of scuba diving. An adventure enthusiast requires a dive mask, swimming fins and a breathing tube called snorkel. It involves surface swimming less than one foot inside the water while breathing through the snorkel and enjoying the marine life though the dive mask.
Price: Rs 800 per hour.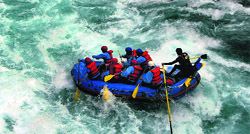 WHITE WATER RAFTING
Though white river rafting is as old as the times when man first invented boats and learnt to row down rivers, it is only in the last century that it has taken the shape of a sport when people discovered that running down a raging river in an open raft can be one of the most electrifying adventures.
Price: Rs 600 for three-hour trip, including equipment.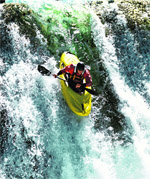 KAYAKING
This is a recreational sport with an element of risk. Kayaking can be done in the sea, lake, or a river using wide, highly stable kayaks. Close to canoeing, kayaking can turn rough and extremely thrilling when rapids and waterfalls are encountered, which can usually overturn them.
Price: Rs 1,750 per day, including the equipment.