M A I N N E W S
Will miss meetings with Khar: Krishna
Tribune News Service
New Delhi, October 27
Having resigned as the External Affairs Minister ahead of the Cabinet reshuffle, S M Krishna may have no regrets but he will perhaps miss his regular meetings with Pakistan Foreign Minister Hina Rabbani Khar which did help in reducing tension and keeping on the track the process of normalisation between the two South Asian neighbours.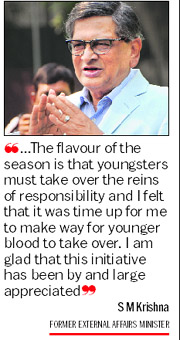 At an informal interaction with the media at his residence this morning, the 80-year-old veteran politician acknowledged that he had established a 'good understanding' with glamorous Khar, who is some 45 years younger to him.
Krishna noted that he had undertaken two trips to Pakistan (in July 2010 and September 2012) while Khar visited India in July 2011. The meetings between the two leaders helped improve the relationship between India and Pakistan, he added. The two had also held talks on a few occasions on the margins of international meets in different countries.
According to Krishna, the other foreign ministers with whom he was able to build a close rapport during his stewardship of the External Affairs Ministry in the past three-and-a-half years were Yang Jiechi (China), Antonio de Aguiar Patriota (Brazil) and Maiti Nkoana-Mashabane (South Africa) and US Secretary of State Hillary Clinton. "I had a good equation with Hillary Clinton...anyway she is also laying down office,'' he remarked with a broad smile.
Having held almost all coveted positions a politician actually dreams of, Krishna appears set to return to his home state of Karnataka to gear up the Congress party machinery for the Assembly elections in the state next year. His aides dismissed reports in the media that he
might take over as the chief of the 14th Finance Commission.
Claiming that he was leaving his office with a great sense of contentment, he said it was 'time up' for him to make way for younger blood. "...The flavour of the season is that youngsters must take over the reins of responsibility and I felt that it was time up for me to make way for younger blood to take over. I am glad that this initiative has been by and large appreciated," he said.
On whether he quit on his own or was asked to resign, Krishna said, "The decision came from within. And my wife had a major role to play in the decision making."