Authoring India
An increasing number of foreign writers, be they historians or Indophiles, are publishing India-centric books which are not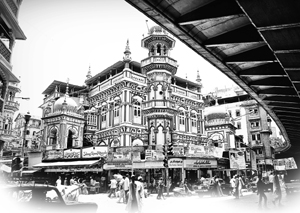 ambitious in scale but deal with the everyday life of common Indians
Mukesh Khosla
Almost each month, readers are greeted with new names on the bookstands and the writing within the covers is refreshingly original and true to life. A sea change from some years back when it was only overseas names like Salman Rushdie, V.S.Naipaul and Mark Tully who seriously pursued a career in writings on India.
---
Arts
Diva of dance
From background dancer to a legendary choreographer, Saroj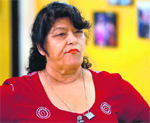 Khan, who is the subject of a 57-minute documentary, has come a long way
Shoma A. Chatterji
Saroj Khan is one of the most celebrated and awarded dancer-teacher-choreographer in Indian cinema. She is also the subject of a 57-minute documentary The Saroj Khan Story produced by the Public Service Broadcasting Trust and directed by young filmmaker Nidhi Tuli.
Global Kathak
Gnosis stages moments in the lives of two complex characters from the Mahabharata — Gandhari and her first-born, Duryodhana — and can aptly be described as dance-theatre
Deepa Punjani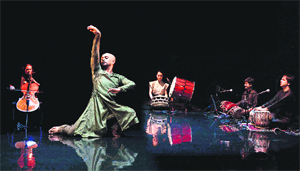 Recently, the Akram Khan Company from the UK visited India as part of a six-city tour of the Park's New Festival, curated by the Prakriti Foundation in Chennai. When Farooq Chaudhry, producer, manager and co-founder of the Akram Khan Company was asked how he would best define the work his company does, he said, "I hate this question because I have to look for a superficial label.
A still from Gnosis Photo: Richard Haughton
in step
Mouse power
Deadmau5, who is known for wearing large mouse headdress in live shows, is fast becoming one of the leading names in electronic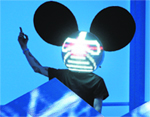 dance music
Piya Sinha-Roy
deadmau5 may be one of the rising stars in the electronic dance music phenomenon sweeping the United States — but don't call him a DJ. And while the Canadian is currently enjoying his biggest commercial success so far, he's not happy about finding himself high up on music rich lists.


---
SPORTS
The new poster boys
Gagan K. Teja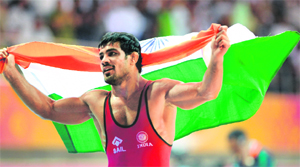 BACK to back medals in two consecutive Olympics and double delight at the London extravaganza has certainly helped wrestling regain the popularity it once enjoyed in the country. Sushil Kumar and Yogeshwar Dutt have become the new poster boys of Indian sports but it is still too early to say that it will change the entire scenario for this sport.
Sushil Kumar's medals at Beijing and London Olympics have turned the tide for other wrestlers Photo: AFP
---
travel
The bridges across forever
Lucerne is an ancient town with strikingly modern sensibilities. One of Europe's oldest covered bridges serves as its centerpiece, and fresco-adorned historic houses line the streets
Hugh & Colleen Gantzer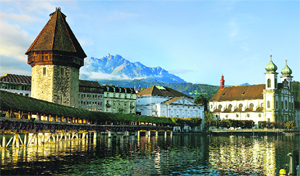 THE bridges define the town; and its incredibly blue lake. The blue is deceptive. Its glacial melt water is so clear that it reflects the blue of the high sky above it. The beauty of Lake Lucerene, or Luzern as it is sometimes called, set the course of its history and its legends. Three hundred years ago, monks were attracted by the serenity of the lake and built the Monastery of St Leodegar on its shores.
The iconic Chapel Bridge cascades with flowers and has eye-catching paintings on its gables
Globetrotting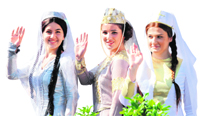 A city celebrates
Tbilisoba is an annual October festival, celebrating the diversity and history of Tbilisi, the capital of Georgia. It was first held on October 28, 1979, and has since become an established tradition. The festival features open-air concerts of traditional music and dancing and various cultural events, cantered on Old Tbilisi, the historical part of the city.
Georgian women wear traditional costumes during the annual Tbilisoba City Day celebration in Tbilisi.
---
Entertainment
Language no bar
With big budgets and rising boxoffice collections, Indian cinema from the regional outposts is moving beyond the margins it was once trapped in
Saibal Chatterjee

Punjabi cinema has rarely ever had it so good. The year 2012 has seen films made in the state cross new milestones at the boxoffice. Two titles released within a month of each other — Jatt and Juliet and Carry on Jatta — smashed all records and raked in big bucks.
Deool, starring Nana Patekar, earned ~2.5 crore in its opening week, a record for an independent Marathi film
Master of the craft


Yash Chopra is often referred to as the king of romance but a look at his oeuvre reveals that he experimented with different genres
M. L. Dhawan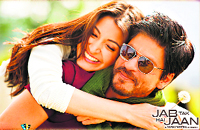 With Punjab and Punjabiyat being the underlying theme, Yash Chopra loved making romantic films. According to Chopra, filmmaking is a business of ideas and nothing can survive with hype alone. He had his fingers firmly on the pulse of the audience.


Jab Tak Hai Jaan is Yash Chopra's upcoming film

---
Society
Of Sikhs in the Deccan
The descendants of Sikh soldiers sent by Maharaja Ranjit Singh to support the Nizam are not homogenous
Birinder Pal Singh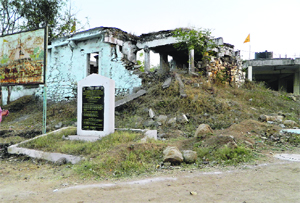 MANY of us in Punjab do not know about the defining traits of the Sikhs living in the Deccan. They have three types – Punjabi, Dakhani and the tribal Sikligars and Banjaras. For a local person, Sikhs have beard and turban who visit the Sikh "temple". In case of need, a Sikh neighbour is the first among others to extend a helping hand. It is gratifying that essential tenets of Sikhism are practised by them. They too claim: "Asin Sikhi sambhi hoyi'ai. Punjab'ch tan bura haal'ai."
Gurdwara Barambala, now in ruins, was constructed at Sikh Chhawniat
---

FRUIT FACTS