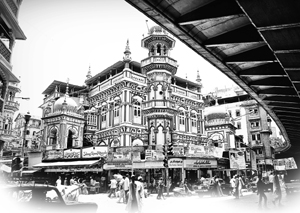 Almost each month, readers are greeted with new names on the bookstands and the writing within the covers is refreshingly original and true to life. A sea change from some years back when it was only overseas names like Salman Rushdie, V.S.Naipaul and Mark Tully who seriously pursued a career in writings on India.
Today, so many writers of foreign origin have arrived that they are threatening to outnumber even their "native" counterparts. It is thus not surprising to see the pile of such books increasing by the day.
Some of the notable recent titles include, American author Dave Prager's Delirious Delhi: Inside India's Incredible Capital (Harper Collins), Ruth Prawer Jhabwala's A Lovesong for India:Tales from East and West, British writer and historian Patrick French's India: A Portrait, Oliver Balch's India Rising: Tales from A Changing Nation, and Nine Lives: In Search of the Sacred in Modern India by celebrated Indophile William Dalrymple.
Then there are David Tomory's two India-centric books Hello Goodnight: A Life in Goa and Seasons in Heavens, James Cameron's Indian Summer, Geoffrey Moorhouse's Calcutta, Gillian Tindall's City of Gold, Sarah Saindy's Lost Monuments of Delhi and the list could go on and on.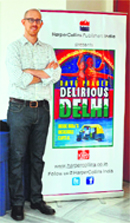 Dave Prager's Delirious Delhi: Inside India's Incredible Capital is a racy read
Everyday India
Most of these writers know India more than a number of Indians themselves. They travel to remote corners of the country, live with the locals, research customs, history and dialects, observe every other minute detail and make copious observations in their diaries. Interestingly, however, many of these books are not ambitious in scale or volume. Many times their settings are usually the everyday world of India.
Some of these authors come with writing assignments given by foreign publishers. Others simply come to India and are so fascinated by its people and customs that they turn into instant writers. Many of these amateur chroniclers manage to find overseas publishers who are equally interested in India and its people. A few attain instant stardom and many like Mark Tully and William Dalrymple achieve greatness with authoritative works like No Full Stops in India and City of Djinns, respectively.
Acclaimed bestseller
Take William Dalrymple, for example. A British journalist, he came to India in 1989 on a four-year assignment to report for the London-based Sunday Correspondent and The Spectator. A gifted writer who had won the John Llewelyn Rhys Memorial Prize at the age of 22 for his highly acclaimed bestseller, In Xanadu, Dalrymple simultaneously began researching for a travel-based book on India.
The result was City of Djinns, one of the best contemporary works on modern India. Reviewing the book, the Times Literary Supplement wrote, "Delightful...Surely one of the funniest books about India..." The Daily Mail added, "Dalrymple is probably the best travel writer of his generation." Said the Financial Times: "Dalrymple encounters a range of folk who continue to give Delhi its special character. It is fine, entertaining, well-written stuff, thoroughly researched."
Unlike Dalrymple, Dave Prager came to India in 2009 as creative head of Wunderman India, an advertising agency. His two-year stay in India resulted in a popular blog, Our Delhi Struggle and then the book Delirious Delhi: Inside India's Incredible Capital. The book's account is from the eyes of Dave and his wife Jenny, whose top-to-bottom snapshot of Delhi is at once critical and funny.

By writing City of Gold, in which chaotic Mumbai comes alive, Gillian Tindall (left) has done the city proud (L) ND Ruth Prawer Jhabvala's Indian odyssey continues with Lovesong for India: Tales From East and West
Love for India
Or take the case of the late James Cameron, a journalist-turned-travel writer who fell in love with India when he came here for his honeymoon in the hot and sweltering months of June and July of 1972. The result was An Indian Summer in which he poured out his heart for India—which he describes as "at once exasperating, generous, beautiful and corrupt."
The book was described as "The diary of a year in the life of a sharp and sensitive man spent in various Indian settings.....Delightful pages that evoke everything of the old pattern of human behaviour under the Indian sun."
Most booklovers feel that An Indian Summer is a classic which will take its place among the greatest works of AngloIndian literature. According to critics the book was both a stunning evocation of India and a personal memoir...at once entertaining, enlightening and affecting.
If Cameron talks about the Indian summer, veteran author and film script writer Ruth Prawer Jhabwala's latest A Lovesong for India:  Tales from East and West is a delightful assortment of short stories. Writing for the 84-year-old author is no meteoric burst or a stylistic flash. She believes in an `idea'. A scrap of news or a face seen in a bus is enough for her to weave a story.
Stories about the middle class
In her latest book, the celebrated writer is where she likes to be. A territory between the East and the West — of garish Bollywood parties of the 1950s, upstate New York during the AIDS crisis. Many stories revolve around middle class families and are set in India, England and New York.
Jhabvala won the Booker Prize in 1975 for Heat and Dust and then the Oscars for her screenplays for A Room With a View and Howard's End. Her stories reflect her experiences among the artistic elites of India and America. According to The New York Times, the book is remarkable and unwavering. "This collection is the hallmark of Jhabvala's celebrated career and a testament to her balance, subtlety, wry humor and beauty."
If Jhabwala seeks out the perplexing relationship between overseas and Indian cultures, then British freelance journalist Oliver Balch travels the length and breadth of India to showcase an economy— once derided as the lumbering elephant of Asia — that is among the fastest rising in the world. He paints the picture of a swiftly changing country where people are being pulled out of poverty by new avenues of livelihood.
Scotsman, Alexander Frater too travels through India though not to write about the rising prosperity. His mission is more sublime — to follow the Indian monsoon. His wonderfully conceptualised book, Chasing the Monsoon is a very ambitious and unusual journey. It's a travelogue as refreshing as a downpour after a long spell, as a reviewer describes it. Needless to say the book is eminently readable and an instant hit.
Mumbai musings
The same can be said of Gillian Tindall's Mumbai chronicle City of Gold. She calls Mumbai "a chaotic city of over three hundred years grandeur, it has acted as a magnet for people from every corner of the globe." She says it is the Mecca for fortune seekers, the second-biggest city in the British Empire, the vibrant metropolis — a city of gold. A greatly researched historical perspective pervades through the book. Reviewing the book, Guardian simply said, "Miss Tindall has done Mumbai proud." To Gillian Tindall, James Cameron, Ruth Prawer Jhabwala, Dave Prager, Mark Tully and William Dalrymple, Indian contemporary travel writing owes a debt of substance. They have taken off from the literary launch pad and are soaring comfortably in the world of serious readers and also reviving a new touristic interest in the country.


(1) Oliver Balch's India Rising has made a mark (2) William Dalrymple's City of Djinns is well-researched (3) Patrick French's India: A Portrait is from a historian's perspective