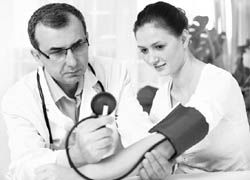 It is common knowledge that the incidence of cancer is increasing rapidly all over the world. It is one of the biggest killer diseases of the present era. According to the International Agency for Research on Cancer (IARC), a branch of the World Health Organisation (WHO), global cancer rates are expected to increase by 50 per cent by 2020.
Indian statistics on this subject is scanty and whatever is available is not reliable. We have to depend upon foreign data for analysis.
GLOBOCAN 2008 estimates that about 12.7 million cancer cases and 7.6 million cancer deaths are estimated to have occurred in 2008 all over the world. It is also estimated that of these, 56 per cent of the cases and 64 per cent of the deaths occurred in the economically developing world.
Cancer has attracted research workers from all over the world, and billions of dollars have been spent on it. Still the exact cause of cancer is not known and, therefore, the exact reason for the increased incidence of cancer is also not known.
Reasons for increased incidence
Let us analyse some of the factors that may be responsible for the increasing incidence of cancer.
Increase in population
There has been a tremendous increase in the population all over the world, but we Indians have surpassed all.
The present population of India is 1,028,737,436 and it is estimated that by 2025 we will overtake China. India's population accounts for 17 per cent of the global population, or it can be said that one out of six persons living on the earth is in India. Compare this with the Indian population of 361,088,090 in 1951; it has gone up three times during the last 60 years.
It is, therefore, but natural that the absolute number of cancer patients will also increase. The total population of under-developed countries is much higher than that of the developed countries. The total number of cancer cases is higher in developing countries (56 per cent) compared to developed countries, although the incidence of cancer (percentage of population developing cancer ) is not even half of that in the developed countries.
Aging of population
Cancer can be seen at any age; a child may be born with cancer, although it is mostly seen in elderly persons and globally the longevity of life has been increasing and this is one of the main reasons for finding more number of cancer patients. In 1947, at the time of India's independence, the average age of an Indian was 32 years and it is now 62. The average lifespan of both men and women is rising all over the world.
The average lifespan in the US is about 75 years and this may also explain why cancer is more common over there.
Awareness-cum-better diagnostic facilities
Medical science has progressed rapidly, newer diagnostic facilities like CT scan, MRI, PET CT scan, tumour markers, mammography, FNAC, endoscopy and other tests can identify cancer at a very early stage when cancer does not even produce any symptom (complaint) or sign in the person.
Thanks to increasing awareness, apparently healthy persons get regular periodic medical check-ups, and cancer can be detected even in asymptomatic persons.
Earlier the patients were very reluctant to visit doctors, and even if they visited the medical personnel, the cancerous diseases could not be identified or diagnosed. But now the scenario has changed.
Environmental factors
Increased use of pesticides, insecticides, atmospheric pollution, contamination of underground water by industrial effluents and pollutants are all known to contain carcinogenic agents and give rise to an increasing number of cancer cases.
A WHO press release announcing its cancer report contains a section, "Poverty, affluence and the global burden of cancer." It notes that while those who live in industrialised countries are twice as likely to be diagnosed with cancer than those living in developing countries.
Increased use of tobacco
It has been conclusively proved that use of tobacco in any form (cigarette, bidi, hookah, gutka, khaini, etc) can produce cancer. Cancer of the mouth and lungs is definitely known to be closely related to tobacco, but cancer of the stomach, oesophagus (food-pipe), prostate, urinary bladder, the pancreas and even the female breast has been linked to the use of tobacco.
Effect of dietary constituents: Fast food, which is definitely unhealthy, has become a common practice with the younger generation of today. It is well known that fast food and non-vegetarian food without generous additions of fresh vegetables produce constipation; and constipation is linked to cancer of the colon (large intestine). Consumption of fat with animal protein, as it happens with the consumption of beef and pork, is known to produce cancer of the colon and this perhaps is the reason for a higher incidence of colon cancer among people living in the West as compared to eastern countries.
Rampant use of CT & PET scan: The present era has seen a tremendous increase in the use of radiological investigations, particularly CT and PET scans, which definitely give harmful radiations to patients. It has been estimated that in the US 3 per cent of all cancers are because of repeated scans. The incidence is much more in children who have been subjected to CT scans on multiple occasions.
Social and public health issues:
The report argues that "a country must be prepared to allocate a certain priority to cancer-control activities, and possess a basic public health and health care infrastructure." This advice runs counter to the current trend of governments attacking or even dismantling health care infrastructures.
Some areas in Punjab have a very high incidence of cancer probably because of the pollution of underground water, but no concrete step has been taken yet to prevent the health catastrophe.
In any case, cancer is a disease that cannot be prevented in a majority of the cases. The efforts should be made to detect it at the earliest and then seek good treatment. These two steps can cure this disease in a large number of cases.
A large number of cancer cases can be prevented through the application of the existing cancer-control knowledge and by implementing programmes for tobacco control, vaccination (for liver and cervical cancers), early detection and proper treatment as well as public health campaigns promoting physical activity and a healthier dietary habit. Clinicians, public health professionals, policy makers and people's groups can play an active role in accelerating the application of such interventions.
The writer is former Senior Professor and Head of Surgery, PGI, Chandigarh, was the President, Association of Surgeons of India.