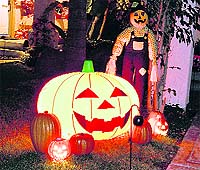 What a scare!
Talking about evil spirits, a partial thanks to how the country and individuals operate, we have loads in the form of corruption, drug abuse and poverty, among others, already around us! Oh, before you get too confused, simply look at the calendar - it's Halloween Day and we must acknowledge the real evil spirits. A popular Western concept, discotheques in Chandigarh have also decided to go scary!
Shining affair

If not buyers, fashion weeks, ensure overnight popularity. That is how a designer is referred to…a participant in a major fashion week of India. Mira Gulati, a jewellery designer and owner of high-end jewellery brand, Mirari, on the contrary, distanced herself from the India International Jewellery Week after showcasing her work once at the event in 2010.
jewel zone: Mira Gulati. Photo: Pradeep Tewari

A new chapter begins
Sayantani Ghosh is happy with her exit from the Bigg Boss house, but at the same time she is also excited to go back to work.
Par Excellence
Dial the backswing with the shoulders
In the last week's article, the relationship of the length of the backswing to the length of the shot was explained. The clock system is used as a reference for both the backswing and the follow through.
Master Chef
Noodle bowl therapy
The boom-boom of Diwali crackers has yet to begin but the wedding season sure has started with a bang! Chicken tikka, butter chicken, murgh malaai, chicken steak....I've eaten so much chicken, I'm almost beginning to cluck! You know what I crave? Something green, fresh and crisp, boiled to the perfect point beyond rawness but before the onset of sogginess. A steaming bowl of soup sounds perfect!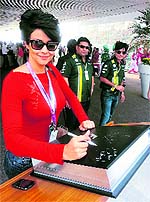 Bollywood's outing
Bollywood stars were present at the second edition of Indian Grand Pix which concluded in New Delhi last weekend. Actress Neha Dhupia, whose film Rush opposite Emraan Hashmi released last weekend, was spotted having fun with television presenter Mandira Bedi. The two ladies bonded well and enjoyed each other's company. Gul Panag was spotted signing the charity edition of The Opus Book on the Indian Grand Pix. The hand stitched book weighs 30 kg. Sonakshi Sinha was there with actor Ajay Devgn to promote their upcoming Son Of Sardar.

Racing ON: Gul Panag
Sleepless in Mumbai

Publicity-hungry bombshell Veena Malik is not in a mood to take any chance for her upcoming movie and that's why she is not leaving any stone unturned. Nowadays, she is busy on the streets of Mumbai as she is searching for people on the streets to help her become her character for The City that Never Sleeps. She was seen wearing a burqa while roaming on the streets of Mumbai because she wants to avoid the crowds mobbing her.
Ground work: Veena Malik