Haldia port operator quits Bengal on safety concerns
Tribune News Service & PTI


Why the pullout

Problems have been brewing at Haldia Dock Complex after berth operator Haldia Bulk Terminals sacked 275 employees early this month


HBT alleged that three of its management officials and two of their family members were kidnapped by outsiders who warned not to return to Haldia


West Bengal Chief Minister Mamata Banerjee had said full police protection was being provided at Haldia
Kolkata, October 31
Cargo handling company Haldia Bulk Terminals, jointly promoted by the ABG Group of India and French logistics company LDA, today announced its immediate exit from West Bengal's Haldia port citing unsafe work conditions.
HBT had alleged that its officials Capt Manpreet Jolly, Jagdish Behara and Bhusan Patil and his wife and one-year old daughter were allegedly forced out of their apartments on the night of October 28 at gun point.
They were driven to the Meceda station and bundled into a train to Kolkata and warned against stepping into Haldia town again. Later, they took a flight to Visakhapatnam, Calcutta Port chairman Manish Jain said.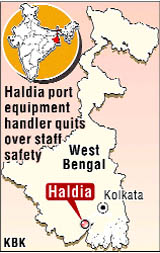 Problems have been brewing at Haldia Dock Complex, run by Kolkata Port Trust (KoPT), after berth operator Haldia Bulk Terminals (HBT) sacked 275 employees early this month stating that they were surplus.
"With a deep sense of disappointment we have to inform you that we have been left with no option but to walk out from Haldia Dock Complex with immediate effect," HBT CEO Gurdeep Malhi said in a statement.
"The ever worsening situation at Haldia has left us feeling betrayed and we hope that the elements responsible for driving us out of Haldia are brought to justice," he said.
Operations of HBT, which handles cargo with mechanised cranes in Berth No. 2 and 8 at the Haldia Dock Complex, have been halted since mid-September. Retrenched HBT workers and trade union workers have been agitating inside and outside the port.
Yesterday, West Bengal Chief Minister Mamata Banerjee had said that full police protection was being provided at Haldia.
The Kolkata Port Trust had a few days ago placed an application before the Calcutta High Court for direction to HBT to resume work since an agreement for a resolution to the impasse was already signed, but work was not resumed by the private cargo handler.
Earlier in the day, the HBT counsel told the Calcutta High Court vacation bench of Justice Sambuddha Chakraborty that a letter was faxed to the port authorities informing them of its decision.
Kolkata Port Trust officials said the contents of the letter sent by the HBT, alleging that KoPT was not maintaining contractual obligations, was being examined.
Reacting to cargo handler HBT's exit from Haldia port, the Bengal Chamber of Commerce and Industry (BCCI) said the state government should focus on attracting big-ticket investments or the state would be in trouble.