Time to tighten purse strings, PM tells ministers
* Says high fiscal deficit hurting investment
* Full Council of Ministers meets for first time after reshuffle
Tribune News Service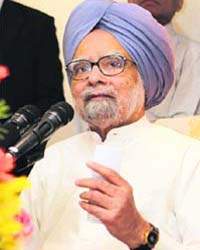 New Delhi, November 1
Concerns over the economy and fiscal deficit and the need to tighten the government's purse strings were underscored at the first full meeting of the Union Council of Ministers here, with Prime Minister Manmohan Singh utilising the opportunity to remind his Cabinet colleagues to farm out work to the younger ministers.
Four days after his government's major reshuffle and expansion, the Prime Minister said the economic scenario ahead was certainly not "unduly gloomy", but a strong resolve would have to be made to meet the challenges and rise to the task of governance.
"While we should take justifiable pride in our successes, it is important to recognise that we are now also experiencing the fallout of difficult economic conditions worldwide. As a result, our growth has decelerated, our exports have fallen and our fiscal deficits are expanding. Of particular concern is the fiscal deficit, which is too high and acts as a deterrent for domestic and foreign investment. These issues have a rippling effect across the economy and on the work of many departments that are represented here... while we need not be unduly gloomy about our prospects, we certainly need to re-double our resolve to meet the challenges before us and rise to the task of governance,'' Manmohan Singh said in his opening remarks.
While recounting that robust economic growth in the past allowed the UPA government to initiate and sustain social sector measures, including health, education, employment, agriculture and rural development, he said the government would pay attention to infrastructure, having set itself the target of realising nearly $1 trillion of investment in the sector.
For this, the government will have to overcome the constraints that are slowing down this investment, he said.
Conscious that his government had 18 months left in office, he said the ministers and the government should not lose sight of the fact that it is also involved in the task of nation-building while working against the political calendar.
Finance Minister P. Chidambaram presented a macro-view of the economy, suggesting that prudent spending over the next five months could help the government consolidate through measures it took recently.
'Give work to junior ministers'
Aware of the oft-heard grievance that senior ministers do not hand over work to juniors, the Prime Minister gently reminded them that several energetic and younger colleagues had joined the Council of Ministers and that they should "...make full use of the capabilities of their Ministers of State by assigning them substantive tasks".