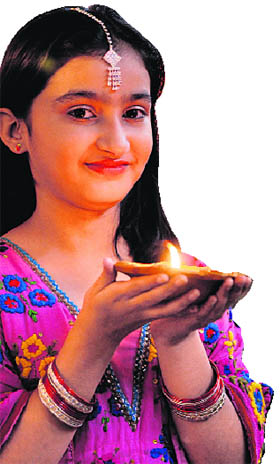 Few festivals in the world can match the sheer grandeur and spectacle of Diwali, which is celebrated in most parts of the country in one form or another. The festival marks the triumph of good over evil and ushers in goodwill and bonhomie. Markets come to life with an array of sweets and homes are lit up with earthen lamps and candles.
For most Indians, Diwali is the time to exchange sweets, buy new clothes and jewellery, settle past debts, extend a hand of friendship and wish all a good fortune. It is also the time to seek the blessings of Goddess Lakshmi, the consort of Lord Vishnu and also the deity of wealth, happiness and beauty.
Four things mark the modern-day celebrations of Diwali — food, light, sound and gifts. Sweets are an integral part of the festival. So are the ubiquitous fire crackers, besides the giving and accepting gifts as also the diyas or the earthen lamps and candles, which are lit up in most homes.
Diyas and candles play a significant role in this festival of lights. The latest are aroma candles, which come in all colours and sizes and in various avatars — plain or scented, in jars or as floaters. These are both soothing and energising as they contain fragrant oils that fill your environment with the right energy flow and banish bad karma.
However, the downside of the festival is the fireworks, which are getting more and more sound-breaking, charged with extra exploding capacities that challenge the sound barrier. The good news is that there has been a simultaneous campaign to shun these noisy crackers and make Diwali more eco-friendly with sparklers that do not damage the atmosphere and are easy on the ears and lungs. The best part of the festival is gifting which has become an integral part of Diwali. Figurines of Goddess Lakshmi and Lord Ganesha are the most popular gifts during Diwali. These can range from a few rupees to lakhs depending on the kind of material used, craftsmanship and the embellishments used which can range from semi-precious stones to the precious ones, besides those in silver, gold and diamond.
Joie de vivre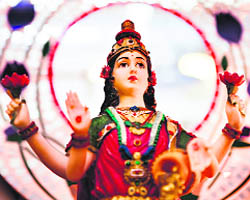 Candles, pooja thalis, clothes, sweets, dry fruits, cookies and chocolates all do brisk sales in an atmosphere charged with cheer and joie de vivre. Since Diwali is considered one of the most auspicious times of the year, leading companies launch lifestyle products like televisions, motorbikes, mobile phones, jewellery collections, furniture and a plethora of other products.
Silver is especially popular during the Diwali season with coins which have imprints of Lakshmi and Ganesha being the most in demand. Other silver gifts gaining popularity in trendy homes include photo frames, coasters and glass table supports.
Tempting discounts are offered by retailers to entice customers, who are in a mood to splurge, thanks to the bonuses and other incentives given by organisations. Perhaps, a bulging wallet is one of the reasons why Diwali is sometimes associated with gambling.
Business sense
Indian gifting business during Diwali is estimated to be around Rs 1 lakh and 6,000 crore. The business of crackers and fireworks during the festival is between Rs 800 crore and Rs 1,000 crore at the manufacturer level. But the margins are so high that when it reaches the dealer level, the turnover balloons between Rs 2,500 and Rs 3,000 crore. The average spending of a middle class household on crackers, fireworks and sweets is around Rs 600, which is likely to rise this year due to inflation.
The sale of gold and silver jewellery is expected to drop due to the steep rise in prices. The sale of gold and silver coins and idols as gifts is also expected to fall. These are being replaced by innovative new gifts like iPads, smartphones, watches and pens.
Many companies dealing in gold and silver are offering attractive discounts to lure customers. Tanishq, for example, is offering a flat 20 per cent discount on making charges on select 22-carat jewellery. Similarly, Gitanjali Jewels is offering a free gold coin on the purchase of diamond jewellery.
Cheap Chinese lights have hit the business of candles and diyas. String lights that can illuminate the whole house come for as little as Rs 70 to Rs 100.
All-night card parties are a common phenomenon and have a passionate following during this month. Though there is no religious sanctity or relevance for gambling, it is purely a social offshoot, which tends to get stretched and can cause totally avoidable heartburn.
Customs and tradition
Unlike gambling, some customs and traditions of Diwali did have a logic behind them in ancient times. This is also the period between the cessation of the South-West monsoons in India and the onset of the North-East ones, which brings in the mosquitoes and the insects. Lighting up wicks dipped in mustard oil helps to ward off these pests. Besides, Diwali falls on Amavasya (new moon), in earlier times, these earthen lamps provided the necessary illumination for late night functions and get-togethers.
Diwali is also the time when the farmer has disposed of his farm produce and the only things left behind are rats and insects, which lie hidden beneath the heaps. The cleaning up helped to chase away the unwelcome guests after the rains. The ritual of whitewashing the house during Diwali is a direct offshoot of this necessity in olden days.
Like all other major Indian festivals, Diwali is meant to foster a sense of togetherness and belonging with an excuse to socialise and spread good cheer.
Apart from being the most widely celebrated festival, it is one of the prettiest and the brightest of all Indian fiestas. A time to rejoice and celebrate, Diwali signifies the freedom of the human spirit from darkness and oppression.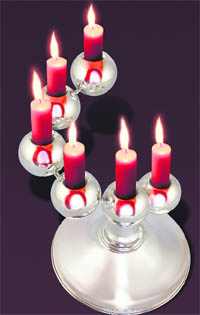 BRING HOME THE SILVERWARE
Delhi-based Cooke & Kelvey offers an exquisite range of silverware for the Diwali season. There's the exquisitely crafted silver aarti thali, the silver Ganesha and Laxmi set on Onyx, elegant silver candle stands and silver Diyas with variations in God figures to light up your home.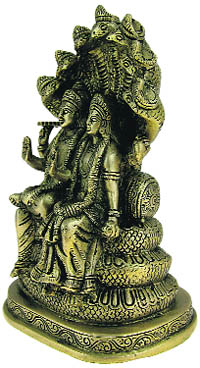 Prices start from: Rs 10,000 (candle stands); Rs 1,00,000 (thalis); and Rs 6,000 (diyas)
VISHNU & LAKSHMI STATUE
World's largest online retailer Amazon is offering a statue of Lord Vishnu and Goddess Lakshmi which is 8.5 inches in height and 3.5 inches in width. Handmade in brass by metal craftsmen from Aligarh, it is ideal for the pooja room, or just as a great collectible.
Price: $280 (Rs 15,400)
MARBLE GANESHAS
Gifting solution company Rcube International has launched the dazzling collection of Lord Ganesha. The collection comprises sculptures made from finely carved and polished marble and decorated with semi-precious stones.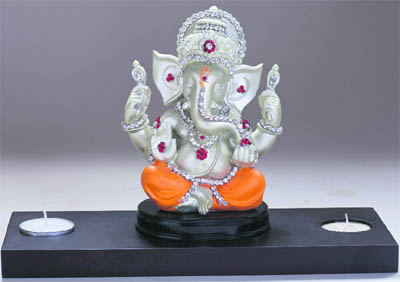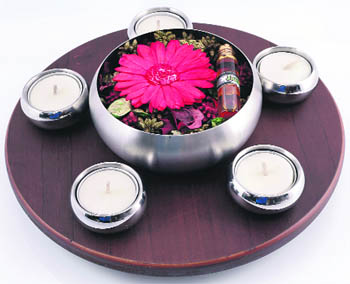 Price: Starting from Rs 1,100
LIGHT AND AROMA SET
Home décor website www.roomstory.com is offering a plethora of gifts for Diwali. Now you can add the magic of shining tea lights to your bedroom or living room with this beautifully designed wooden tray and five double-walled stainless steel tea lights around a decoration bowl.
Price: Rs 2,078
PORCELAIN GODDESS LAKSHMI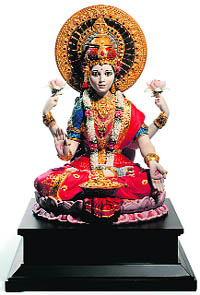 This Diwali take home Lakshmi, the Goddess of wealth, prosperity, good fortune and the embodiment of eternal beauty from Ram Creations, jewellers based in Michigan, USA. The porcelain Goddess Lakshmi in her exquisite pose is in a limited edition of 720 worldwide.
Price: $9,000 (Rs 4,95,000)
TANISHQ FESTIVE COLLECTION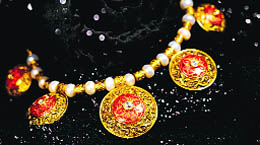 For the auspicious occasion of Diwali, Tanishq has announced a range of gold jewellery. The Festive Gold Collection comprises earrings, pendants and bangles. Tanishq is offering a flat 20 per cent off on making charges of select 22ct gold jewellery and diamond jewellery above Rs 2 lakh.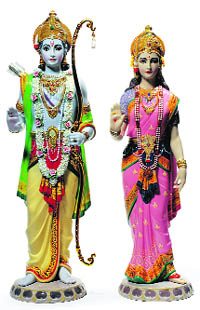 Prices: Vary from item to item
CELEBRATE THE RETURN OF RAMA & SITA
The Festival of Lights marks the return of Lord Rama and Sita after 14 years of exile. Lladro offers the celestial couple in all their glory. The two divinities hold their right hand with the palm forward at the in mudra pose, which indicates divine protection for the believer.
Price: Rs 4,00,000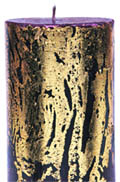 CANDLES FOR A CAUSE
This handcrafted candle by www.roomstory.com is from a women's livelihood initiative Centre for Urban and Regional Excellence that works to empower urban slum women to access basic services of water and sanitation.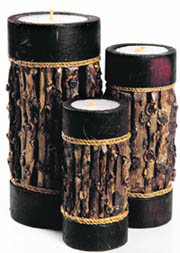 By buying these candles, you will not only brighten up your home but also make a direct impact on the lives of these women.
Price: Rs 135 per candle
NATURAL TWIGS CANDLE SET
This is a very unusual set of candles on offer by World Bazaar near Gurgaon. Crafted from wood and natural twigs, it is the latest material that is bringing a glint in the eye of eco-friendly people. Imported from Indonesia, it is a gift from the jungle, which does not hurt the environment.
Price: Rs 1,000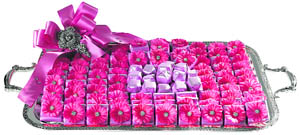 CELEBRATION PLATTERS
Chocolatier Patchi is offering a whole new range of celebration and gift
platters in luxurious finishes and colours from international brands like Ferro Murano, Tiche, Leonardo, Mario Cioni, Rogaska, Zanetto, Topazio and Limoges specially sourced for the festive season of Diwali.
Price: Starting from Rs 1,100
SILVER DIYA STAND
Add radiance to your spiritual space this Diwali with D'mart Exclusif's or simply adorn your home with spectacular idols like a diya stand with a Ganesha idol perched on top. Handcrafted by European artists, there are a host of silver-plated figurines in various shapes to choose from.
Price: Rs 39,500


A FESTIVAL THAT INTEGRATES INDIA
Diwali is perhaps the only festival that is celebrated throughout India in one form or another. In northern India, it is celebrated to commemorate Lord Rama's victory over Ravana. In Karnataka, Diwali is linked with the tale of King Bali, who was so noble that even Gods were jealous of him. So they decided to eliminate him. Lord Vishnu came in the guise of a Brahmin and asked the king for land that would measure up to three of his footsteps. When King Bali granted his wish, Vishnu appeared in his real form and covered the heavens with one foot and the world with another. He asked where he should place his foot for the third step. Bali bowed before him and offered his own head. Vishnu put his foot over Bali's head and thrust him in the nether world. Diwali is celebrated in Karnataka in the memory of King Bali.
In Tamil Nadu, it is associated with the killing of the demon king Narakasur by Lord Krishna. Bursting crackers signifies the destruction of the demon.
In Maharashtra, legend revolves around the son of King Hima, who was doomed to die from a snake-bite on the fourth day of his marriage. On that day, his wife laid gold and silver ornaments at the entrance of the house and lighted innumerable lamps. When Yama, arrived in the guise of a serpent, his eyes got blinded by the dazzle of the lights and he could not enter the Prince's chamber. The wife, thus,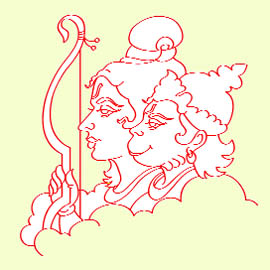 saved her husband from the clutches of death leading to jubilations, which took the form of Diwali.
Among the Sikhs, Diwali is celebrated as the return of the sixth Guru Hargobind Singh from captivity. People lit the way to the Golden Temple in his honour. Now, the people of Punjab not just light diyas but also burst crackers.
Among the Jain community too, Diwali holds great importance. On this day, Lord Mahavira is said to have attained Nirvana. It is believed that the Lord discarded the body and the bondage of all Karmas on the Diwali night and achieved eternal bliss. Indeed, Diwali unites all religions.