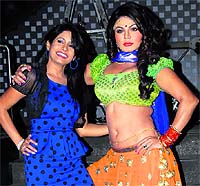 A rocking affair
The noise and the commotion at TAO, Sector 26, Chandigarh, can put an industrial fan to shame; no, it's not a Saturday night, but the set of Punjabi film Pooja Kiven Aa that is in progress! Clear hierarchies and random helping hands run through the site. All this is coupled with an army of assistants; there's a larger-than-life statue of Buddha in one corner and it's all falling into place till someone remarks, "It's a set up for an item song starring Rakhi Sawant."

TWO TO TANGO: Miss Pooja and(R) Rakhi Sawant
Carrying forward a legacy…
The mishap is unsaid but it still pervades the silence of the 'pirated' audio release of the movie Power Cut. The 'handpicked pirates' handed over the fake CDs to those present at the function, everything true-blue Jaspal Bhatti style.

(L-R) Master Saleem, Savita Bhatti and Jasraj Bhatti

RAP & roll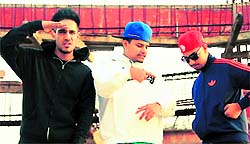 Rehan De…the two words instantly caught the fancy of one of the judges, Karan Johar, on the television reality show India's Got Talent. As for the other two judges, Kirron Kher and Malaika Arora Khan were concerned, they smiled, foot-tapped and gave a 'yes'. It was the moment of a lifetime for Chandigarh-based rap group Raptilez 101, which has now reached the semi-final stage of the show.
Three's Company: (L-R) Daanvir Singh Mavi, Udaibir Singh and Gaganpreet Singh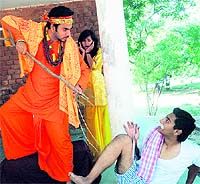 The grand stage
The Chandigarh Theatre Festival is an annual feature of the Chandigarh Sangeet Natak Akademi to promote theatre as well as artistes. The 7th edition of the festival will be held from November 11th to 12th and then November 14th to 18th at the Tagore Theatre, Sector-18, Chandigarh. The festival aims to promote both regional and Hindi language theatre. As many as seven theatre groups from the region will be participating in the event, which will be dedicated to the memory of Jaspal Bhatti, Dinesh Thakur and AK Hangal.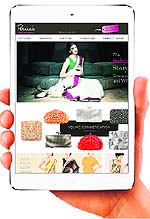 Web of fashion
If what is seen more, sells more, why should designers limit themselves to two seasons and four major fashion weeks a year? The regional fashion 'so-called' weeks help to some extent, but it's the virtual presence that is introducing them and their designs to a larger number of fashion followers. The videos of a fashion week are uploaded on Youtube, the photographs are posted on Facebook; an event is described at length in 40 characters on Twitter and add to that the online stores of fashion designers or tie-ups with fashion portals. If Ritu Kumar has an online store of her own, Sabyasachi has a tie-up with Pernia's Pop-up shop. Virtual is as powerful as the real world of fashion!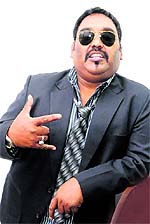 Sing along
Fate plays different games. Maninder Mahi, who left Punjab two decades back to pursue a career in singing, is back on his home turf. Opportunity in the region, with a boom in Punjabi films, has made this Punjabi singer open up an office in Zirakpur. Singing, which had rather been a passion for this national-level boxing champ, turned his profession when he couldn't see any future in the game.


TUNED IN: Maninder Mahi. Photo: Parvesh Chauhan
first-day-first show
Action-packed week
High Spirits
Aha Chica!
Savor your taste buds with the sinful fantasy.
A slice of Amritsar
City Beautiful can savour delicious Punjabi cuisines that are on offer at Amritsari Food Festival which is on at Baithak, Kalagram.
TRENDSETTER
Cute is hot!
Trends come and go, fashion changes but being stylish is a constant factor. A stylish person draws a second glance and isn't that what we all are looking for? The power to attract lies in the ability to carry oneself suitably.
Warmth from the hills
The Manu Weavers Handloom & Handicraft Co-operative Society, Manali, is organizing an exhibition presenting many craft persons from various parts of Himachal Pradesh to exhibit and sell their handloom products.



Woollen shawls are a major draw
All that glitters!
Commemorating 16 years of successful retail operations in Chandigarh, Tanishq- Sector 17, has announced special anniversary offer of a .25 gm gold coin free on every purchase of 8-gm of gold jewellery or Rs 8,000 of diamond jewellery. Commenting on the occasion, Karandeep Singh Kapany, Area Business Manager, Tanishq said, "Wehave brought transparency and honesty to the jewellery business and will continue to guard the interest of our customers."