Desperation, love, power and politics
Reviewed by Balwinder Kaur
Delhi Stopover
By Tulika Mehrotra.
Penguin Metro Reads.
Pages 393. Rs 250.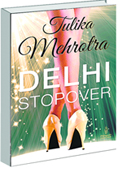 Making it in Los Angeles is far from easy but struggling actress Lila is on her fifth agent and is still waiting for her big break or any break. But what actually breaks is her relationship with her significant other, Armaan. Now at her own breaking point, she flees to her cousinís home in Delhi for two months of peace and quiet. But a favour for a friend lands her squarely in the limelight. Her rest and relaxation is interrupted by opportunity's knocking. Her first sashay down the ramp earns her a plum contract with a premier modelling agency. But all that glitters is not gold. Show business is subject to the same vagaries and uncertainties. Then there is the extreme pressure of this high-maintenance career. Disoriented and unsure, Lila tries to rebuild the bridges she burned stateside. She is unbalanced by her attempts to keep her feet in two boats; but half-hearted attempts in this cut-throat business mean sinking. Headed for a major physical and emotional breakdown, she decides to cut her losses and leave. But then she's sucked right back in.
Never say Goodbye
By Rajiv Seth. Srishti.
Pages 220. Rs 150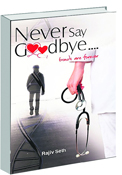 Boy meets girl. They fall in love. A child is born of their relationship. Sounds like the makings of a conventional love story. But when the girl is already married and has a child, happily ever after is far away. Anjali is an ambitious and successful doctor but all is not well on the home front. Her marriage has reached a stalemate and she has to grapple with the differences between her values and those of her husband Sunil. Aakash is a charming and caring doctor who wants to make the world a better place. He is everything she has longed for. They fall hopelessly in love and act on their mutual feelings. Aakash is all too aware of the ill-advised nature of their tryst but cannot bring himself to care. As doctors who are used to making hard and life-altering choices, they make a questionable one. While Aakash feels like home to Anjali, she still cannot bring herself to end her marriage. Torn between them, she refuses to choose. This inability to choose between her head and heart has consequences for all involved. Dire consequences no one could predict.
The Edge of Desire
By Tuhin A.
Sinha. Hachette India. Pages 317. Rs 195.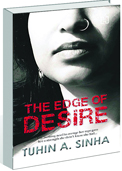 Newlyweds Shruti and Rohit were just settling into their marital life in remote Kishanganj. But DC Rohit Ranjan's efforts to control crime have put him on a direct collision course with Salim Yadav, a well-connected local gangster. Shruti gets caught in the crossfire and Salim Yadav brutally rapes her to humiliate her husband and turn her into a cautionary tale. Insult is added to injury when a devastated and distraught Shruti has to battle allegations, innuendo, accusations and conjecture as victim-shaming and blaming runs rampant. Meanwhile, Salim struts around making a mockery of justice sheltered by his political masters. Then along comes prominent political leader Sharad Malviya, offering her an unconventional recourse; to seek justice from a position of power by joining politics. But being elected comes with its own pressures and demands. Her proximity to her mentor Sharad Malviya earns her the scrutiny and ire of many; while driving a wedge between her and her husband. She soon finds herself in the eye of many a political storm. And her dreams of a simple life recede further and further into the background.