Food talk
Don't chicken out!
Pushpesh Pant
Nothing matches the lure of the juicy chicken legs or tangarhi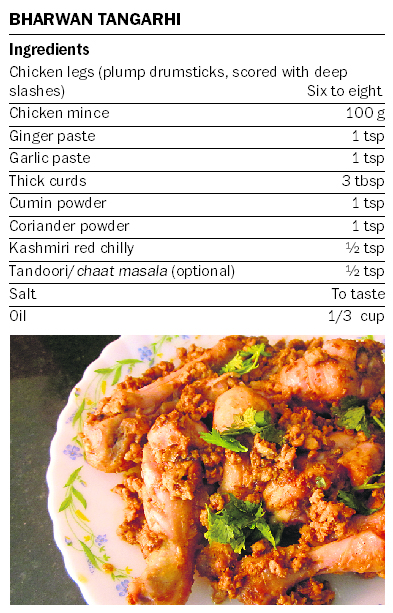 Gone are the days when a celebratory party was considered a success only when guests had their fill of chicken legs and Scotch pegs! Now you have delicate canapés, exotic cheeses, imported Salmon and vintage wines from old and new continents. The choice is mind-boggling but call us a boor if you like, but for us nothing matches the lure of the tangarhi.
It was Mrs. Bindra who had first, about half a century back, given us a taste of her 'leg of chicken' marinated in vinegar, a hybrid between an Anglo-Indian and Mughaliya recipe but the addiction was immediate and lifelong. Since then we have sampled many variations of tangarhi achari, cheesy, and tandoori but the one that has really won our heart is the bharwan. Our friend Raminder Malhotra a very gifted chef, who now divides his time between Delhi and London, serves a most delicious stuffed tandoori leg of chicken packed with spicy chicken mince with the bone wrapped in aluminum foil to facilitate handling but what we offer here is a no-frills home style can do recipe inspired by him.
Method:
Clean, trim, wash and pat dry the chicken legs. Prepare a marinade mixing curds and all the powdered spices, except the tandoori/chaat masala if using, along with salt. Apply this evenly and well to the tangarhi and keep aside for two hours or more in a cool place. Heat oil in a pan and stir fry the mince till slightly brown and the raw smell is lost. Then fry the chicken legs in the same pan till brown. Now add the marinade and continue to cook covered, uncovering and stirring to ensure that the masala doesn't stick to bottom. Sprinkle very little water if required till done to taste. Scoop the keema with a spoon and fill in the slashed cavities. Serve on a bed of rest of the mince and sprinkle preferred spice mixture. Eat hot.