Sweet Dreams
Pushpesh Pant
Every zone of taste in India has its own signature sweet and we are lucky to have a vast and varied range from different regions available to tickle our sweet tooth. A look at the amazing array of desi mithai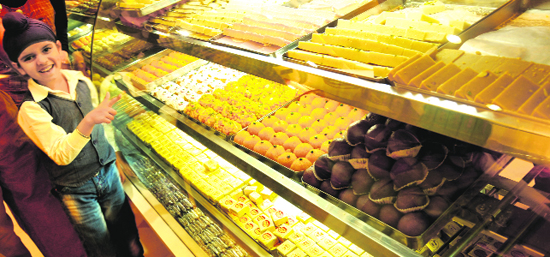 Meetha and mithai derive from the Sanskrit mishthann — sweet food. Humankind has survived for millennia on nature's sweet bounty – ripened fruit and honey since much before the invention of any language. Pre-historic paintings in Bhimbhetka stone cave shelters near Bhopal chronicle hunts, fruit-collecting expeditions and beehive raids. With slow passage of time, man mastered the science of agriculture and art of making sugar. It was not long before grains, milk, fruits and sugar were paired and myriad sweets were created to everyone's delight. One can imagine how to celebrate glad tidings our Neanderthal ancestors used sign language to say, "Kucch meetha ho jaye!"


---
Arts
'Art & soul
Yoginis from the Deccan
B. N. Goswamy
Portraits of young women ascetics with princess-like appearance were created by Deccan painters who saw them as evolved beings
As we speak of the paintings of India, the Deccan does come in for a mention, but not so readily to the tongue as Mughal and Rajput painting. And yet, come to think of it, there are magnificent works that were produced there. A part of the inspiration might have come from Iran and Iranian works — for there were direct connections, both cultural and political, between the Sultanates of the Deccan and Irani centres of power — and there certainly were influences from the great Mughal court of the North. But Deccani work has a flavour of its own. Cultivated rulers — from Bijapur, Golconda, Ahmednagar, and so on — had obvious access to uncommon talent at their courts and their painters often saw things with different eyes.
---
SPORTS
Kabaddi gets a leg up
Gagan K. Teja
With the successful hosting of two world cups, the traditional game of kabaddi is witnessing a revival as Punjab youth are now looking up to the sport as a career option
The Punjab-style kabaddi, also known as circle-style kabaddi, may not have yet made it to the list of recognised games of the Indian Olympic Association but its popularity has grown by leaps and bounds in the past few years. The thrill and excitement it offers excites the elderly generation which has grown up playing the game. Interestingly, it has also become a rage among Punjab youth who now look up to the sport as a career.
Power woman
Amit Khanna
Currently ranked World No. 2 , Kavita Chahal is a four-time Asian medallist. She added another bronze to her kitty during the 7th World Women's Boxing Championship this year
Growing up in a village near Bhiwani meant she did not have second thoughts as far as choosing her career was concerned. With a number of boxers from nearby areas already starting to make it big internationally, she, too, had decided it quite early to follow suit.
---
Society
The peak experience
Vibha Sharma
What is it that motivates numerous mountaineers, in the face of extreme danger, to scale Mount Everest?
Many people succumb to the charm of challenging mountain cliffs, enticing treacherous trails and unknown paths. The objectives and experiences may vary from individual to individual but even fatal incidents and near-death experiences do not deter their passion to walk the razor-sharp edges (sometime literally).
---
travel
Pride of park
Kalpana Sunder
The Kruger National Park is the oldest national park in South Africa with several eco-systems and hectares of wilderness
There's something life changing about an African safari. You will never be the same again after you spend a week in the bush, forgoing morning sleep to wake up at dawn and bundle up into a large Land Rover. The drive then is like a nature documentary come to life — droves of wildebeest and stocky warthogs, graceful giraffe stretching their necks to eat leaves. Magical glimpses of silvery burchell's zebras, portly warthogs and jet black ostriches.
Globetrotting
House of Gangnam
---
Entertainment
Chak De Sagarika!
Swati Rai
Sagarika Ghatge, better known for her award-winning role of the spunky Preeti Sabharwal in Chak De! India, is back on the celluloid with her latest movie Rush. In a candid interview, Sagarika says, this time around, she will be careful not to make any of the past career mistakes
Pathbreakers
Rahul Sahgal
Theses women of substance shattered the glass ceiling in Indian cinema to make way for present-day actresses
From 1913, when an effeminate male cook (Anna Salunke) donned a saree and played the leading lady roles, we have come far. With the release of Bhandarkar's Heroine, we pay homage to five women of substance, who shattered the glass ceiling in Indian cinema to make way for today's Kareenas and Vidyas. And as due recognition, four of them, except Nadia, were bestowed with the pinnacle of cinematic achievement the Dadasaheb Phalke Award.


---

FRUIT FACTS