Kabaddi gets a leg up
Gagan K. Teja
With the successful hosting of two world cups, the traditional game of kabaddi is witnessing a revival as Punjab youth are now looking up to the sport as a career option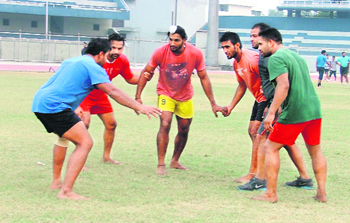 Provision of jobs by the Punjab Government is one of the reasons which is luring youth back to this once-popular game Photos: Inderjeet Verma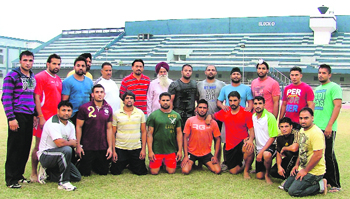 Players at a kabaddi camp at Ludhiana which was organised prior to the Asia Kabaddi Cup and East and West Punjab Bilateral Sports Meet at Lahore

The Punjab-style kabaddi, also known as circle-style kabaddi, may not have yet made it to the list of recognised games of the Indian Olympic Association but its popularity has grown by leaps and bounds in the past few years. The thrill and excitement it offers excites the elderly generation which has grown up playing the game. Interestingly, it has also become a rage among Punjab youth who now look up to the sport as a career.
Having successfully organised two world kabaddi cups in India with the help of private players, the Punjab Government is making efforts to revive this once-popular game. Kabaddi, which had been reduced to small village-level tournaments and that too only for entertainment purposes, has once again got a big platform. It is attracting a large number of youngsters who are now training in different academies with an aim to make it to the international arena. These kabaddi world cups have not only made the game a household name once again but has also been able to restore the Indo-Pak ties as far as sports is concerned.
Pakistan is organising the East and West Punjab Bilateral Sports Meet (Men) from November 7 to 12 at Lahore. The disciplines included are traditional games like hockey, kabaddi, wrestling and tug of war. Indian players are sweating it out day and night to prove their mettle in this meet.
In kabaddi, all eyes are set on the Indian team, which is the two-time World Champions. It had ousted its opponents in one-sided final matches to grab the cumulative titles in 2010 and 2011.
The Punjab Sports Department recently heldg a kabaddi camp at Ludhiana which was attended by 24 players. The team would participate in two back-to-back competitions i.e. Asia Kabaddi Cup and Indo-Pak meet. The Indian kabaddi squad is a blend of experienced players as well as some fresh faces who have done well in few tournaments held recently.
Talking to The Tribune, Director Sports, Punjab Government, Shiv Dular Singh Dhillon, said, "We have provided the best of facilities and are monitoring various camps so that they get congenial environment for their training."
Talking about the doping menace which had cast its ominous shadow during the second world kabaddi cup, Dhillon said the Punjab Government has taken some strict measures because it was committed to make sports drug free. In future also it would not tolerate this menace or those who indulge in it. "The department has already banned the erring players for two years which, I think, will help us in discouraging this practice," added the director.
Deputy Director SL Lotey is of the view that these games will further bridge the gap between India and Pakistan. It will give players an opportunity to test their strength before the Third World Kabaddi Cup begins in India in December.
A renewal of ties
These games are being held after eight years. Before this, the Indo-Pak Games were held in December 2004. Though the talks had taken place to hold the games in Lahore in 2005, a natural calamity hit Pakistan in that year. As a result the modalities could not be worked out. Later, the 26/11 attack strained the relations between the two countries, and it hit sports too.
However, Punjab Deputy Chief Minister Sukhbir Singh Badal, with a view to breathe life into the dying sport, then took an initiative to hold the world cup in 2010. Since then there has been no looking back. His efforts yielded fruits when he was successful in inviting the Pakistani team to the two world cups hence breaking the ice between India and Pakistan. Providing government jobs to the world cup winners is the icing on the cake and the main reason why youth have started opting for kabaddi as career.