Power woman
Amit Khanna
Currently ranked World No. 2 , Kavita Chahal is a four-time Asian medallist. She added another bronze to her kitty during the 7th World Women's Boxing Championship this year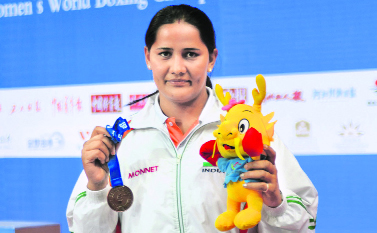 Daughter of a boxer father, Kavita Chahal hails from Haryana, the land of boxers

Growing up in a village near Bhiwani meant she did not have second thoughts as far as choosing her career was concerned. With a number of boxers from nearby areas already starting to make it big internationally, she, too, had decided it quite early to follow suit.
"My father is himself a boxer. I used to ask him why women not play this sport. He always said it is just a coincidence, but I was never satisfied with his answer. There was an urge inside me to make a name for myself in boxing. It was in 2004 that I decided to take up the sport seriously," says Kavita Chahal, the two-time World bronze medallist and four-time Asian medallist, who belongs to Nimri village in Haryana.
Currently ranked No. 2 in world, Kavita was the only boxer to have secured the podium finish during the 7th World Women's Boxing Championship held in China this year. Eleven Indian players had participated in the championship and she was the only one to bring back a medal.


International feats
1. Bronze medal in 7th World Women's Boxing Championship held at China in May, 2012.
2. Bronze medal in 6th Asian Women's Boxing Championship held at Mangolia in March, 2012.
3. Bronze medal in Asian Cup Women's Boxing Tournament, Haikou, China in May 2011.
4. Bronze medal in 6th World Women Boxing Championship held at Barbados (West Indies) in September 2010.
5. Bronze medal in 5th Asian Women Boxing Championship, Astana, Kazakhstan, in May 2010.
6. Bronze medal in Prime Ministry Boxing Tournament, Turkey, in April 2010.
7. Silver medal in 4th Asian Women Boxing Championship held at Guwahati in 2008.
8. Silver medal in Dual Training And Competition, Canada in 2008.
9. Participation in Prime Ministry Boxing Tournament, Turkey in 2009.
National achievements
1 Gold medal in 4th Inter-Zonal Women's National Boxing Championship in July, 2012.
2 Gold medal in 60th All India Police Women's Boxing Championship in New Delhi 2012.
"Winning the bronze in the (81+KG) category in the world championship was very satisfying though there was tough competition at that level. I was the lone won a medal for the country," adds the five-time National gold medallist. These are no mean feats and could not have come without an enormous amount of hard-work and sacrifice. Storming this male bastion was, by no means, easy. "I had to face many problems in the beginning, as at that time not many girls were allowed to take up boxing. It was perceived to be a male-sport only. But my father has been always very supportive." "I have worked very hard continuously for the past so many years and have won many medals, both at national and international levels. But it is tough being in a sport other than cricket in India. You have to prove again and again at the international level before you are recognised. "After my win in China this year, I expected that at least the government will do something for me as well. At least provide me with a job which will give me a sense of security and I will be able to concentrate fully on my game only," says the 27-year-old who hails from the land of boxers.
Frustration after losing a match can be a good thing, but frustration after winning so much is not warranted. "I hope the state government will take note of my achievements and do something to recognise my contribution. All I want is a job from the government under its sports policy which will provide me with a security and I will be able to concentrate on my game even better," shares Kavita, who is currently working with the Haryana Police under a general quota.
There are not many women boxers around and after Mary Kom's Olympic feat; more can be expected from the fairer sex. "Mary Kom has done exceptionally well, and believe me there are many like her waiting in the wings. But they require good nurturing and timely training. There are many training grounds for men's boxing but now but the picture is totally different when it comes to women's boxing. The government should open a SAI centre in the state which can impart professional training to woman boxers. They, too, can bring many more Olympic medals like Mary. All we need is better facilities," adds the 27-year-old.