Pride of park
Kalpana Sunder
The Kruger National Park is the oldest national park in South Africa with several eco-systems and hectares of wilderness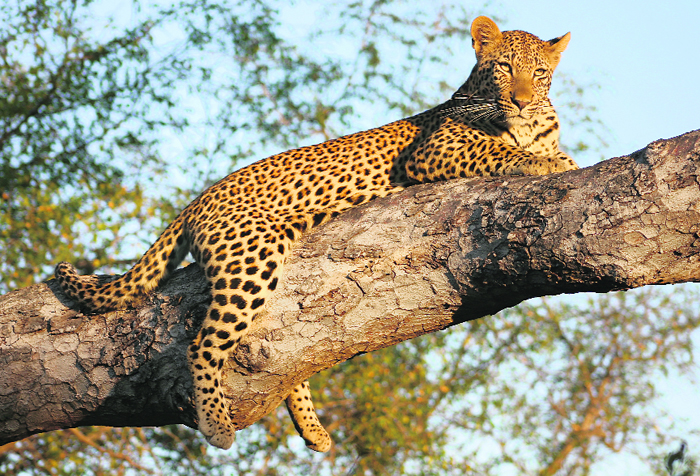 A leopard perches majestically atop a tree

There's something life changing about an African safari. You will never be the same again after you spend a week in the bush, forgoing morning sleep to wake up at dawn and bundle up into a large Land Rover. The drive then is like a nature documentary come to life — droves of wildebeest and stocky warthogs, graceful giraffe stretching their necks to eat leaves. Magical glimpses of silvery burchell's zebras, portly warthogs and jet black ostriches.
The Kruger National Park in South Africa is the flagship and the oldest National park of the country with several eco-systems and hectares of wilderness. Established in 1898, Kruger sprawls over 2 million hectares and has huge diversity in the number of species: 147 mammals, 336 trees, 49 fish, 34 amphibians, 114 reptiles and a prolific bird life with more than 500 species. It has a superb network of camps, picnic sites, roads and waterholes. Kruger has private game reserves owned by concession holders. You don't have to rough it out: there are luxury lodges with plunge pools, colonial, tented camps with wooden decks, and small, personalised luxury camps with stunning locations. There is the luxury of the cliff-top safari hideaway set inside the private Welgevonden Reserve in Limpopo, where eight luxury suites overlook a stark deep ravine of River Sterkstroom. The Mabula Game Lodge, with chalets done up in rustic style, set amid sausage and fever trees and a reptile centre offers a different experience. For an ethnic experience there is the Hoyo Hoyo Tsonga Lodge inside the Kruger modelled on the traditional tribal homestead.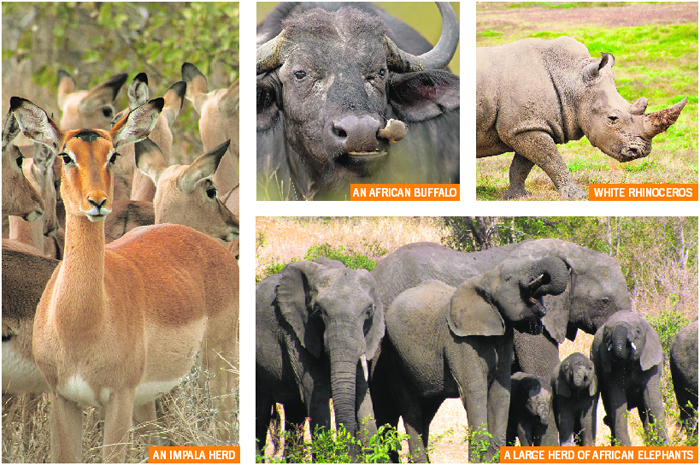 The natural landscape of Kruger is as beautiful as the wildlife that you see there with emerald forests, rivers and waterholes as well as stark expanses studded with acacias. There are the bright green fever trees, sausage trees with fruits sometimes weighing over five kg and the omnipresent bush willow trees.
There is the iconic Big Five of the bush — the leopard, the lion, the elephant, the buffalo and the rhinoceros. Some of the best wildlife experiences are with the smallest of creatures like the brilliantly coloured lilac-breasted roller with its greenish yellow legs, the red billed ox-peckers which sit on grazers like giraffes, the miniscule dwarf mongoose — the smallest mammal in South Africa and the petite steenbok, the smallest antelope that I have seen. There is a demonstration of snakes which is informative as well as inspires fear — the puff adder, the black mamba (which can reach a speed of 20 km/hour), whose venomous bite is often called the kiss of death, all make their home here.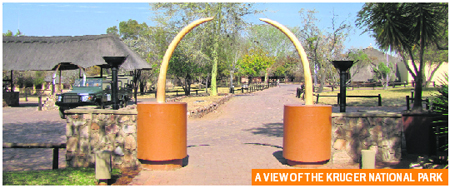 South African food is a mix of many influences — the locals have a fluffy maize porridge called pap. Meat figures prominently on all local menus ranging from game meat like impala, kudu and ostrich. There is potje (pronounced poiky) which is a thick stew prepared over a fire in a three legged cast iron pot. The Dutch influence is found in sweets —- our favourite is the malwa pudding usually served with custard. It's made with apricot jam and is a spongy caramelised cake. There are koeksisters, twisted, deep fried pastries like doughnuts. 'Braai' is the term South African's name for barbecue and it is a favourite pastime. Also on the menu is biltong, dried preserved meat that is a favourite snack.
The days in the bush have a re-assuring, familiar schedule: game drives at dawn and late afternoons, time to chill and have meals in between, early dinners and going to bed watching the clear starlit night skies. We tick off all animals that we sight, off our check lists: herds of African elephants with their massive ears, the Kudu antelope with its majestic twisted horns, graceful impalas, the tiny dwarf mongoose and the graceful giraffes. There are white rhinoceroses which we learn are short-sighted and can charge at someone if they hear a sound! These stocky white rhinos were almost hunted to extinction in the last century for their horns.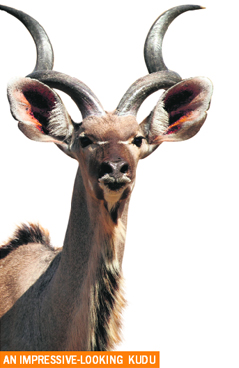 The communion with wildlife is addictive: the balmy afternoon air and the birdsong which is the constant soundtrack. Watching a classic African sunset with a sundowner is an experience that most lodges provide. Night safaris with spotlights are exciting too where the flash of a search light quite often falls on the beady eyes of nocturnal animals like bush babies or owls. Safari guides rely on their eyes, ears and instincts and this element of luck makes the safaris even more exciting. Sometimes you could go for hours just sighting some grazing impala, but this is the charm of the classic African Safari.
FACT FILE FOR SOUTH AFRICA
How To get there: Fly South African airlines from Mumbai to Johannesberg. The drive to Kruger National Park can take 3 to 4 hours.
Where to stay: Stay at the swish game lodges owned by Kingfisher Resorts. The Mabula Lodge, the Cliff top Exclusive Safari hideaway in Limpopo, Imbali Safari Lodge and the Hamilton tented Camp (inside the Kruger) are good places to stay offering different experiences. All of them offer an all inclusive package including game drives, accommodation and food.
What to eat: Game meat like impala, kudu and eland. Try desserts like malwa pudding and koeksisters.
Must experience: Game drives, tribal dances around a bonfire, a typical African spa treatment like a Calabash facial, star gazing. Try some safaris with a twist like a horse safari at the Mabula Game Lodge.
Photo by the writer