Chak De Sagarika!
Swati Rai
Sagarika Ghatge, better known for her award-winning role of the spunky Preeti Sabharwal in Chak De! India, is back on the celluloid with her latest movie Rush. In a candid interview, Sagarika says, this time around, she will be careful not to make any of the past career mistakes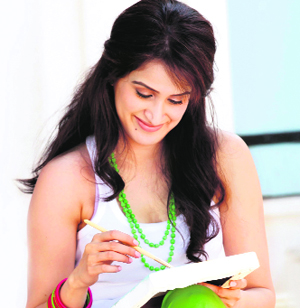 Sagarika Ghatge and Emraan Hashmi in a still from Rush

Can Rush be called your comeback move?
No, I have been around here only and have never really gone away anywhere though I am selective about the kind of work I undertake! Itís just that after Chak De! India, there was a movie that I was training for by ace director J.P. Dutta unfortunately that got shelved and never saw the light of day after that.
Would it be correct to say then that you couldnít cash in on the Chak De fame and acclaim?
I got into films by chance. It was not like it was a planned move, though I was always attracted to the creative field. I was barely 19 when the movie came out. I guess, I wasnít prepared to handle the cult status the movie came about to acquire after its release.
So what has changed since then?
Now I have a better understanding of cinema. I am more focussed on my career and am deeply interested in honing the craft of acting. I guess I wasnít as aggressive earlier in promoting myself and was a bit more laidback but now I am want to stay focussed.
Donít you think talent is more important than planning a career and such forth?
Definitely talent is at the crux of anyoneís success in any creative field but projection of oneís talent is also important. I canít bury my head in the sand like an ostrich and be oblivious of whatís happening around me. If such is the trend, then there is no harm in planning oneís career, projecting oneís positives etc.
What is your role in Rush?
Rush is a movie about the media and revolves around the engaging and timely theme of crime reporting in mass media. I am the love interest of Emraan Hashmiís character, who plays the role of the crime reporter. I am an artist in the film and am a soft likeable girl. For more, youíll have to catch the movie in a theatre.
How was it working with Emraan Hashmi? Can we expect the usual intimate scenes?
The movie is more than such scenes. All I can say is that it was treat working with such a talented actor such as Emraan. He is the most chilled out person ever and very professional. He comes to the set absolutely prepared for his role. He knows the co-starís lines, too, to make the scene believable and knows his lines by heart. So, all in all, it has been a great learning experience.