Pathbreakers
Rahul Sahgal
Theses women of substance shattered the glass ceiling in Indian cinema to make way for present-day actresses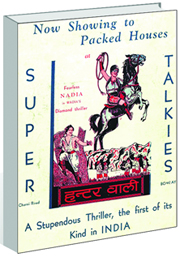 From 1913, when an effeminate male cook (Anna Salunke) donned a saree and played the leading lady roles, we have come far. With the release of Bhandarkar's Heroine, we pay homage to five women of substance, who shattered the glass ceiling in Indian cinema to make way for today's Kareenas and Vidyas. And as due recognition, four of them, except Nadia, were bestowed with the pinnacle of cinematic achievement the Dadasaheb Phalke Award.
Devika Rani (1907-94)
With many faux claimants to the throne, there will always be only one First Lady of Indian Cinema. Tagore's grand niece and western educated in applied arts, she trained in make-up, costumes and set design in Germany's UFA studios. Married to visionary producer Himanshu Rai, who co-starred in her first Indo-British co-production Karma, the power couple founded Bombay Talkies in 1934. She gleaned fame by playing roles of rural belles like that of an untouchable in Achyut Kanya. Described by Birmingham Post "as beautiful as any woman who has ever appeared on the screen", she symbolised attributes diametric to the film industry: soft-spoken, elegant serenity. She was the first recipient of the Phalke Award in 1969.
Sulochana (1907-83)
The first Indian pin-up super diva was a Jewish Eurasian, Ruby Meyers, christened Sulochana, who had a frenzied nation bow at her feet. The first actress to be paid more than the heroes, she was discovered, when fate turned the dial, working as a telephone operator. She played an unprecedented eight roles, including a Hyderabadi gentleman, in Wildcat of Bombay and was also cinema's first Anarkali. Precursor to the sex symbols today, she oozed sexuality without skin show.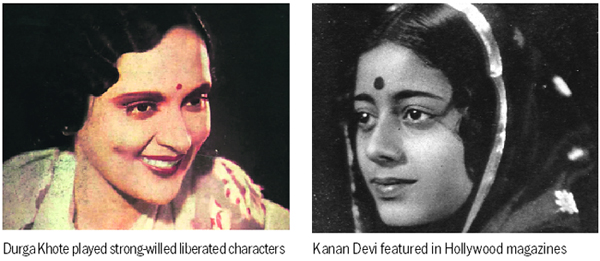 Durga Khote (1905-91)
Undeterred by her voluntary early marriage and two children, Durgabai gate-crashed the stigma of married women working as leading actresses. A graduate with an impregnable feminist streak, she played strong willed liberated characters. Regal in bearing and with conviction in the medium, she neutered the anathema associated with working in films for educated Hindu upper caste women. In a career spanning 50 years, she played diverse roles from a female pirate in Amar Jyoti to Jodha Bai in Mughal e Azam. This tigress of a woman once yanked the mane of a lion, which misbehaved on the set.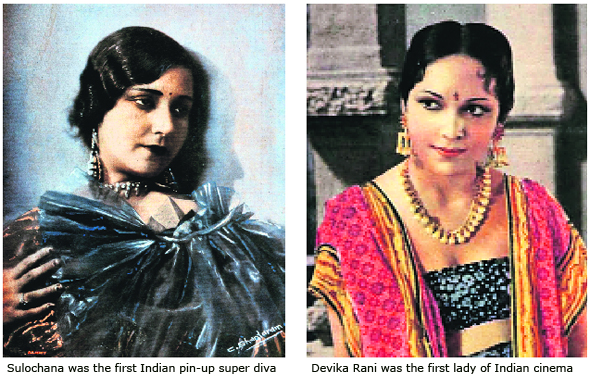 Kanan Devi (1916-92)
Before Nurjehan and Suraiya, there was Kananbala, the first bona fide singer-actor sensation of India. Her own Cinderella story is the stuff of folklore; from being an illegitimate child to a child artist in Bengali films to rubbing shoulders with Vivien Leigh. She was untrained in music when she joined films but naturally gifted. She embarked on a glorious career in films like Mukti and Bidyapati. Her rapid tempo style of singing set her apart and she was among the few Indian stars featured in Hollywood magazines. She created a furor by having a shortlived marriage in one of Calcutta's elitist families.
Fearless Nadia (1908-1996)
An Australian circus acrobat Mary Evans (real name) marries an Indian Parsee film director and creates the female equivalent of Tarzan, Robinhood and Zorro, all rolled into a single screen persona. She was feisty, jumping on train roofs and swinging from chandeliers, symbolising fierce physical strength and courage as she clobbered villains in films like Hunterwali and Diamond Queen. Married to Homi Wadia, it was said that the combination Nadia and Wadia spelled gold at the turnstiles.