Buyers beware!
Golden rules for a buyer
Pushpa Girimaji

Two months ago, I bought a pair of gold bangles of 22-carat purity (or so I was told by the jeweller) weighing 20 gm. Recently, I happened to see a better-looking and better-crafted pair in another shop and decided to exchange my old pair. for it. However, to my utter shock, this jeweller told me that my bangles are made of 18-carat gold. I am in a state of shock and do not know how to proceed.
Get your bangles tested at a gold assaying centre, for purity. You can get a list of assaying centres in your city on the website of the Bureau of Indian Standards (www.bis.org.in). This way, you will have an authentic assessment of the purity of gold bought by you. If assaying reveals that your bangles are not made of 22-carat gold, then confront the jeweller from whom you have bought the bangles with the test report. Ask him to return the current value of 20 gm of 22-carat gold, along with making charges , taxes and anything else that he may have charged you, and also interest for the last two months on the amount.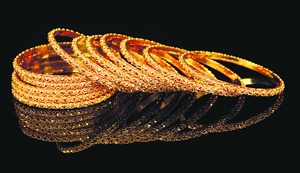 Demand a hefty compensation as penalty or punishment for cheating you. The better option is to lodge a complaint before the consumer court, seeking not just a refund and cost of litigation, but also compensation and punitive damages. The compensation should be large enough to send out a clear warning not only to this jeweller , but to others as well, so that they cannot get away with such fraud. This way, other consumers will also be warned about this jeweller. Under the Consumer Protection Act, the jeweller's action constitutes an unfair trade practice , as he misled you on the purity of gold sold by him.
He is also guilty of having sold you a "defective" pair of bangles as the quality does not match his description. You should also file a police complaint of cheating against the jeweller, so that the police can also prosecute him.