Counselling: Problems aplenty for students
There is need to evolve a student-friendly, economical counselling procedure for admission to UG programmes in engineering
Pradeep Kumar Singh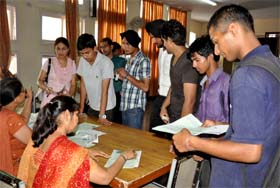 Several thousand candidates shell out their parents' hard-earned money in the hope of securing a seat, despite the uncertainty regarding their merit in the entrance test.
A large number of entrance examinations are conducted all over the country. In general, admission to undergraduate (UG) programmes in engineering is based on merit in entrance examination(s). Punjab, Haryana, Chandigarh and New Delhi have been following the merit of the AIEEE for the purpose of screening students for admissions to the UG programme in engineering. A few other states have also adopted a similar procedure. The approach is student friendly, so as to relieve them from the state-conducted entrance examination.
After the declaration of result of entrance examination, the procedure for admission in most of the institutions involves a few seemingly common steps called counselling. There has been a practice of separate counselling conducted by (a) IITs for 16 IITs and ISM-Dhanbad based on merit in IIT-JEE, (b) Central Counseling Board for 30 NITs, 5 IIITs, 13 central/state government-funded institutions, and 21 self-financed universities/institutions, etc., based on merit in AIEEE, and (c) different states/state technical universities, based on merit in state-conducted entrance examination (d) several universities/institutions, based on merit in independently conducted entrance examination.
Although a few technical universities and states such as Punjab, Haryana, Chandigarh and New Delhi have abolished separate entrance examinations and adopted AIEEE merit for admission, they conduct counselling separately. Even within these states, dozens of universities/institutions that have been following the AIEEE merit-based admission procedure conduct their own counselling. In general, students have to register with several agencies for participation in the counselling process. Thus, the counselling becomes very uneconomical and harassing for students.
There are serious anomalies in the registration fee charged from students across various counselling agencies. Presently, the registration fee charged by various states/universities/institutions in general varies in the range Rs 500 to Rs 3,000. In some cases, it may go even beyond. It is surprising that when a few states and institutions can manage the counselling in just Rs 500 conveniently, others charge hefty amounts. This issue needs serious attention and appropriate regulation to rationalise the registration fee.
Many universities/institutions charge the registration fee by selling their information brochure-cum-application form even before the declaration of AIEEE results. Thus, several thousand candidates shell out their parents' hard-earned money in the hope of securing a seat, despite an uncertainty regarding their merit in the entrance test.
The situation gets further worsened, when thousands of candidates who do not get a seat allotted in first round of counselling are declared probable candidates, and are further directed to deposit a hefty amount as earnest money to maintain their candidature for consideration in subsequent rounds in counselling for only a few hundred seats. The earnest money is in general refundable or adjustable in admission fees. It is refundable only in the case when the candidate is not at all allotted a seat. If the candidate is allotted a seat, but he fails to take admission for any reason, the earnest money gets forfeited. These practices seem to be arbitrary, unhealthy and unreasonable from the students' viewpoint, and need serious attention and appropriate regulation to stop them.
A large number of students remain busy for a few months attending multiple rounds of counselling conducted by various agencies to secure admission as per their choice. In general, the opportunity for admission keeps on changing round after round during the course of counselling. Sometimes students have to secure a seat for them in an institution by paying requisite admission fees, while exploring further possibilities for a better choice. Later on when they get a better chance, they switch over to the next. Although the admission fee deposited is refunded in such cases in accordance with the rules laid down by regulatory bodies, in doing so the money deposited at one institution gets sometimes blocked for months together (because of delayed processing of refund), and sometimes except for the refundable component, all the amount gets forfeited for not filling of the vacated seat.
Students who participate in the counselling conducted by several agencies have to keep monitoring the seat allotment by each of them round after round. They may take admission at one place when offered, but when get a better opportunity, withdraw the admission and further take admission against the better opportunity. In the process they feel harassed, while a few seats remain vacant in institutions for a longer period or even forever. Some technical universities/ institutions keep continuing the admission process for a longer period. Late closure of the admission process causes delay in commencement of the academic session. In some institutions, the academic session commences in time, but the admission process keeps continuing. As a result, the late admitted students suffer academically.
All these issues cause mental agony to students. To avoid this, the practice of multiplicity of counselling needs to be rationalised. It will be better if all the universities/institutions in a state participate in the counselling conducted either by the state or technical university or some other counselling board functioning at the national level. Also, for smaller states, like Punjab, Haryana and Himachal Pradesh, it will be better to have zonal counselling, where the universities/ institutions of all the states/union territories in a zone (e.g., North Zone) participate in a common counselling. A proper mechanism can be evolved for such a collaborative counselling scheme. If this concept is adopted, it will result in several benefits such as reduced physical and mental harassment to students, reduced expenditure towards counselling fee, reduced chances of deduction and forfeiture of the admission fee in case of switch over, possibility of reduced number of rounds of counselling to complete the admission process resulting in an earlier completion of the admission process, possibility of timely commencement of course, i.e. reduced academic loss to students for delayed admission, reduced additional workload on universities/institutions for the refund of deposited admission fees, etc.
Recently, the Ministry of Human Resource Development announced a modification in the two main entrance examinations — the IIT-JEE and the AIEEE — from the year 2013 onwards. The AIEEE will now be replaced by the JEE (main), essentially meant for admission to 47 Centrally-funded technical institutions. State technical universities and other institutions shall be free to adopt the JEE (main)-based merit for admission. It is expected that several state technical universities and other institutions will adopt the merit based on the newly proposed entrance examination. However, the counselling problems will still remain unattended and thus need to be given a serious thought.
The writer is a Professor in the Department of Mechanical Engineering, Sant Longowal Institute of Engineering and Technology, Longowal.