GEOLOGY
Earth Scientists
Here is a field that is ideal for those with a nose for science and a sense of adventure coupled with a strong desire to be a part of Mother Earth's evolutionary story
Usha Albuquerque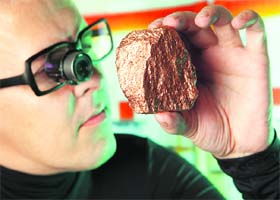 I am sure reading about snowstorm Sandy, how it blustered through the East Coast of America and caused so much damage, must have got you thinking. What causes such freak weather conditions? You probably have also thought about other questions such as what makes a continent move, or a volcano erupt? What effects will shrinking glaciers have on the oceans and climate? Why did the dinosaur become extinct? And so on.
The Earth is an amazing outdoor laboratory filled with opportunities to observe so many natural processes in action. There are scientists who work in this giant laboratory, gathering and interpreting data about the Earth and other planets. They use their knowledge to increase our understanding of the Earth processes, and to improve the quality of human life. They are called geo scientists, as "geo" in Greek means earth. As there are so many different aspects of the earth and the work so broad and diverse, there are many disciplines in geosciences, the major ones being — geology, geophysics, hydrology, oceanography, marine science, atmospheric science, planetary science, meteorology, environmental science, and soil science.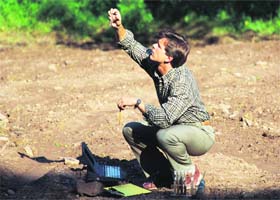 Geology is a subject that is gaining in importance, more so as our populations increase with the consequent need for exploring and utilising our natural resources and mineral wealth. Geologists are scientists who study the earth's crust to obtain an accurate picture of its structure, history, and composition. Most geologists work or supervise exploration work at a variety of sites — deserts, land forms, ocean floors, riverbeds, mountains, etc.
They identify rocks, minerals, and fossils, conduct geological surveys, construct maps and use instruments such as the gravimeter and magnetometer to measure the earth's gravity and magnetic field.
The work
Geological work involves location of physical data and material by drilling of deep holes to obtain samples for studying materials found on or near the earth's surface and in the sea.
Geologists explore areas rich in under-water resources, oil, natural gas and minerals and determine the quality of soil by conducting geo-chemical and geo-physical tests. They analyse information collected through seismic prospecting that involves bouncing sound waves off deeply buried rock layers, examine surface rocks and samples of buried rocks and study information collected by satellites.
They can assess whether the conditions in particular areas are suitable for laying railway lines, construction of roads, bridges, buildings and other major infrastructure projects.
Geologists also explore for crude oil and natural gas by studying rock formations, and use microscopes to examine rocks fragments (cuttings) from wells that are being drilled. Geologists develop surface and subsurface maps to locate oil and gas resources.
They locate rock layers cropping out on the surface of the ground and use data from the existing wells to make subsurface maps of the reservoir rocks. By matching rock layers between wells, they can draw cross sections to find petroleum traps.
Reflecting the complexity of the natural world in which they work, most geologists possess interdisciplinary skills and often work in teams with other geoscientists whose expertise complements their own. They work closely with geophysicists who use the principles of physics, mathematics, and chemistry to study not only the earth's surface, but its internal composition, ground and surface waters, atmosphere, oceans, and magnetic, electrical, and gravitational forces. In recent years geophysicists working with petroleum geologists have been able to locate more precisely oil and gas deposits through means of seismic exploration and using advanced computer modeling.
Most geophysicists use three methods of oil exploration: magnetic, gravity, and seismic.
In magnetic exploration, a magnetometer is used to determine the strength of the earth's magnetic field at a specific point on the earth's surface.
In gravity exploration, a gravity meter, or gravimeter, is used to determine the strength of the earth's gravity at a specific location. The magnetometer and gravity meter are used to locate hidden, sub-surface petroleum traps.
In seismic exploration, sound is transmitted into the ground by an explosive, such as dynamite, or by a thumper truck. As the sound passes into the sub-surface, it is reflected off sub-surface rock layers and returned to the surface as echoes. The echoes are detected and recorded at the surface with microphones, called geophones, or jugs. The recordings are processed to form a picture of sub-surface rock layers.
Specialisation areas
Specialised areas of work for geologist could include economic geology, to explore and study mineral deposits for economic purposes; engineering geology, applying geological data, techniques, and principles to study rock and soil materials and ground water that could affect the construction of structures such as bridges, buildings, airports, and dams; environmental geology to study the interaction between the geosphere, hydrosphere, atmosphere, biosphere, and work to solve problems associated with pollution, waste management, urbanisation, and so on; as well as volcanology for investigating volcanoes and volcanic phenomena to understand these natural hazards and predict eruptions, as also geochemistry, hydrogeology, marine geology, mineralogy, planetology, and other such fields.
Getting in
The work of geologists is inter-disciplinary in nature, involving the application of principles from biology, chemistry and physics, and therefore students getting into this field require to have a broad science background strongly focused on research and work-related expertise. There are many universities in India offering courses in geology including BSc and MSc in geology and applied geology as well as MTech in Petroleum Geosciences and Geoexploration Some of the universities include — University of Pune, BHU Faculty of Science, Kurukshetra University, National Geophysical Research Institute, Hyderabad, Maharishi Dayanand University Rohtak and others. Geoscience can be an attractive and challenging career because of the opportunity to work outdoors, often in beautiful environs located far from the busy trappings of urban life. Work in this field involves a fair dose of field work, carrying out geologic mapping, sample collection, various types of data-gathering, as well as laboratory research. Much like a detective a geoscientist gathers data of many types – often from the field or from samples, or both – and looks for relationships that can be explained through application of basic principles of geology and other sciences. Using data and observations, geoscientists typically construct detailed models to explain their findings, discuss their ideas with colleagues, and present the conclusions both orally and in print. Working so close to nature and often being rewarded by the sheer thrill of making new discoveries can make this a fascinating career.
Remuneration and skills
It is also a well paid one, students graduating with MSc and PhD degrees in geology command a starting salary of about Rs 2-5 lakh in the oil industry. As much of the work requires good team work, geologists good in communication — especially in English and computer graphics — and mathematical modelling are in the highest demand. This is also a field which shows increased growth of opportunities given the continuing need for energy and natural resources, environmental protection, and improving of the nation's infrastructure. With the increasing populations and the pressure on the land and its resources, moving towards geologically sensitive regions, there will be greater opportunities for qualified geoscientists than ever before. So for those with a nose for science and a sense of adventure with a strong desire to be a part of Mother Earth's evolutionary story, here is a career with a difference.
— The writer is Director, Careers Smart Pvt Ltd, New Delhi
Job scape
Most trained geologists can get jobs with the Geological Survey of India, the Central Ground Water Board, Coal India, Oil & Natural Gas Corporation, Mineral Exploration Authority, Hindustan Zinc and many other government organisations.
The Union Public Service Commission conducts the entrance tests for jobs in these organisations.
In addition the defence services and the para-military forces also use the services of geologists.
The increasing oil prices and the necessity for locating fresh sources of oil have put a new urgency to the demand for qualified geologists in the petroleum industry. Government oil companies such as ONGC as also private organisations like Reliance, Cairn India and British Petroleum are struggling to find trained petroleum geologists for oil exploration work in the deserts of Rajasthan and Gujarat and from offshore oil wells.
Geologists are also required for exploration of mineral resources as the demand for minerals such as iron ore, gold/sliver, zinc, and copper increase along with the need for exploring newer materials essential for industry, and other uses. The development of new infrastructure projects such as the construction of highways, airports, ports, dams, pipelines, and new urban complexes and the consequent demand for ground water opens possibilities for jobs for engineering geologists while the exploration for and management of water resources is increasing the demand for hydrogeologists.
Increased processing of raw materials has come at a cost of increasing pollution of water resources, and the need for environmental geologists.