M A I N N E W S
Special to the tribune

Battle of nerves as America votes
Ashish K Sen in Washington DC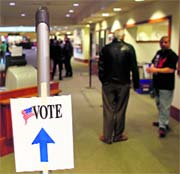 A view of a polling centre in Wisconsin. — PTI
President Barack Obama and Republican challenger Mitt Romney battled down to the wire on Tuesday, mounting a last-minute Election Day drive to get their supporters to the polls in a handful of states that will decide the winner in a neck-and-neck race for the White House.
Capping a long and bitter campaign, Americans began casting their votes at polling stations across the country. At least 120 million people were expected to render judgment on whether to give Obama a second term or replace him with Romney.
Their decision will set the country's course for the next four years on spending, taxes, healthcare and foreign policy challenges like the rise of China and Iran's nuclear ambitions. National opinion polls show Obama and Romney in a virtual dead heat, although the Democratic incumbent has a slight advantage in several vital swing states, most notably Ohio, that could give him the 270 electoral votes needed to win the state-by-state contest.
Romney, the multimillionaire former head of a private equity firm, would be the first Mormon president and one of the wealthiest Americans to occupy the White House. Obama, the first black president, is vying to be the first Democrat to win a second term since Bill Clinton in 1996.
Whichever candidate wins, a razor-thin margin would not bode well for the clear mandate needed to break the partisan gridlock in Washington.
Romney voted at a community centre near his home in a Boston suburb, before dashing off for a pair of last-minute stops, including in Ohio. "I feel great about Ohio," he said when asked about a state that is considered a must-win for him. Obama, settling into his hometown of Chicago, made a final pitch to morning commuters in battleground states that have been an almost obsessive focus of both campaigns seeking to map out their paths to victory.
He also made a surprise visit to a Chicago campaign office.
"Four years ago, we had incredible turnout," Obama told a Miami radio station in a pre-recorded interview. "I know people were excited and energized about the prospect of making history, but we have to preserve the gains we've made and keep moving forward."
He called into a hip-hop music station in Tampa, Florida, in a final outreach to African-American supporters, saying that voting was "central to moving our community forward."
Fueled by record spending on negative ads, the battle between the two men was focused primarily on the lagging economic recovery and persistently high unemployment, but at times it also turned personal. (With inputs from agencies)
Tough call
Back to 2000? There could be a disputed outcome similar to the 2000 election, which was decided by the US Supreme Court.
At stake: The balance of power in Senate and House of Reps
Projections: Republicans may keep control of the House of Reps, while Democrats are tipped to remain in sway of Senate
Ground reality: Senate's 100 members serve 6-year terms and one-third of the seats are up for election every two years. Republicans hold 47 seats. To retake control of the Senate, they need to gain 4. For 435 seats in House of Reps, Republicans have a majority with 242 seats
Swing states: Wisconsin, Ohio and Iowa