All that glitters is gold
With Diwali and Dhanteras, or the festival of wealth, being considered an auspicious time to buy precious metals, get set for the big gold rush
Sonali Seth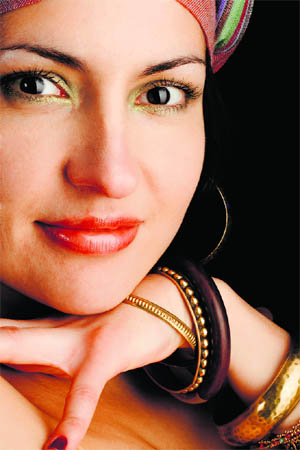 Colourful, vibrant and enticing, the entire India prepares yet again for Diwali. Apart from being the time of celebrations, it is one of the prettiest and brightest of all Indian fiestas. A time to rejoice and celebrate, it signifies the freedom of the human spirit from darkness and oppression. The festival of lights, which leads us into truth and light, is ironically celebrated on Amavasya — the 15th day of the dark fortnight of the Hindu month of Ashwin (Aasho) that falls between October and November every year.
The word Diwali is a loose derivation of the Sanskrit word Deepawali — 'deepa' meaning light and 'awali' meaning a row. In other words, a row of lights. Indeed, illumination forms the festival's main attraction. Every home is lit with the orange glow of twinkling diyas and candles to welcome Lakshmi, the goddess of wealth and prosperity.
Diwali is not just one day of celebrations. It is celebrated over several days and each of these days has a distinctive significance and a ceremony. One of the most important festivals — apart from Diwali — falls on the 13th day of the month of Ashwin and is called Dhanteras, or the festival of wealth.
Dhanteras marks the first day of Diwali celebrations and signifies money (dhan) and teras or the 13th day of the month on which wealth is worshipped in the form of metals. On this day, it is considered auspicious to buy gold or silver articles, or at least some new utensils. Precious metals in the form of gold or silver coins or jewellery or utensils are considered a sign of good luck.
Boom in gold sales
With such a scenario as the backdrop, it is no surprise that gold registers a boom in sales during Dhanteras. Gold coins of Goddess Lakshmi and Lord Ganesha, as also gold ornaments of all shapes and sizes, gold bars and even bullion clock record sales due to two basic reasons. One, it is auspicious to buy gold or any other metal on Dhanteras and secondly since most Indians consider gold a safe investment, they dip into their savings to create family assets.
Evidence of the buying spree can be had from the fact that the sale of gold and jewellery grew by an astounding 20 to 25 per cent during Dhanteras and Diwali in 2011 proving that the escalating rates were not going to deter people who made a beeline to buy the precious metal. The same can be expected in 2012 and that, despite the fact at around ~31,000 per ounce of 24-carat gold, the rates are almost 20 per cent higher than those prevailing in 2011.
Anticipating the big gold rush, jewellery shops put on a new sparkle and get ready much before the event with their special offerings. Leading branded jewellery retailers like Tanishq, Gitanjli, Gili, D'Dmas, Mont Blanc and others bring out exclusive collections and also launch special schemes related to the auspicious Dhanteras.
While Mont Blanc is offering a special range of Diwali gifting options from jewellery to accessories, Gitanjali Jewels is offering its customers up to ~201 off on every gram of gold jewellery. Tanishq is giving a flat 20 per cent off on making charges of select 22-carat gold jewellery. But with prices being a non-issue, this year too, there seems to be no dearth of buyers for gold and gold jewellery. As in 2011, this year, too, retailers expect the sales to spike by around 20 to 25 per cent.
Many people go in for gold coins and bars offered by public and private sector banks. These are considered more economical as, unlike jewellery these do not incorporate steep making charges. And since these are bought from reputed banks, these are considered safe as far as gold purity is concerned.
Gold ETFs & MFs
In a new trend, apart from physical gold, there are people who buy other forms of the yellow metal like exchange-traded funds (ETFs), gold mutual funds (MFs) or E-gold by National Spot Exchange. Many leading jewellery houses have launched Gold Saving Schemes which have become very popular.
In whichever form they buy, Dhanteras is the time to purchase gold or any other metal as it is considered not just auspicious but an addition to the family fortunes. With the uncertainties of the stock market and the looming sceptre of price rise, gold is being increasingly seen as one of the safest precious metals to bet one's money upon. And what better day to buy it than Dhanteras?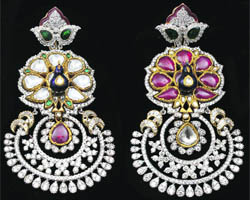 P P JEWELLERS' DANCING PEACOCK COLLECTION
P.P. Jewellers has unveiled the 'Dancing Peacock' collection that is crafted with gold, white gold, exquisite diamonds, gemstones, colourful stones. There are some that also have polki and meenakari work in them. The collection also has peacock brooches in white gold and diamonds
Price: Starts from Rs 73,500
TANISHQ'S FESTIVE GOLD COLLECTION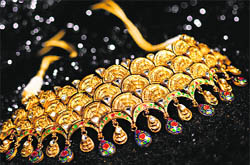 Ahead of the auspicious occasions of Dhanteras and Diwali, Tanishq, has made available a range of gold jewellery. Starting from a weight of two grams, the Festive Gold Collection has plenty on offer. You can choose from an assortment of rings, earrings, pendants, bangles and much more.
Price: Rs 29,000 onwards
P.C. JEWELLERS' HALLMARKED JEWELLERY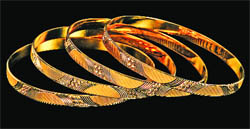 Delhi-based P.C. Jewellers has a lot on offer this Dhanteras and Diwali. The company has 30 showrooms in India and is expanding rapidly with more than 50 showrooms to be opened in the next two years. There is a big variety of hallmarked gold and diamond jewellery this festive season.
Price: Upon request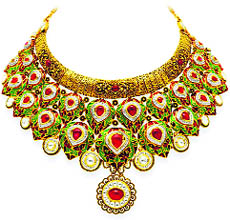 TRIBHOVANDAS BHIMJI ZHAVERI DESIGNS
Tribhovandas Bhimji Zhaveri is synonymous with exquisite jewellery in India. It is known for its maang-tikkas, cummerbunds, ponchas, haath-phools, as well as earrings, bracelets, bangles and neckwear. During the festive season, a visit to one of its stores is a treat.
Price: Upon request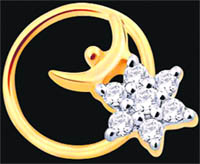 NAKASHATRA CLASSIC COLLECTION
Nakashatra which means constellation of stars in Sanskrit gives its finely crafted pendants, nose rings, bangles, rings and earrings the classic qualities of beauty, radiance and immortality. It has created a niche for itself as a brand that provides a great choice every festive season.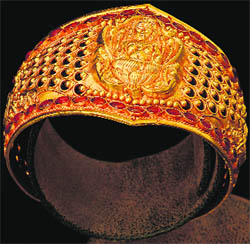 Price: Nose rings Rs 8,300 onwards
GODDESS LAXMI BANGLE FROM VBJ
The Chennai-based VB Jewellers' gold collection comprises necklaces, pendants and accessories. The collection draws inspiration from tradition as well as modern influences. The highlight is the Goddess Lakshmi bangles with gold balls adorning the piece and giving it an elegant sheen.
Price: Rs 1,59,100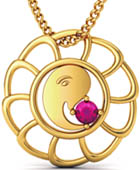 GANESHA COLLECTION BY BLUESTONE
Bluestone.com, the online jewellery store, presents its festive Ganesha-inspired collection. It comprises Ganesha pendants set in gold and studded with diamonds and rubies. Though the collection was launched on Ganesh Chaturthi, it is as relevant on Dhanteras and Diwali as well.
Price: Range starts from Rs 5,076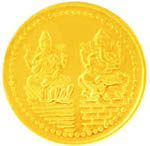 MYRA GANESH-LAXMI GOLD COIN
Brighten up your lives with the blessings of Lord Ganesha and Goddess Laxmi with a gold coin. This coin available at www.jewelscart.com symbolises wisdom and wealth. Created by Myra it weighs eight grams and is made in pure 24-karat gold which has been gemologically tested.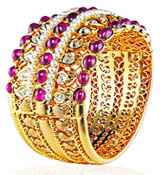 Price: Around Rs 29,000
MIRARI'S COLLECTION
Mirari, a high-profile recent entrant into the field of fashion jewellery, is a blend of classic and contemporary designs. The delicately crafted jewels combine style with the natural glitter of gold. And this festive season it has a lot on offer.
Price: Upon request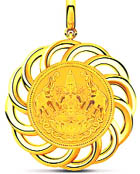 GODDESS LAKSHMI GOLD PENDANT
A popular purchase during Dhanteras is the gold and silver Lakshmi coins and pendants which are considered very auspicious. Jewellery website www.caratlane.com has launched pendants of Goddess Lakshmi for the season in a wide range of variety in 22 and 24 carats.
Price: Rs 3,129 onwards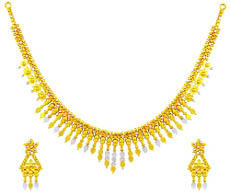 MEHRASONS WIDE VARIETY
Over the years, Mehrasons Jewellers have built a reputation for itself for variety and quality. The jewellery ranges from gold and diamonds to Kundan, Victorian and platinum pieces. It is also known for its lose stones, strings and gold and silver coins during Dhanteras and Diwali.
Price: Necklace set range from Rs 41,557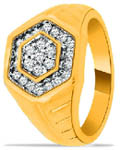 D'DAMAS FESTIVE OFFERINGS
A joint venture between Gitanjali Gems and the Dubai based Damas Group, D'Damas has a presence in over 159 Indian cities and towns. Its festive collection is overwhelming. The wide variety offers plenty of choices and items like the gold and diamond men's ring stand out.
Price: Men's ring Rs 1.3 lakh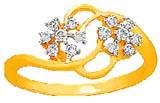 GILI FESTIVE SEASON COLLECTION
To make Dhanteras and Diwali shopping a memorable experience, Gili Jewels is giving away the best offers to make this festive season's celebrations all the more grander and lavish. On offer are a range of diamond and gold jewellery pieces with a standout collection of rings.

Price: Gili ring Rs 47,625
RIVAAZ GOLD PENDANT
Rivaaz 18-carat gold pendant with cubic zirconia combines both the affordability and the quality assurance. The festive range features an enormous choice of delicate, light-weight designs in elegant finish, with a high wearable quotient as they are traditional yet chic and modern.
Price: Rs 10,800

AMRAPALI'S TOUCH OF GLAMOUR
Luxury jewellery brand Amrapali's Diwali collections are infused in ethnicity yet retain an air of modernity. The company has not just designed jewellery for leading film names like Kareena Kapoor, Kajol, Vidya Balan, Asin and Madhuri but also Hollywood divas like Gwyneth Paltow, Salma Hayek, Paris Hilton, Beyonce and more.
Price: Upon request