M A I N N E W S
Haze maze

SC panel tells Punjab, Haryana to stop burning paddy stubble
Tribune News Service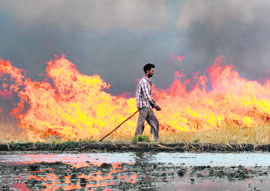 New Delhi, November 10
Punjab and Haryana have been directed to ensure complete ban on the environmentally hazardous practice of burning paddy straw within two years. Separately, Punjab has been asked to immediately issue a notification making agricultural residue burning an offence in the state.
Officials from the two states, along with their counterparts from Uttar Pradesh and Delhi, attended a meeting convened by the Supreme Court-appointed Environment Pollution Control Authority (EPCA) to discuss smog that engulfed the NCR region for nine days at a stretch earlier this month. Punjab and Haryana were told to promote alternative uses of paddy straw and execute plans for power generation and bio-methanation in the next two years.
Centre for Science and Environment Sunita Narain, who is a member of the EPCA, said Punjab was specifically asked to issue a notification prohibiting burning of leftover straw after harvesting of crops in the entire state with immediate effect under Section 19 (5) of the Air (Prevention & Control of Pollution) Act, 1981. The EPCA would monitor progress on compliance of these directions every six months, she added.
Taking a serious note of the drop in air quality and smog cover over the national capital, the SC-appointed panel also asked UP, Haryana and Delhi to ensure strict monitoring of polluting vehicles entering Delhi.
The extent to which the practice of paddy straw burning was affecting the air quality emerged from satellite images released by NASA, which showed large number of fires over agriculture fields of Punjab. However, Punjab said there was no scientific evidence to hold it responsible. On the other hand, Haryana criticised Delhi for blaming other states for "a mess that was its own creation". Taking a stern view of reports regarding burning of paddy straw in Punjab and Haryana and its contribution to smog in Delhi, the EPCA asked these states to extend incentives to farmers to upgrade technology and refrain from burning farm wastes. "Punjab and Haryana also asked the Centre to chip in and consider their proposal to provide 50 per cent subsidy on price of new agricultural equipment 'zero till seeding fertiliser machine' or 'Rotavator' which helps in recycling of the straw,' Narain said.
Officials of UP, Haryana and Delhi were told to crack down on polluting diesel vehicles and not let them enter the Capital. Officials of Transport Department of the respective states will now organise inspection at five points - NH-8 border, NH-24 border, Singhu border, Tikri border and Badarpur border.