Reality is fiction for this writer
Reviewed by Nirupama Dutt
Gurdial Singh: A Reader
Edited and compiled by Rana Nayar. Sahitya Akademi. Pages 483. Rs 350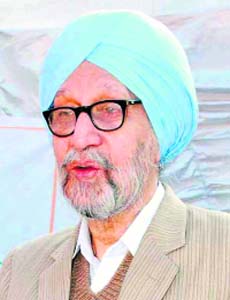 THE first Dalit hero in Punjabi fiction stepped out of the pages of Gurdial Singh's first novel Marhi da Diva (translated into English as The Last Flicker) in the 1960s and walked straight into the hearts of the people although there was nothing heroic about him. Poverty, exploitation, betrayal, unrequited love and addiction to opium go into the making of Jagseer. The protagonist is at the centre of a changing way of life in which old values are replaced by new greed.
Hailed as the first Punjabi novel of social realism, widely translated in Indian and foreign languages, the novel remains till date the most-discussed and debated work in Punjabi literature. The novelist's triumph lies in bringing centrestage a low-caste oppressed man and telling his story in so humane a manner, thereby making it a part of the collective psyche. This was no one-novel wonder. Since its publication in 1964, Gurdial Singh has given many classics and continues to do so. Rana Nayar, who has translated a large body of work of this novelist from Jaitu in the Malwa region of Punjab who has received the highest national awards for his contribution, says: "For him, literature is not literature unless it springs from life".
Social realism in all its intensity has been the concern of Gurdial Singh's fiction which nevertheless has never compromised on the aesthetics as he probes the class and caste structures in Punjab's rural and semi-urban society. The frail gangly man has made the most valuable contribution to modern Punjabi fiction, even though he has had his detractors and that is to be expected for he has laid bare the class and caste hierarchies and the human tragedy wrought by them.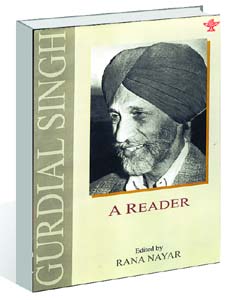 Anyone who wishes to know more about this amazing writer who has given extraordinary novels like Unhoye, Addh Chanini Raat, Anhe Ghore da Daan, Parsa and Aahan, besides 10 collections of short stories and newspaper and journal articles, the Reader in hand is the place to go to. It is indeed a "one-stop shop" in which is mirrored in English the life, times and works of this most significant living novelist that Punjabi has known. This was an arduous task indeed, which Nayar took on undaunted and carried it to a very satisfying completion in the compilation of this Reader which is a complete document on the world of Gurdial Singh and his fiction. Nayar had earlier brought three novels and a collection of short stories of this writer in English and the only parallel we have of his dedication and academic discipline is perhaps that of Gayatri Spivak, the translator of Mahashweta Devi.
The Reader brings forth a fair sampling of Gurdial Singh's fiction, both long and short, his articles, interviews by different scholars, assessment by well-known critics. No aspect has been ignored and it is indeed a valuable book for the benefit of non-Punjabi readers home and abroad. The Sahitya Akademi too earns compliments for introducing Readers, which are essentially a Western concept. It is befitting to close the review with what Gurdial Singh says of his oeuvre: "I was regarded as a trendsetter because of my emphasis on rural life and regional consciousness. This happened because many of the earlier writers used to think of the pristine quality and inherent simplicity of rural life, and sought to portray it in their works in much the same manner.
However, Sant Singh Sekhon and Kulwant Singh Virk wrote very good stories on village life. I got prominence as a novelist. Perhaps, the reason is that I was able to present the complexity, the depth and the cultural reality of rural life with a greater degree of intimacy and creative deftness."