Introduce job-oriented vocational courses
India needs to develop a workforce that can meet the skill demands of a growing economy
Harender Raj Gautam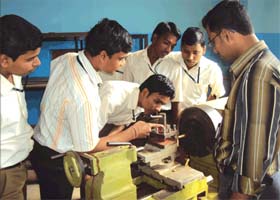 The ratio of technical degree to diploma holders is around 2:1; it should ideally be 1:3.
INDIA is referred to as a 'young nation' because around 70 per cent of its population is below the age of 35. The youth are the most vibrant and dynamic segment as well as potentially most valuable human resource. There is an urgent need to turn this resource into an asset for nation economic growth. And education has the potential to do the trick.
India has a higher education Gross Enrolment Ratio (GER) of only 12.4 per cent and the remaining 87.6 per cent drop out at various levels in school. Every year, approximately 7 million students reach Class XII and out of these, only 2.5 million study at the university. It is estimated that by 2012, India will have around 57 million people who are school dropouts or illiterates. The major reasons for dropping out and which prevent many students from pursuing higher education are accessibility, affordability and employability.
The Kothari Commission in 1966 emphasised on the importance of vocational education and was of the view that for a majority of occupations, university degrees were not necessary and these jobs could be competently handled by trained higher secondary students. The commission felt that at least 50 per cent of the students completing Class X should be diverted to the vocational stream, which would reduce the pressure on universities and also prepare students for gainful employment. Thus, there is an urgent need to focus on the vast pool of school dropouts, so that they could be channelised to vocational education.
According to a World Bank Report of 2006, out of the more than 14 million students enrolled in Classes XI and XII, only about 3 per cent are enrolled in vocational education, which is a very low percentage in comparison to 60 per cent in Russia, 55 per cent in China and 31 per cent in Indonesia. In India, there are 12.8 million new entrants to the workforce every year, but the existing skill development capacity is only 3.1 million per year. As per data of the Chamber of Indian Industries, around 95 per cent of the people working in the organised and unorganised sectors are unskilled, and hence the percentage of skilled people is very less. There is a huge demand and supply gap, as 90 per cent of jobs are skill based, emphasising the need for vocational education.
The government has set a target of preparing 500 million skilled workers by 2022, as around 75-80 million jobs will be created over the next 5 years and 75 per cent of them will require vocational training. In India, vocational education is provided at schools, vocational institutes and polytechnics. There are 9,619 schools which are providing vocational education covering about 1 million students. It is proposed to expand vocational education to 20,000 schools and the intake capacity to 2.5 million by 2011-12. Thus, there is a need for increasing capacity and capability of skill development programmes at the school level. Past few years have seen remarkable changes in the existing system and vocational education courses are being introduced at the school level. Recently, the National Vocational Education Qualification Framework had been introduced which talked of imparting vocational education. The Central Board for Secondary Education is also running 121 vocational courses at the school level.
During the last decade, India has seen a tremendous increase in the number of engineering colleges at the degree level. However, the growth of technical institutions has not been uniform as far as the number of polytechnics and degree engineering colleges is concerned. The present student intake in degree- and diploma-level technical institutions is 6.53 lakh and 3.54 lakh, respectively. The ratio of technical degree to diploma holders is around 2:1; it should ideally be 1:3. The Directorate General of Employment and Training in the Ministry of Labour initiated major programme of skill development in 1950 by establishing about 50 Industrial Training Institutes (ITIs) for imparting skills in various vocational trades to meet the skilled manpower requirements for technology and industrial growth.
India has about 2,500 ITIs which are run by the government and more than 5,000 industrial training centres run by the private sector, imparting basic skills through vocational education. In addition, the National Institute of Open Schooling, which is responsible for imparting education through open and distance mode from the primary to senior secondary levels, has also the mandate for offering Vocational Education and Training (VET) programmes to general and prioritised groups. There are about 1,063 accredited vocational institutes and the cumulative enrollment in VET during the last five years is 93,000.
Skill development has been the major focus of the Central government to increase employment opportunities among the youth and also to cater to the demand of skilled labour force in the industry. Therefore, Prime Minister's National Council on Skill Development was constituted in 2008 to pave the way for coordinated action for skill development. Later, the National Skill Development Corporation was formed. Its aim is to promote skill development by catalysing creation of large, quality, for-profit vocational institutions. It provides funding to build scalable, for-profit vocational training initiatives. The corporation aims to increase the vocational education target to about 30 per cent, so that overall target of skilling / upskilling of 500 million people in India by 2022 could be achieved. This will be done mainly by fostering private sector initiatives in skill development programmes and providing funding. A major scheme for skill development has also been formulated to train at least 8 crore people in the next 5 years. Under this scheme, the youth will be skilled by providing short-term training courses of 6 weeks to 6 months. The Central government is also considering the establishment of a National Skill Development Authority, so that skill development programmes all over the country can be implemented in a coordinated manner.
Our polytechnics are the main source of skilled manpower of higher quality. A nationwide scheme of "Sub-mission on Polytechnics" has also been launched. Under this scheme, new polytechnics will be set up in every district with the Central funding, while over 700 will be set up through Public Private Partnership (PPP) and private funding. The existing government polytechnics will be incentivised to modernise under the PPP mode.
Today changes in technologies and financial markets, emergence of global economies, products and services, growing international competition, new forms of business, and management practices are creating new paradigms for the workforce. If India wants to develop a workforce that can meet the skill demands of a growing economy, and if it wants to give a competitive advantage to its workforce on the global front, it is imperative that its vocational education and training system is also restructured accordingly.
The writer is Senior Scientist at Dr Y. S. Parmar University of Horticulture and Forestry, Nauni (Solan)