M A I N N E W S
Xi Jinping at helm in China; to replace Hu as Prez in March


Crowned new head of all-powerful CPC


Also to take over as head of military chief
Beijing, November 15
China's 'princeling' Xi Jinping was today crowned the new head of the ruling Communist Party of China (CPC) and the powerful military in a smooth transition to steer the world's second largest economy over the next decade, ending the 10-year reign of President Hu Jintao amid concerns over rampant corruption and widening rich-poor divide.
The 59-year-old Xi, who was the Vice President till now, will replace Hu as President in March, while Li Keqiang, 57, will succeed Prime Minister Wen Jiabao, capping years of jockeying within the CPC, the world's biggest political party which has monopolised power here since 1949.


Under the new conditions, our party faces many severe challenges, and there are also many pressing problems within the party that need to be resolved, particularly corruption, being divorced from the people, going through formalities and bureaucratism caused by some party officials.
— Xi Jinping, CPC Gen Secy
Shortly after he was elected CPC General Secretary in a carefully choreographed event held at the ornate Great Hall of the People here, a confident-looking Xi stepped on to a special stage in front of a large local and foreign media and introduced six other 'fifth generation' leaders, who together formed the party's all-powerful Politburo Standing Committee. Sounding candid in his first speech, he spoke of the rampant corruption within the party and its alienation from people, identifying them as major issues to be addressed.
"We must make every effort to solve these problems. The whole party must stay on full alert," Xi said.
It was a head-start for Xi unlike his predecessor Hu as he was also appointed military chief today, making him the most powerful leader in the country. An official announcement said that Xi will also be the head of the Central Military Commission, which controls the Command structure of 2.3-million strong People's Liberation Army (PLA), the world's largest standing military. Xi was earlier the Vice Chairman of the Commission.
Hu had to wait for two years to get the top military position after becoming the CPC chief in 2002 as his predecessor Jiang Zemin, regarded as the 'Big Boss' of the party, remained head of the Military Commission even after quitting as the General Secretary of the party.
Hu's move to step down from the military surprised many as he carried out a major reshuffle of the PLA command recently, packing it with Generals groomed by him. He apparently believes that retired leaders should not have any active role in the present administration and the new leadership should be given free hand to carry out the fresh policies to revive the sluggish economy and deal with other challenges facing the country.
Former President Jiang, however, took the centre stage at the week-long 18th Party Congress, both at its inaugural and valedictory meetings sitting between Hu and Wen.
Ten years after his retirement as CPC chief, Jiang, 86, continued to be "backroom boss" of the Party earning the tag of "king maker" as most of the leaders who got elected to the Central Committee yesterday were reportedly close to him Vice Premier Li, a protege of Hu, was elevated to number 2 position in the Standing Committee.
The other members of the Committee included Vice Premier Zhang Dejiang; Shanghai party chief Yu Zhengsheng; Propaganda chief Liu Yunshan; Vice Premier Wang Qishan; and Tianjin party head Zhang Gaoli.
Wang, a top economist, has been appointed as the head of the anti-corruption unit of the Party and is expected to carry out a big campaign against tainted officials.
In many ways, it is a new era for China as Xi and some other latest appointees were 'princelings' or 'hereditary' Communists by virtue of being the children of influential Party leaders. Xi is the son of former Deputy Premier Xi Zhongxun, who later fell out of favour with Mao for his moderate views and relegated to obscurity. Xi Zhongxun was also imprisoned for some time. —PTI

Singer First Lady to add zing to power corridors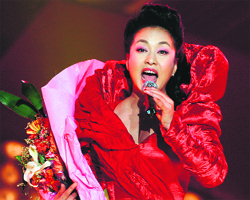 Peng Liyuan
Beijing, November 15
For the first time after the Mao era, China is set to welcome a high-profile First Lady as the wife of the ruling CPC's new supreme leader Xi Jinping is a celebrated singer who is expected to bring colour and glamour to his office.
Peng Liyuan (49) is Xi's (59) second wife. Xi will replace Hu Jintao as President in March.
The couple got married when Xi was the deputy mayor of Xiamen City, reportedly after months of dating. Unlike other Communist leaders who rose through party ranks in relative obscurity, Xi's marriage to Peng, who was already well-known all over the country as an iconic singer, made him famous. For decades, she regaled the audience over the state television with patriotic songs. Their daughter Xi Mingze, who was born in 1992, is reportedly studying in the US.
Analysts say for the first time in three decades, China is going to have a famous and active First Lady as the wives of most leaders, other than Mao Zedong, never took up any public role.
Many now wonder what role Peng will play even though she has curtailed her singing performances a great deal after her marriage.
Jiang Qing, wife of Mao and a member of the infamous "Gang of Four", was also an actress until she married him in 1938 and grew to be a powerful woman attempting to seize power after his death.
As a member of "Gang of Four", she was sentenced to death, which was later converted to life imprisonment. She had reportedly committed suicide in 1991. — PTI