Blazer's edge!
The blazer has been placed on a pedestal by leading global couturiers and turned into a major fashion statement
Mukesh Khosla
STYLE BASICS
A blazer reflects the wearer's personality and helps establish his/her identity. Even the lapels and buttons make a statement. So you must know what suits you and choose your blazer carefully. Though designers never tire of giving a spin to the blazer, traditionally there are two basic styles:
Single-breasted: It is a casual jacket with one column of two or three buttons and a narrow overlap of fabric. The single-breasted blazer conventionally has a breast pocket, two front flap and two inner pockets. Lapels fold back on to the front of the jacket, whose arms have a four-button cuff.
Double-breasted blazer: This is a more formal jacket with peak lapels, which makes the blazer more decorative. It has two parallel rows of buttons for its broad overlapping flaps. It usually has six buttons though only two to three are functional and the rest are ornamental. An inner-button or 'jigger' is added to fasten the over-lapping flaps. The arms have a four-button cuff.
TOP SIX BLAZERS
The choice of fabric will determine how good the blazer will look on you. In winters, go for light wool and in summer, the ideal fabrics are cotton, linen and seersucker. The top six blazer styles for men are:
Navy blue blazer: This is the traditional classic blazer that has been worn for over a century and in appeal, it continues to remain in fashion.
Tweed blazer: Blazers made of tweed, the warm, fuzzy, woollen Scottish fabric, have been setting style trends around the world.
Corduroy blazer: A classic fabric for the blazer, a corduroy blazer lends a sporty edge especially with leather elbow patches.
Velvet blazer: For long, velvet has been associated with sophisticated blazers and makes an exclusive style statement all its own.
Plaid Blazer: The blazer has crossed horizontal and vertical lines in two or more colours & is best paired with white shirt and jeans.
Seersucker blazer: The striped or chequered all-cotton fabric is a summer classic and works wonders with a summery pastel shirt
The corporate man is often seen as highly structured person, advocating efficiency and rigidity in varous aspects of life. Time was when everything — from management decisions to marketing strategies — was stereotyped. This also included the kind of clothes worn to office. But not anymore as the corporate world is becoming more and more flexible. Business clothes were starchy, formal and restrictive. But as the Indian man strides confidently into the brave new corporate world, fashion for the boardroom is taking a bolder, confident turn. The formal office attire is being replaced by a degree of casualness. It is hardly surprising then to see men going to the workplace wearing more relaxed clothes which were earlier reserved for weekend parties.
Take the blazer, for example. It has been placed on a pedestal by leading couturiers of the world and turned it into a major fashion statement. Today a smart blazer spells success as it is neither considered too restrictive nor dressy. It is, at once, casual and formal, besides being elegant and stylish. This explains why the worldwide annual turnover of blazers runs into more than $2 billion. This current blend of casualness and formality was pioneered by the 'master of the cut', Giorgio Armani, the legendary Italian fashion designer. He gave the formal Seville Row jacket a dash, and added a bit of spice and created the sophisticated, city slicker blazer that was sexier and more wearable.
From Gucci to Dolce & Gabbana and from Tommy Hilfiger to Ralph Lauren, all leading designers and fashion houses worth their cuts and silhouettes, are now designing blazers and the new millennium has seen a full-blown version of this phenomenon.
Thriving market
The scene is no different in India. There are four parts to the thriving blazer market in India. The first is the traditional way of buying cloth and getting it stitched by a tailor. The second is the unorganised sector where local players flood the market with ready-made blazers. And the third is the organised sector where Indian brands like Raymonds, Shopper's Stop, Chirag Din and many more retail blazers. And the fourth are global players like Zara, Marks & Spencers, Allen Solly and others who retail sharp and smart blazers from slick outlets.
Thus, there is a large diversity in prices. From local brands retailing for less than Rs 1,200, the range can go up to Rs 20,000 and more for the top brands. Internationally, too, the scene is similar where cheaper brands are concerned but the excitement begins when it comes to global names like Yves Saint Laurent, Givenchy, Canali and Burberry. Here, the blazer can retail from a few hundred dollars to thousands.
The basic four
Though variations may be there but there are traditionally two types of blazers — the double-breasted and the single-breasted. When buying a blazer, four things have to be kept in mind, colour, fabric, pattern and cut. All these elements must conform to your persona, the climate and environment you work in, besides the nature of work, age and physique.
Opt for traditional colours like navy blue, solid grey and tan (or their variants) in winter. Earth tones look good in summer. Following close on the heels of colour is the cut or, as Americans put it, the silhouette. The cut or silhouette defines the overall impact and it is the axis around which a good blazer revolves. The right cut can help make a short man look tall or a plump man look slim.
There are three basic cuts — the American, the European and the British. The Americans, for example, usually prefer a two-button blazer that has soft shoulders. The European cut is sleek, body hugging and best suited for slim men. The British cut, as developed by Seville Row, is the most suitable for Indian men. Sophisticated, classic and conservative, this cut closely follows the contours of the body, though it is not a close fitting one.
Once you have decided upon the cut that suits you the best, turn your attention to the fabric. In a country like India where the climate is more or less hot, tropical wool is the best fabric for winter. Linen and seersucker are ideal for summer. In the warm season, don't stray far from cotton, as polyester blended fabrics will make you hot and uncomfortable.
Buttons are the highlight of a good blazer. Though the most common are simple generic brass buttons but other buttons that enhance the appeal can range from delicate smoked mother of pearl buttons to silver and gold.
What to wear a blazer with
A navy blue blazer and grey flannel trousers make a classic combo. In summer, you can make a great style statement with a cotton blazer and white cotton casual trousers. Jeans, too, look great with tweed or navy blue blazer and a white dress shirt will give you a young academic look.
A blazer also looks great with a pin-striped shirt and a geometric tie. For the more casual look, you could wear a T-shirt with the blazer left open. However, for a stunning effect, you could pair a blazer with a crisp blue shirt, a black tie and formal shoes.
Once you have these basics in place, you'll find wearing a blazer much more fun. That's important, because in today's world, the way you look must always reflect the way you feel confident.
A few years back, when asked how fashion for men will turn out in the new millennium, the late Italian designer Gian Franco Ferre — also known as the 'architect of modern fashion' — told the GQ Magazine, "The future will be more an expression of our spirit than an expression of our power or our money. Nowadays, a blazer is not indicative of your status, but of your free state of mind." Ferre's prophecy is coming true today.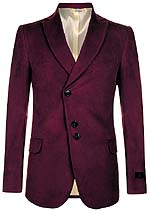 VIVIENNE WESTWOOD ASYMMETRIC BUTTON BLAZER
The amber-coloured Vivienne Westwood corduroy single-breasted blazer with an asymmetric front button closure and step lapel, features two front pockets with lapels. The stand-out blazer conveys the British designer's rebellious attitude, while the touch of cashmere adds a luxurious element.
Price: $1,115 Rs 61,325
GIVENCHY BEIGE MOLESKIN BLAZER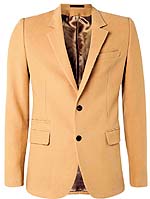 Cut for a smart fit, the beige moleskin Givenchy blazer with four front pockets, notch lapel and double rear vents exudes great style. The blazer makes for a staple wardrobe piece. The pared-down tone works very well with shades of burgundy and brown for a truly retro-inspired look.
Price: $830 Rs 45,650
YVES ST. LAURENT DOUBLE-BREASTED VELVET BLAZER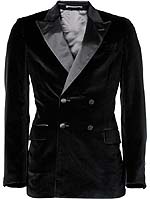 This classic slim fit, black velvet double-breasted blazer from Yves Saint Laurent has silk peaked lapels and half lining. It has a four-button closure, a chest pocket and double vents and two flap pockets. The sophisticated blazer is guaranteed to make your evening very special.
Price: $2,360 Rs 1,29,800
TOMMY HILFIGER HERRINGBONE WOOL BLAZER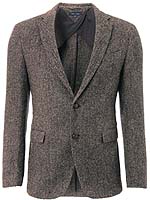 Designer Tommy Hilfiger says that every man needs a good blazer in his wardrobe. The classic Herringbone Cain blazer with leather buttons, two flap pockets and a breast pocket is modernised with sleek lines and cool details. It lends instant smartness and looks elegant at any time of the day.
Price: $430 Rs 23,650
MARC BY MARC JACOBS PLAID WOOL BLAZER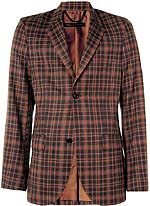 Marc by Marc Jacobs pays a tribute to the nostalgic 1950s with this trim-fit Manhattan-style traditional brown and grey plaid check blazer. Wear this with a crisp white shirt for a dapper city look or a crew neck T-shirt for a modern appeal.
Price: $460 Rs 25,300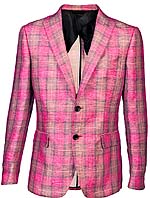 TONELLO PLAID BLAZER
Over the years, Italian fashion house Tonello has developed great craftsmanship in men's blazers and jackets. This two-button red and brown plaid jacket features notched lapels and two front pockets. It is for those fashion connoisseurs who like to stand out in any occasion.
Price: $1,148 Rs 63,140
GUCCI BROWN SUEDE BLAZER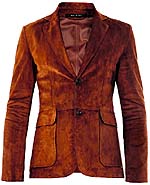 This Gucci blazer is your ticket to style. The brown suede blazer is just right for a very special occasion. It has a two-button front closure, two large flap-top side pockets, a fine-stitch detail and a smooth finish. The premium suede blazer brings retro-inspired luxury back in vogue.
Price: $2,963 Rs 1,62,965
PAUL SMITH DOUBLE-BREASTED WOOL BLAZER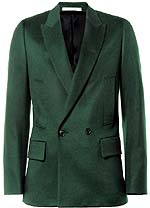 Walking the line between high style and utility, this four-pocket blazer from leading British designer Paul Smith is the ideal cover-up for classy weekend parties. The smart double-breasted fastening of this blazer will look particularly striking with a roll neck sweater in red or burgundy.
Price: $1,345 Rs 73,975
ALEXANDER MCQUEEN BLACK LINEN BLAZER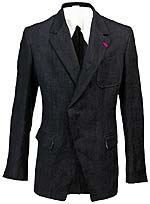 With a huge celebrity following, Alexander McQueen has always been a very influential British designer. His blazers are iconic. Take a look at the black linen blazer featuring notched lapels, concealed double button front closure and three front pockets. It is guaranteed to make you stand out.
Price: $950 Rs 52,250
DOLCE & GABBANA TWO-BUTTON BLAZER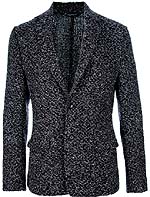 Personifying the dapper decadence, this spectacular black wool blend blazer from Dolce & Gabbana features a notched up lapel, breast pocket, two flap pockets, two button front fastening, long sleeves with button cuffs, and a double-back vent. It is, at once, opulent with a casual air.
Price: $1,490 Rs 81,950
RALPH LAUREN BLAZER WITH YATCH CREST LOGO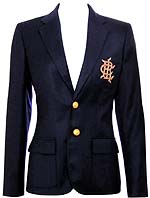 Ralph Lauren affirms its commitment to quality craftsmanship with this tailored navy/gold detail wool/viscose blazer. It has gold button detail on sleeves, two-button fastening and a beige underside. With two front patch pockets, the blazer's chest pocket is embroidered with the yacht crest.
Price: $910 Rs 50,050
CANALI PRINCE OF WALES PLAID BLAZER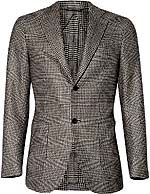 The Italian fashion house Canali is known for its impeccable tailoring of men's wear especially suits and blazers. One of its best-known creations is the Prince of Wales plaid blazer, with three front pockets and blended with cashmere for a luxuriant soft feel and contemporary silhouette.
Price: $1,450 Rs 79,790