Reliving the nightmare of brutality
Reviewed by Rumina Sethi
Dreaming of Baghdad. By Haifa Zangana.
Trans. by the author with Paul Hammond. Women
Unlimited, New Delhi.
Pages 169. Rs 375.

TOO often, literary studies have advanced themselves as part of higher learning while remaining deaf to the roaring turmoil of global resistance to domination and exploitation. That struggle must continue, and if writers are to align themselves with it, they must begin by returning to the place where the people dwell. Haifa Zangana's Dreaming of Baghdad belongs to that literary genre of political activism that refuses to allow the personal to remain separate from the political. This is a memory narrative about the times before the first and the second Gulf wars. Iraq had metamorphosed from a safe haven where women had walked free to a derelict environment where they faced every kind of discrimination and abuse. Zangana's Iraq (before the occupation) is one in which one could speak of liberalism and secularism; the other Iraq that imprisons her, in contrast, is a dangerous place to be born in.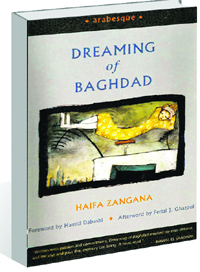 At the time, Zangana belonged to a group of dissidents who vehemently opposed Saddam's tyranny. Her actions resulted in her imprisonment in the Qasr-al-Nihaya (which means "The Palace of the End") prison where she was humiliated beyond measure and then in the infamous Abu Gharib. Zangana's memoir recounts the atrocities committed by Saddam Hussein upon revolutionaries in Baghdad who dared to speak against him. It is her impassioned endeavour during her later exile in London to recuperate the state of her incarceration and imprisonment by Saddam's Baath Party in the 1970s.
A book about detention in prison cannot make easy reading. Almost Kafkaesque in presentation, the narrative is circular and confusing, although one figures that the story begins from Zangana's childhood in the 1950s and takes the reader to the 1990s when she is middle aged. These four decades give us details of life in Iraq, some painfully so, and others pleasant with vignettes of a rich Iraqi family tradition. There are letters that begin with "Dear Haifa", presumably to a friend, but are not signed off. Through such signs, we are introduced to Zangana's friends, her father and her inmates in prison.
An extremely political book, it is recounted through snapshots entitled "Correspondence", "London", "Baghdad" and so on, each a dream-like chapter recounting torture. As she writes: "Torture has left a deep scar on our collective memory, and death by torture was not an unusual fate for radical activists in Iraq." Zangana's reminiscences are like a surreal film in which we hear piercing screams of prisoners as they are subject to interrogation and abuse in a dehumanising place where private space is encroached upon by agents of public brutality.
Torture has left a deep scar on our collective memory, and death by torture was not an unusual fate for radical activists in Iraq
Zangana's memoir, like Fatima Bhutto's Songs of Blood and Sword, is a means of breaking the silence and rewriting history which is "an incredible act of defiance." Coming from one of the most risk-prone families of Pakistan, Bhutto refuses to buckle down and be quiet about the violence that is done to her father. Like Riverbend, the author of Baghdad Burning (also published by Women Unlimited) and Nawal El Saadawi who wrote Woman at Point Zero, Zangana believes that the Iraqis have to tell their searing episodes of barbarism to prevent these stories from extinction. One may accuse Zangana of brevity, but this is her way of "paying homage to a group of people" that did not have the opportunity or skill to write. As she says, "In writing this book, I felt I was paying a debt long overdue to my friends."
A deeply political confession about the atrocities committed upon citizens experiencing occupation, Zangana echoes St. Augustine: "All this I do within myself in the huge hall of my memory. There also I meet myself and recall myself."