Man who could have been President
Reviewed by Parbina Rashid
A Life in Politics: Selected Speeches and Lectures, 1979-2004
By PA Sangma. Harper Collins. Pages 489. Rs 799
IT was the smiling face and the name of the author on the cover page that made me pick this up from the heap. After all, it is the name that finds a mention whenever one talks of achievers from the region that I come from.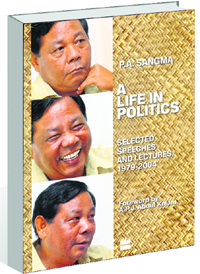 Yes, Purno Agitok Sangma has been the face of the Northeast's success story.
So, it was my curiosity to go beyond that smile and know the real man who could come out of a non-descript village in the Garo Hills of Meghalaya to join mainstream politics and become a top-ranking national leader, that made me read his book, A Life in Politics.
The book comes with a cryptic note, "PA Sangma asserts the moral right to be identified as the author of this work", but to set the record straight, A Life in Politics is by no means an autobiography, as I wrongly presumed.
Written in third person, the first chapter, which is the profile of the author, is just that — a profile; a sketch of the man done from a distance. Small wonder that the book gives an insight into his political mind but not so much into his personality.
In fact, Sangma comes more alive in former member of the Rajya Sabha B B Dutta's write-up headlined "PA Sangma: As I See Him". He is one among many other dignitaries like former Nagaland Chief Minister SC Jamir, former Defence Minister Jaswant Singh and Bihar Chief Minister Nitish Kumar who have contributed their bits to complete the sketch.
Dutta comes out with interesting anecdotes from Sangma's formative years. After all, he knew Sangma right from his St Anthony's College years and monitored his career graph throughout from close quarters.
It is an excellent reference book for anyone interested in Indian politics as one gets an analytical view on issues that captured the headlines
What Sangma scores as an author is with the novel idea to compile select speeches in the Lok Sabha and the Rajya Sabha, which, otherwise, would have ended up as just records in the Parliament Secretariat. Except, of course, for the bits and pieces, which had been reported and are in the public domain.
His speeches are on subjects like the need for administrative reforms in India, atrocities on minorities: theoretical and ideological framework for Jammu and Kashmir autonomy, Article 370 and beyond give us a glimpse of Sangma, the politician with a balanced attitude, who at times allows his diplomatic exterior to slip when he makes comments like, "I am told that every morning the Hindus do a puja called Surya Namaskar. I read it somewhere that it is to prevent blindness. But, unfortunately, Shri Advani and also the honourable Prime Minister are doing Surya Namaskar after they have become blind…"
A Life in Politics is an excellent reference book for anyone interested in Indian politics as one gets an analytical view on issues that captured the headlines in the media from 1979 to 2004. However, the disappointing aspect for me is that Sangma, who was a journalist before joining politics, has forgotten an important lesson in writing — brevity.
He tends to be repetitive at times. Or, maybe in the arena of politics where verbosity is hailed, brevity is a dead virtue.