Unfair speech
Use of intemperate language by politicians to demean women and treat them like punching bags reveals a feudal mindset. This attitude towards women cuts across party lines
Aruti nayar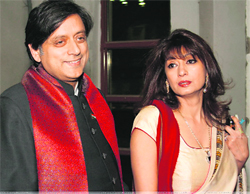 Power, a word that signifies a lot. It can be used to shatter a glass ceiling that prevents women from reaching the top of their professions. Or it can be used to shatter their dignity by throwing verbal shards at them. No prizes for guessing how our politicians use it. How often have we savoured these: The clip of a cheerful woman executive breezing through a board meeting, exuding a chutzpah that signifies that she has arrived, media images of icons in industry and the service sector and assertions that the glass ceiling has been breached.
When the political gets personal: Shashi Tharoor and Sunanda Pushkar
---
Society
'A city is not a painting'


Architect Vikramaditya Prakash, in an exclusive interview, offers solutions to woes that plague urban planning
Nonika Singh
Distinguished alumnus of the Chandigarh College of Architecture, son of renowned architect late Aditya Prakash and currently Professor, Department of Architecture, University of Washington College of Built Environments, Seattle, Washington, Dr Vikramaditya Prakash is more than an academician. A master of modernism, an author of half a dozen books, he was recently in Chandigarh to release his book on architect Shivdatt Sharma.
---
Arts
Man of many parts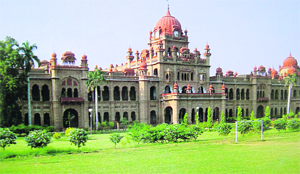 ONE knows that memories grow faint with time, and giving honour where it is due is not, in general, what we are good at. But the fact that few even know that there lived a man called Bhai Ram Singh, who built some of the most imposing buildings in Punjab close to hundred years ago, hurts.



A view of the Khalsa College, Amritsar
---
SPORTS
Cueing up for glory
Pankaj Advani's recent triumph over reigning champion Mike Russel to capture his eighth world title — seventh in billiards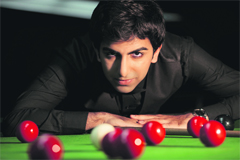 (time format), reasserts his authority as the king of cue sports. And he was the youngest to achieve the feat
M. S. Unnikrishnan
Though India has had a great tradition in cue sport — billiards and snooker — it's still considered as an elitist pastime with limited fan following. And it's no mean achievement for an Indian player to excel in the sport, and catch the fancy of the world, as it's basically the preserve of the English.
Big break
Ruma Kat
IN the 19th century, Sir Neville Chamberlain dubbed an opponent who missed a shot during a billiards game as 'snooker' . The word 'snooker', referred to his lack of experience and was also the slang term used for first-year cadets or inexperienced personnel.
---
travel
Romancing the Rhine
Niku Sidhu
THE Rhine Valley is steeped in myths, folklore and fairytales. The castles along the Rhine river are replete with fascinating tales of historical events, knights in medieval battles and military conflicts. Dubbed the romantic Rhine, it meanders through quaint villages and wine country. Having a length of 1,300km, Rhine is the longest river in Germany with tributaries flowing in from France, Luxembourg and Belgium. Since the days of the Roman Empire, the river was used as a vital navigable route for trade, demarcating inland frontiers. Subsequently, the river has served as the basis while creating international borders. The valley was declared a Unesco World Heritage Site in 2002.



Rhine is the longest river in Germany with tributaries flowing in from France, Luxembourg and Belgium
---
Entertainment
New peak for Indian cinema
An eclectic mix of brilliant documentaries and outstanding fiction films was screened at the first edition of the Dharamsala International Film Festival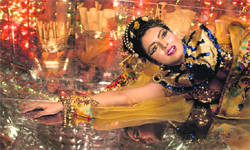 Saibal Chatterjee
THE hill town of Dharamsala, especially the quaint enclave of McLeodganj in its upper reaches, is rarely starved of international attention. Being the seat of the Dalai Lama and the Tibetan Government-in-exile, the place receives a steady stream of visitors wedded to the cause, besides hordes of casual tourists from around the globe all the year round.
Beyond face value
Huma Qureshi, whose latest release Luv Shuv Tey Chicken Khurana has been well received, is not just another pretty face
Nonika Singh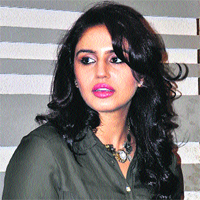 IN such times when heroines have little inhibitions shedding clothes and revelling in their bare dare act, Huma Qureshi has quietly yet strongly made her presence felt attired in simple salwar suits.  If you thought her stellar act as the cheesy movie aficionado Mohsina in Gangs of Wasseypur was an exception, well the lovely lady has delighted viewers and critics alike in her latest film Luv Shuv Tey Chicken Khurana too. Yet despite her bright middle class clothes, in GOW, she was dubbed as the hot cheez.

After getting critical acclaim for Gangs of Wasseypur, Huma Qureshi is back with Luv Shuv Tey Chicken Khurana

---
LIFE's lessons
Keep your dream
I have a friend named Monty Roberts who owns a horse ranch in San Ysidro. He has let me use his house to put on fund-raising events to raise money for youth at risk programs.
---

FRUIT FACTS