ENTAIRTAINMENT
New peak for Indian cinema
An eclectic mix of brilliant documentaries and outstanding fiction films was screened at the first edition of the Dharamsala International Film Festival
Saibal Chatterjee
THE hill town of Dharamsala, especially the quaint enclave of McLeodganj in its upper reaches, is rarely starved of international attention. Being the seat of the Dalai Lama and the Tibetan Government-in-exile, the place receives a steady stream of visitors wedded to the cause, besides hordes of casual tourists from around the globe all the year round.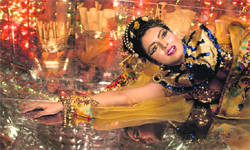 But while movie star Richard Gere, one of the Dalai Lama's best-known Hollywood friends, makes it a point to visit Dharamsala at least twice a year, cinema is a neglected medium in this part of the world. That scenario might, however, change now that the Dharamsala International Film Festival (DIFF) is here.
The first edition of the DIFF, the brainchild of the husband and wife filmmaking team of Tenzing Sonam and Ritu Sarin, made all the right moves. It eschewed undue glitz and glamour, focussed firmly on a wide range of independent cinematic works and celebrated the rainbow-like cultural and ethnic diversity of McLeodganj.
"For the 16 years that Dharamsala has been our home, we have marvelled time and again at the sheer energy and eccentricity of the place and have long believed that it will make a perfect venue for an international film festival," the duo behind the show said in their welcome note published in the DIFF catalogue.
Among visiting delegates were Mumbai director Hansal Mehta, Pune-based filmmaker Umesh Kulkarni, American documentarians Mark Elliott and Jennifer Fox, and BAFTA award-winning Indian-origin British director Asif Kapadia. They all returned impressed.
"There is no doubt that this festival has great potential," Mehta said. "Its character stems from the uniqueness of the venue as well as its warm and intimate ambience."
An eclectic mix of brilliant documentaries and outstanding fiction films were screened at the festival which was held from November 1 to 4. DIFF opened with Shahid, Mehta's first feature in four years, and showcased, among other titles, an array of top-notch non-fiction films on a variety of themes.
Two of the major films in the festival focussed on Tibetan Buddhism through the theme of reincarnation: Jennifer Fox's My Reincarnation and Mark Elliott's Yangsi. However, as part of a deliberate strategy, there was much more to DIFF than Tibet.
"We were clear from the very outset that our stress would be on contemporary independent cinema as a whole," explained Sarin. "We did not want to confine ourselves to any particular theme or divide the festival into sections," added Tenzing.
A hugely entertaining and socially incisive film made by the couple, When Hari Got Married, a documentary about a Dharamsala taxi driver preparing for his wedding to a girl he has never met and only spoken to on the phone, was enthusiastically received.
Also lauded were Guy Davidi and Emad Burnat's 5 Broken Cameras, one man's record of life under Israeli occupation in a village just off Ramallah, and Omar Shargawi and Karim el Hakim's ½ Revolution, a documentary that recounts the experiences of a group of friends in downtown Cairo in the initial chaotic days of the Egyptian Revolution.
Indeed, politics, society and religion dominated the discourse that was furthered by several of the fiction films on show at the Tibetan Institute of Performing Arts, a campus that stands under the shade of the imposing Dhauladhar range.
Umesh Kulkarni's Marathi-language Deool, winner of the National Award for the Best Film which deals with the flip side of blind faith; Malaysian director Dain Said's Bunohan, a disturbing but evocative take on loss and betrayal in a sylvan landscape under threat of violent change brought about in the name of development; prolific Japanese maverick Takashi Miike's Hara Kiri: Death of a Samurai; and Ashim Ahluwalia's Miss Lovely were a few of the 25-odd titles screened.
Also in the DIFF programme were Asif Kapadia's Senna, a film about the Brazilian Formula One legend's eventful life and untimely death on the race track, and German master Wim Wenders' visually impressive tribute to the art and craft of dance icon Pina Bausch.
For a first time film festival in a place that suffers from the lack of film screening facilities, DIFF was a well-organised event that surmounted its minor technical glitches without ever letting matters slip out of hand. With a little more support from the town, its administration and the Himachal Pradesh Government, it could, in the coming years, emerge as a major alternative cinema event.



(1) Dain Said's Bunohan is a disturbing but evocative take on loss and betrayal in the name of development (2) Umesh Kulkarni's Deool, National award-winning film, deals with the flip side of blind faith (3) Guy Davidi and Emad Burnat's 5 Broken Cameras is one man's record of life under Israeli occupation (4) Hansal Mehta's Shahid is based on the life of lawyer and human rights activist, Shahid Azmi

Beyond face value
Huma Qureshi, whose latest release Luv Shuv Tey Chicken Khurana has been well received, is not just another pretty face
Nonika Singh
IN such times when heroines have little inhibitions shedding clothes and revelling in their bare dare act, Huma Qureshi has quietly yet strongly made her presence felt attired in simple salwar suits.  If you thought her stellar act as the cheesy movie aficionado Mohsina in Gangs of Wasseypur was an exception, well the lovely lady has delighted viewers and critics alike in her latest film Luv Shuv Tey Chicken Khurana too. Yet despite her bright middle class clothes, in GOW, she was dubbed as the hot cheez.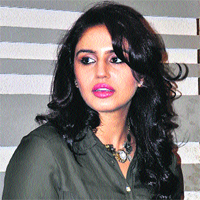 Quiz her on her sexy image and she raises an eyebrow and feigns ignorance. No way does she think her part in GOW was bold, let alone brazen. She quips, "Is it because the character that I played in GOW speaks her mind? Isn't it how a girl would react to her boyfriend in reality?"
In real life, she is a tomboy who is learning to deal with the paraphernalia of glamour, most importantly how to carry stilettos. But when it comes to characters, she relates more to the doctor Harman that she essays in Luv Shuv….  Her latest film anyway she feels is more real, much lighter and sans any kind of exaggeration that comes with Bollywood films. Indeed, it's markedly different from the dark and intense GOW as well. Her co-actor Kunal Kapoor, she adds with laugh too, "is much taller."
But if her co-star of GOW, Nawazuddin Siddiqui was brilliant, she gives full marks to Kunal too, especially for his dedication and calls him an "over-dedicated actor."
Her commitment to acting goes back in time, to days of theatre in New Delhi when she acted with theatre thespian Aamir Raza Husain. However, it is N. K. Sharma of Act One group, whom she considers her real mentor and who introduced her to the world of acting. She adds, "There is a phase in one's life when you know nothing. It's at this point that he taught me all about arc lights."
Today as she is working with the best of filmmakers, including Vishal Bharadwaj, she agrees she has been immensely fortunate. Between the two, Anurag Kashyap and Bhardwaj, she wouldn't pick and choose one. Indeed, the working styles of both, "actually of every maker", is different. Why Anurag the director and the producer, too, behaves differently. With the director in Anurag, she says, "Each character gets rounded off and each character has a graph." Working for Bharadwaj, the co-producer of Ek Thi Dayaan, which is being directed by Kanna Iyer was no less overwhelming.
 In the Bharadwaj film, she plays a regular modern girl. In all her films, she would like to play different and interesting characters and would hate to be boring or repetitive. So tomorrow would she wear a bikini or do an item song? Her reply is non-committal, "Maybe I would agree or I may chicken out." Much ado about clothes she feels is unwanted for the same must gel with the character and can't be out of context. She thinks it's a sheer coincidence that in both the films that have been released she has worn Indian clothes. Being trapped in an image of desi girl as people in the industry try to scare her off is something she is not cowed down by.
Critical acclaim, a Best Supporting Actress Award under her belt and the opportunity to be part of important banners, including a Nikhil Advani film…. has she escaped the period of struggle that is mandatory for being part of the glamour world? She answers simply, "My struggle is in my head."
As she lets the characters grow in her mind, never mind the space she occupies, "real or caricaturised", she stands tall. With or without her six-inch high heels. Mohsina of GOW or Harman of Luv Shuv….. here is a woman who can't be taken lightly, or at face value. Even, if it's a pretty face associated with over half a dozen advertisement brands.  
ROADIES DAY OUT
Pune, Delhi, Panchkula and Hyderabad to go. With a brand new concept mapped out, the auditions are taking the Roadies X — Battle for Glory to a new level. This season, contestants needed more than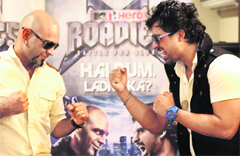 just the right attitude to get selected as a Roadie. There are two teams — Rannvijay's team and Raghu's team of ex-Roadies who have had an interesting journey on the show. With the completion of a decade, Roadies will see an ultimate face-off between the two where only the strongest will live to tell the tale. So prepare yourself to watch the new Roadies season on MTV in a new format but with the same old zeal to win and survive the challenges. If you are an aspirant and have missed out on the auditions, make a dash for Hyderabad on November 20, fill out your audition sheet, show off your swagger and brace yourself for the ultimate interview.
Get set for the ultimate face-off on Roadies X
AVERTING DISASTERS
It's a series that takes an inside look at the vast engineering systems that make the modern world work and enable people to complete critical missions without any accidents. In Countdown to Collision every Monday to Friday at 8 pm on Discovery Channel, watch how people blast for gold, pull gas from ocean depths, transfer oil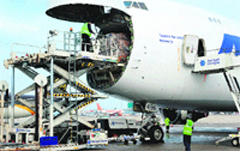 across ice covered seas and turn around massive container ships and cargo planes. Whether it is the hydraulic lifting machines that haul enormous amounts of freight into an aeroplane or the hi-tech ship-tracking systems designed to prevent collisions between vessels at Rotterdam, Europe's largest port discover how these ingenious inventions enable workers to complete critical missions without sparking a catastrophe. Shot on three continents and in some of the toughest conditions on earth, this stunning series follows the workers involved as they battle against time and use remarkable innovations trying to avert any kind of collision. — NF


Have a look at vast engineering systems in Countdown to Collision