Eroding educational equity
There is much that is wrong with education in India, both at the school and college levels
Ratna Raman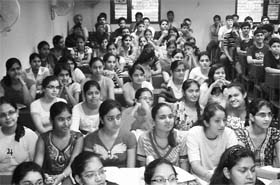 Coaching centres add to the school fees (Photo is only for illustrative purposes)
IN 1976, a new educational curriculum involving 12 years of formal schooling was put into operation. The extant 8+3 years of schooling was overhauled and in its stead the 10 +2 (ten years of comprehensive learning at the end of which students could opt for the study of disciplines in science, humanities or commerce for two years) came into being. The categories were clearly demarcated. If you were a bright student, you opted for sciences and went on to be an engineer or a doctor. If you opted for humanities, then you were definitely dim-witted and a familial liability. Commerce was an option if you could do some elementary mathematics and were imaginatively challenged. Students who wished to quit formal schooling after class 12 could join vocational institutes of various kinds providing skilled training to the future members of the nation growing in strength in schools all over the country.
Initially envisaged as an alternative, the vocational institutes failed to live up to their projection of making the much-needed intervention for training and grooming skilled personnel that will form the huge workforce. The additional year in school proved that at 16, students were better-equipped to make lifetime choices related to specific specialisations, although options remained limited and irreversible.
Public schools all over the country are run by business houses, Christian missionaries and others. The nomenclature "public" is meant to camouflage the fact that such schools only cater to different sections of the elite i.e. the one per cent that calls itself the middle class and has global aspirations. The schools run by the state and the central governments are in reality what should have notionally been termed "public" schools. These are government-run or government-aided institutions where the lack of infrastructure and quality of schooling is so abysmal that it is seldom spoken about. This is true even of the schools in the national Capital. Things are far worse in villages and remote, inaccessible parts of our country.
The funds allotted for education tell a different story. Neither illumination through knowledge nor empowerment through learning is the hallmark of the schooling system all over the country. Instead, the spoils of education are distributed unevenly among the one percenters while the dregs are reserved for the 99 percenters, who splutter and choke in a woefully inadequate system.
The system of unequal education continues to be deeply entrenched in our national psyche. In the recent times, even in this unequal system of education, the one per cent from elite schools has a lot more factored into their academic lives. Most of them are members of some tuition club or the other. Ranging from languages to literature, from history to economics, from maths to molecular science, tutors for a price, come home or deliver their hourly worth at some entreprenerual coaching centre. If you embarked upon becoming a lawyer, a doctor, an engineer or a management student, then along with subject tuitions, you also take year-long tuitions in order to crack the entrance examinations. All these parallel education centres, run by private individuals, double the expensive school fees of the one per cent who are tutored by fine teachers employed in public schools.
In today's vocabulary, a 99 percenter indicates all those who have aced their class XII exams in CBSE or ICSE mode. All 99 percenters continue to be as unaware of the original 99 per cent who figure very minimally in "public" consciousness.
In 1979, the first batch of students who passed out from Class XII embraced the universities and other institutes of higher education such as the medical, engineering colleges and IITs. For all those inspired and motivated by individual subjects, Delhi University had a stellar programme for three years at the end of which students graduated with honours in a subject of their choice. Students who did not want to specialise could opt for a three-year degree in Arts, Science or Commerce.
An additional year of schooling definitely contributed to the demand for university education in the 1980s and 1990s. The spiralling demand for university education and the shortage of seats has now led to several one percenters leaving right after school for distant shores to chase their dreams. Incidentally, the most qualified IIT, engineering and medical graduates that our country produced left for the more lucrative shores of the first and second world all through the 1980s and 1990s. The majority, who returned after an overseas education were those trained in liberal universities in ideas. Education at liberal, central universities provided sustenance to those committed to exponential, personal, intellectual, and national growth. These institutions of higher learning have played a pivotal role in the making of our nation.
Unable to accommodate large numbers and with no blueprint for the future, the Indian state has begun to attack the education system in its entirety. School systems came in for a drastic overhaul from the top. Class X exams were scrapped, teachers now fill forms monitoring and assessing students instead of teaching them and all public schools effect a shutdown for Class XII students in mid-October. Syllabi is finished ahead of time and mock exams are set in process. Concepts remain unclear and essay type and long answer questions which demonstrate comprehension and assimilation skills are discouraged by the public examination system. This is not a matter of concern for our swashbuckling Members of Parliament who have initiated these new reforms.
We were probably one of the few countries in the world which ensured a decent liberal university education to anyone who had completed 12 years of schooling. Circumventing this, our MPs and university administrators quickly set up an academic calendar, winding up the annual honours programme that was the backbone of the university and replaced it with an ill-planned semester programme that invited derision and despair.
The semester system, introduced a couple of years ago, is modelled on the American pattern. The ground reality is that students enrolled in an entire American university are less in number than the students admitted to a single college at Delhi University. The semester, ill-planned and executed badly is an unmitigated disaster. Ill-formulated courses remain unfinished as ill-equipped students race through exams. Realising this, university authorities have announced a four-year undergraduate programme, operational from July 2013 and have drafted a stealth force of 61 to oversee syllabi change that will impact the lives of lakhs of students annually.
University and college departments have no part in formulating courses. College teachers will now be muzzled pushers of pen and paper, teaching in byte size whatever the musclemen in university administration prescribe. India's young will have an additional year at the university thrust upon them and the costs on the exchequer will be severe. The only way to make this additional year viable is to move towards privatising of education, making it unaffordable for the many and crushing in its entirety the federal nature of the central university and its corpus of colleges.
Can we hope for great vision in such a coercive, restrictive and vitiated atmosphere? Can India dare to have universities where the sensibilities of its teachers and the future of its students are not factored into decision-making? The present university administration threw out A. K. Ramunujan's path-breaking essay "Three Hundred Ramayanas" from the university undergraduate system despite global anguish and outcry from academics. They refuse to involve teachers in the decision-making process and have rejected dialogue with the elected teacher representatives terming them as "illegal". Do they inspire our trust?
Syllabi need to be revised and updated. Well-lit classrooms, text books, writing material, good sports facilities, well-equipped libraries, laboratories and auditoriums need to be provided post haste at all levels. Non-performing teachers and employees need to be made accountable. The solution is not to unleash an unrelenting juggernaut upon unsuspecting teachers in schools and universities and pulverise every good unflinchingly. Prevalent cynicism that teachers are resistant to change because they do not teach and shirk work needs to recognise that non-performance is not a malaise restricted to the teaching institution. Human institutions survive because in spite of the deadwood and the rot, there are committed, hardworking, good people in every walk of life. They work/teach/make a difference and contribute to nation building. It is time that we, the people, took a more serious view of the cosmetic changes introduced through political mis-governance to precipitate the current crisis in education. It is time for the nation to debate on this.
— The writer is associate professor, English, at Sri Venkateswara College, Delhi University