If you are looking for an exciting, stable and secure career then check out the options offered by the Indian Railways
Having earned the sobriquet of the 'lifeline' of our country, the Indian Railways has crossed the labyrinths of time and space since 1853 to emerge not only as a major mode of transportation but also as an exciting career option.
Getting in
One can enter the Indian Railways at different touch points with qualifications ranging from Class X to B.E in varied operations. There is a bi-pronged gateway to the Indian Railway Service.
CareerCature
SANDEEP JOSHI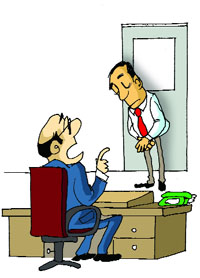 Why do you need a break, we are ready to pay for the treatment of your hypertension
Career Hotline
Counselling — a wise choice
Q. I want to be a family or marriage counsellor. Can you tell me something about this field? Does one need to pursue a specific course? — Avinash Kaur
A. A growing number of mental health professionals work in marriage and family counselling. Psychologists with a masters or higher degree in psychology /counselling evaluate and treat mental and emotional disorders, health and behavioural problems, and relationship issues-all within the context of the family.


Master the art of doing things well
@Each employee has an inner urge to do things well, but very few are ready to make an extra effort to achieve this goal. While being an absolute perfectionist always can be self-defeating challenge, the aim should be to put in your maximum and do the assigned tasks to the best of one's ability. Surprisingly, this is not an enormously difficult task. Here are some tips that can help in this endeavour:
Scholarship roundup
IIMSc offer
The National Board for Higher Mathematics (NBHM) is offering scholarships for pursuing PhD in mathematics at Institute of Mathematical Sciences (IMSc), Chennai, Harish-Chandra Research Institute (HRI), Allahabad and IISER, Pune.
testing times: board vs entrance exams
Balancing the scores
Preparing for the boards and the entrance exams simultaneously definitely needs a lot of planning and focus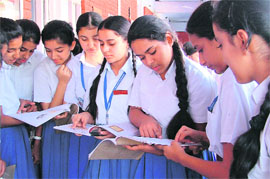 The question about how to handle the exam conflict is the most important for all Plus II students as they are in a dilemma whether to focus on boards or on entrance exams. This confusion not only leads to stress and lopsided preparation but in many cases also affects the final results. Now with a substantial weightage being given to the board exams, the earlier practice of concentrating solely on competitive exams is not going to be relevant any more.
trends: executive education in india
Teaching management to managers
Executive management education is becoming increasingly popular in India. Most prominent types of programmes are the one-year full-time residential, three-year part-time and virtual interactive learning based (popularly called the 'satellite') programmes. Executive doctoral programmes in management are also in vogue.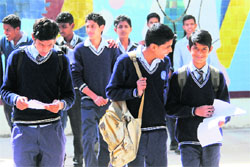 Tips to excel
Difference in pattern
Preparing for entrance exams needs a lot of dedication and planning. Here are some tips that can help students prepare methodically:
Difference in pattern
Even though the syllabus for entrance exams like IIT-JEE and AIEEE etc and all boards is the same, the difference is in the pattern in which questions are framed. While the questions in board exams are based more on theory and less on concept, those in entrance exams are meant to test more of the understanding of concepts. So if students work hard on their basics and conceptual approach then they will be able to solve the problems easily and also it will take less time to cover all the theoretical and derivation part.
Hall of fame
IIT, Ropar students win Infosys challenge IIT Ropar has bagged the top spot at the first edition of Infosys Hashers challenge, a unique programming contest to foster innovation and create a platform for collaboration with the future talent pool of the industry.
Course cruising
Fashion Marketing course UK based University of Southampton's Winchester School of Art (WSA) is inviting applications for its new undergraduate course BA (Hons) in Fashion Marketing. The Winchester School of Art was founded more than 140 years ago and today is a major international centre of excellence in art and design offering a unique range of disciplines across Art, Design, Media and Fashion.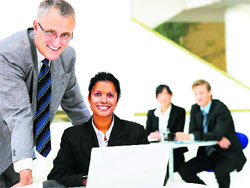 effective on boarding programmes
Smooth taxiing for great takeoff
Success in on-boarding programmes comes when each individual feels a connect with the organisation. Remember the feeling when you joined a firm and your first day or week? Did the experience leave a lasting impression? These first experiences pay off in referrals, retention, improved performance and above all in producing passionate employees who create value for customers and for the organisation.
Strategies that make good on boarding and integration
1Do not underestimate the importance: There is a direct correlation between a new employee who feels valued, welcomed and engaged and the length of his/her stay with the company. On the other hand, employees who believe they have been "abandoned" after being hired will have negative emotions about the company right from the beginning.
Happiness @ work
Gems of ancient wisdom
Silence isn't a sign of weakness
Bosses and colleagues often take willing workers for granted. Good workers' silence and efficiency are excuses for piling work on them. The mighty King Vishwamitra of Chedi, who had 100 brave sons and a huge, well-equipped army, wanted the Kamadhenu, the wish-fulfilling cow that sage Vashisht had, for himself. When the sage refused, Vishwamitra sent his sons and army to round up the cow — only to lose them all.