Green designs for your garden
An attractive garden in your house requires not just hours of hard work but also attention to detail. Get the right tools for a green makeover of your home
Shobita Shivshankar
Gardening is one of the most sublime pleasures of modern life. Besides being relaxing, it is also very therapeutic and is proven to be an effective stressbuster. The sheer expanse of the neatly manicured green carpet, peppered with resplendent flowerbeds and multi-hued pots and plants, is a delight to behold.
Though one of the greatest joys is to sit in the patch of green and enjoy the surroundings, gardening is hard work. A beautifully laid-out lawn requires loads of work, and even more imagination. A basic sense of design and landscaping is essential to make the garden appealing and attractive. Tending a garden requires hours of toil and perspiration. It is an unwritten law of nature that a good garden needs fine attention to detail. If you love nature, then, in spite of your busy schedule, you will have to find time to tend to the flowers, shrubs and bushes.
A garden also requires meticulous planning. You will have to determine the amount of sunlight that a garden will get in the daytime. That will determine the kind of plants that can be sown. You will need to determine the amount of soil and manure required. Once the basic plan is ready, you will need to go to a nursery and select plants for the sunny side and the shaded side of the garden. This is very necessary, otherwise you will not get a healthy growth.Also one requires the basic implements for gardening, which require some investment. A garden that appeals to the eye does not come cheap.
What you need
Here are 10 basic tools you require to tend to your greens:
Trowel: This is the first implement required for your garden. It is used for digging, planting and smoothing the garden earth.
Cultivator: A fork-like instrument, it is used to rake up soil during planting, and for the mixing of manure and fertilisers.
Weeding fork: A two or three-pronged spear-like implement used to get to the bottom of the toughest weeds and removing them.
Shovel: A broad-bladed metal with a wooden handle, the shovel is used for digging, cutting through soil and spreading mulch.
Pruning shears: These are scissors but with a lot more cutting power and are used for hacking hard and thick shrubs and branches.
Grass shears: Unlike pruning shears, grass shears have the handle at right angle to the blade to facilitate fine cutting of grass.
Garden hose: Required almost everyday, this is one of the most essential tools of the garden and is used to water the lawn and the plants.
Sprinkler: It is very necessary for a well-manicured lawn as it distributes the water evenly in every nook and corner of the garden.
Water mist sprays: Similar to a sprinkler, the water mist sprayer is highly effective in bathing leaves and flower beds.
Gardening gloves: An important part of the garden paraphernalia, gardening gloves protect hands from thorns and thistles.
Apart from these essential tools, there are many other implements that are put to use by serious gardeners. These can include rakes, spades, scuffles, bow saws, wheelbarrows, lawnmowers and plant sensors. However, for a home gardener, the 10 basic tools will more than suffice to bring up a well laid out patch of green. Most of these tools are easily available and any good nursery will have these.
The price, of course, will vary depending on the quality of tools you buy. It could range from a few hundred rupees to thousands, if you are purchasing branded tools. But experts say it is always a good idea to buy quality gardening implements as cheap ones not just tend to be less effective but can also result in nicks and cuts, which can put you off the pleasurable hobby.
Landscaping tools
Once the green carpet is laid and begins growing healthily, you must start concentrating on the landscaping. For this, you would require tools like shears, pruners, trimmers, sprinklers and other implements like a lawnmower, and even a hedge leveller, though it is best to get a professional to do the last two jobs.
Landscaping is not a difficult art. If you have the basic instruments, all you need is a creative bent of mind as a good-looking garden is nothing but imaginative arrangement of flowers, plants and trees. But you need to get down to gardening yourself and only then will the results be rewarding. You can take the help of a gardener but remember, it is your creativity and involvement which will bring joy and satisfaction.
Remember, a garden is a work of art and will bring you that special happiness and peace that only nature can provide. So go ahead, get your tools together and create a garden for your five senses.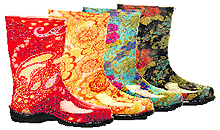 BOOT CAMP
While gardening, save yourself the discomfort of wet feet with Sloggers' high boots. Made of soft and flexible water-proof resilient resin, these are tough and longwearing. The material has a biocide that prevents odour and fungus. And best of all, these are easy to clean. Just hose 'em off!
Price: $40 around Rs 2,200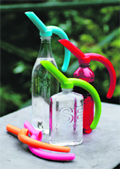 INSTANT BOTTLE SPRAYS
Chuck out those bulky watering cans and fix these specially designed screw-on spouts on used plastic bottles in your house and transform these into eco-friendly fun water sprays. The spouts created by Swiss designer Nicholas le Maigne are available in a choice of five funky colours.


Price: $15 per spout around Rs 825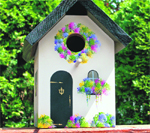 BIRD HOUSE
Birds will love your garden if you give them a place to stay. This beautiful bird house being offered on www.zansar.com is crafted from wood and metal with a sliding door at the back for easy cleaning. It has a country cottage look and is embellished with a sloping green roof and door and lots of flowers.
Price in india: Rs 2,154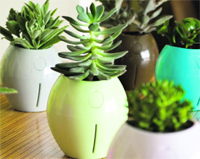 SELF-WATERING PLANTERS
This is an innovative and eco-friendly way of growing plants. Globar's self-watering planters hold a reservoir of water under the soil. As the soil dries out, it draws up water by the process of osmosis. These planters are ideal for cultivating house plants, flowers, herbs, orchids, and succulents.

Price: $25 per planter around Rs 1,375

LAWN WATER SPRINKLER
For a garden hobbyist, it is always a challenge to evenly water the lawn. The garden watering lawn irrigation water sprinkle does just that. Its rotating four arms guarantee that water is evenly distributed in the garden to maintain a healthy green patch. It also keeps down the amount of airborne dust.

Price: starts around Rs 500
GARDEN HOSE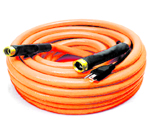 Garden hoses have their own problems as thesetwist and turn making the delivery of water erratic. That is why American company Dramm's hoses are among the best in the world. These neither twist nor kink, are hot- water proof and provide full flow of water without damaging the plant.
Price: $70 for 50-foot hose Rs 3,850

INNOVATIVE PLANTERS
Delhi-based Peekay Farm Equipments have launched a range of garden planters in attractive shapes and colours. The animal-shaped planters and pots are ideal to furnish your garden. These light-weight and water proof planters can also be used indoors to add a touch of green to the house.

Price: caterpillar planter Rs 1,300 dwarfs in fruit-shaped hats Rs 700 frog-shaped water can Rs 600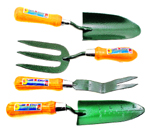 BASIC TOOLS
Whether you have a large lawn or a small one, you would need the basic tools of gardening required for digging, planting, and weeding. You would require implements like a hand trowel, a transplanting trowel, a cultivator, a weeding fork and a weeder — tools for efficient gardening.


Price: starts from Rs 1,500 for a set of four or five quality tools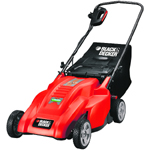 ELECTRIC LAWN MOWER
A perennial problem for those with a lawn is to find someone to mow it. You can do away with the hassle with the Black & Decker electric lawn mower which is quiet but powerful and easy to use. It has a single lever height adjustment system and a carry-handle for simpler storage.
Price: Rs 9,500
PROTECTIVE GLOVES

A good set of gloves will protect you from thorns and thistles that can sometimes make garden work a painful hobby. Buy a pair of gloves that are made with comfort in mind. The wrist should be elasticated to ensure a snug fit and completely resistant to thorn and thistle penetration.
Price: start from Rs 500
BABY CHERUBS BIRD BATH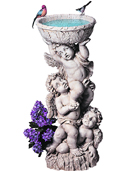 This is a classic bird bath for your garden. Re-sculpted from an Italian antique angel sculpture in the Baroque style, this trio of cherubs rises in three-dimensional, perfectly scaled unison to hold up a bird bath urn. The cherub statue is cast in resin and hand-painted for the final effect.


Price: $280 around Rs 15,400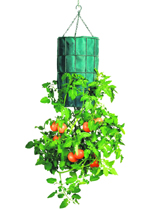 UPSIDE-DOWN PLANTER
With an increasing number of people taking up upside-down gardening, it is but natural for the upside down planters to arrive in the market. Go for the striking Gardener's Revolution Planter, which is a fun and easy way to grow tomatoes, peppers, cucumbers and other veggies up in the air.



Price: $15 around Rs 825
CREATING A GARDEN OF EDEN
Once the garden is blooming with greens and colourful plants, it is time to embellish and decorate it. This can, at once, be both an artistic and onerous task that will test your creative juices. Depending on the size of the garden, you will require chairs, tables, and even benches for people to appreciate the foliage. If space is not a problem, you can even consider installing a small fountain at a strategic place or a bird bath, or a bird house.

Furniture can be an important part of a garden. But make sure you select chairs or benches that are specifically made for gardens. Choose from a choice of garden and planter benches and you can have an easy chair to relax on. Even trellises and statues can look very attractive. Colours are important. Make sure your furniture matches the hues of your garden. Pots and planters are an essential part of the garden. Though earthen pots are eco-friendly, you can mix these up with a variety of planters made of ceramic, terracotta, marble, plastic, metal and other material.
These days, the planters come in many shapes and sizes and add beauty to the greens. You can also enhance the appeal of your garden by hanging containers and baskets, which visually lend an air of sophistication to the garden.
Another vital aspect of a garden is imaginative lighting. Subtle lights must be used to emphasise certain attractive areas. You can also make great use of a spotlight to highlight a nice bed of flowers. Floor lighting can look great along the garden pathway. Subdued warm lighting will lend a magical charm to the garden and give you and your family and guests hours of bliss and happiness.