M A I N N E W S
Cash transfer of subsidies in 51 districts begins on Jan 1
Scheme will be based on Aadhaar cards
PM to chair national panel meeting tomorrow
Tribune News Service
New Delhi, November 24
The government is going full throttle to implement the Aadhaar-based direct cash transfer scheme. This will be a landmark shift in the way government benefits and subsidies are distributed.
Prime Minister Manmohan Singh on Monday will chair a meeting of the national committee set up to implement this scheme, widely seen as UPA-IIís most ambitious scheme on the Ďaam aadmií theme. This will also be a trump card for the government in the 2014 General Election.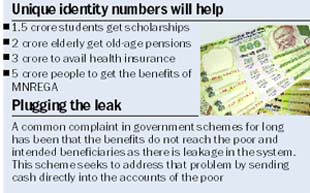 Essentially, the schemes seeks to leverage technology using the Aadhaar card and financial inclusion through bank accounts to ensure proper distribution of government funds to the targeted beneficiaries.
A common complaint in government schemes for long has been that the benefits do not reach the poor and intended beneficiaries as there is leakage in the system. This scheme seeks to address that problem by sending cash directly into the accounts of the poor. Also, it will bring in better targeting, reduce duplication and introduce institutional externalities.
The government has announced a timeline for rolling out the scheme in 51 districts by January 1, 18 states from April 1 and the rest of the country subsequently.
Following the directions of the Prime Minister, various government departments have been working furiously to give final touches to the shape and logistics of the rollout which is probably one of the most ambitious government programmes as it will cover crores of people.
Speaking at the launch of Aadhaar-enabled service delivery system in Dudu near Jaipur, the Prime Minister had said that the unique identity numbers would help 1.5 crore students get scholarships, 2 crore elderly get old-age pensions, 3 crore to avail health insurance and 5 crore people to get the benefits of MNREGA. As part of the roll-out plan, ministries have been asked to examine and prepare a list of schemes to be moved to direct cash transfers.
The list should be as exhaustive as possible and could include wage and honorarium payments. The Planning Commission has identified seven flagship programmes including pensions and 22 scholarship schemes given by nine departments excluding those relating to subsidies.
The contours of the roll-out being worked out by the Prime Ministerís Office lays stress on the Aadhaar platform and financial inclusion - the two pillars of the direct cash transfer system.
The system must synchronously enable all cash transfers to be done through an Aadhar-enabled platform so that there is no duplication of work. In addition, it is being ensured that there is inclusion of all possible avenues including post offices and sewa kendras.
The digitisation of databases of beneficiaries both at the state and Central level is critical for rolling out cash transfers. It has been estimated that the tipping point for rolling out Aadhaar-enabled cash transfers would be an Aadhaar penetration level of 80 per cent of beneficiaries.