Food talk

Quick-fix chicken
PUSHPESH Pant


To be honest, we were reminded of this 'lost friend' in bookshop when we chanced to look at the cover of a cookbook prominently displaying the title Fast Chicken. There was a time when we regularly relied on this faithful recipe when unexpected guests turned up or we were feeling lazier than usual to exert in the kitchen.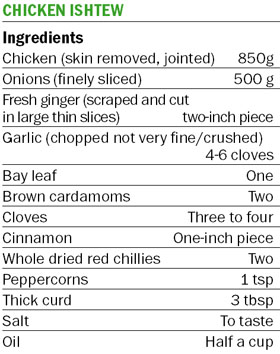 The 'quick fix' didn't mean that it lacked 'lip-smacking finger licking taste'. True, the dish isn't stunning to look at but who cared? True beauty dwells in the palate of the diner!
A lady friend insists on calling it do pyaza and another foodie guest recognizes this concoction as kate masala ka murgh, but the sublime version that is at times served in New Jawahar Hotel in the Jama Masjid area in the Capital is listed in the menu as ishtew and we are emboldened to stay with the masters.
If you are not content with the plain vanilla and wish to dress it up as a blue blooded delicacy all you have to do is to add a star anise flower in the beginning and a pinch of mace and green cardamom powders in the end, just before serving. And if you don't like the tinge of sweetness due to onions you can squeeze half a teaspoon of lemon juice.
Method
Trim, wash and pat dry the chicken. Heat oil in a thick-bottomed pan and when it reaches smoking point lower the heat to medium and put in the bay leaf and other whole spices. When these change colour, put in the onions, garlic, ginger along with the chicken and salt. Whisk the curd and pour on top, stir to mix well and cook covered for about 15 minutes. Then uncover and cook till excess water evaporates. This ishtew has very little sauce like gravy. Garnish with fresh coriander and green chillies. Those who prefer a 'spicier' dish can sprinkle a little aromatic garam masala after adjusting seasoning.