Bollywood Scales the Great Wall of China
Indian films have attracted more Chinese eyeballs than anything else. They have done in a couple of years what diplomacy has been unable to do in over five decades. Hindi-Chini bhai bhai is being said over films and peppy numbers
Narendra Kaushik
Kunming: When Eric Su (32) croons "Chaali aa thou chaali aa" from Aradhana with what you call, to borrow a term from John Keats' Ode to Nightingale, full-throated-ease, his singing evokes fun. He is quite aware that this is one of the best songs from Hindi cinema. Su knows more than many Indians about Bollywood. He has watched Lagaan, Ghajini, Dilwale Dulhaniya Le Jayenge, Chandni Chowk to China, Don, Robot, Slumdog Millionaire, 3 Idiots, My Name is Khan and several other Hindi movies — of course with English sub-titles — on the internet and in cinema halls.


---
Arts
Rock On!
When a corporate head honcho decides to break out of his trappings and resume his rock music, Vin Sinners, a hard rock band emerges
Deepa Ranade
Times are changing. Corporate CEOs are sporting long hair and rockers are opting for crew cuts. Well then, how does vice-president-cum-rocker Vinesh Nair manage his image? While he strikes financial deals as vice-president of the Global Marketing and Communications in formal shirts and short hair, as the evening draws, he transforms into Vin, the front man of Dubai-based metal rock band Vin Sinner in black leather and inked arms.
---
Sports
Age no bar
At 77, cricket coach Gurcharan Singh serves the game with the same verve and vitality as when he started at 17
M. S. Unnikrishnan
Seventy-seven years sit lightly on his slight shoulders, as he keeps a punishing schedule every day of the week — from 9 a.m to 7 p.m Eighteen years after he retired from the Sports Authority of India in New Delhi as the chief cricket coach, Gurcharan Singh is still as active as ever.
Mandeep Jangra, Senior National Boxing Champion in the light welterweight category, finds a role model in Akhil Kumar
A fistful of passion
Amit Khanna
People can go any lengths to follow their passion. Mandeep Jangra, current Senior National Boxing Champion in the light welterweight (64 kg) category, was one of those. He lied, concealed it from his parents and, at times, was severely reprimanded and even got beatings from his father.
---
Society
The proposal to convert R K Narayan's house into a state government-funded memorial has, unfortunately, got entangled in a controversy
No house for the Malgudi Man
Rajnish Wattas
About 10 years ago, I fulfilled my long-cherished desire to see R K Narayan's house in Mysore, where he had penned his endearing, tragic-comic tales and novels of Malgudi. The quaint, fictional town exists everywhere yet nowhere. With Narayan's magic the landmarks and landscapes of Mysore, visible from his Yadavgiri house then, transformed into Malgudi's skyline.
---
travel
On a tea trek
It drives Sri Lanka's GDP. It is an employment generator and brings the fringe benefits of fame — the eminence of the famous Ceylon Tea
Preeti Verma Lal
'Tea is liquid wisdom'. At 6,000-ft above sea level driving through a misty cloud forest and tidily terraced tea gardens in Haputale, Sri Lanka, an anonymous wit's repartee is the last temptation. Tea is all around. Not merely as liquid wisdom but as the sole reason for everything else to exist.
---
Entertainment
Cinema within cinema
Many a filmmaker has turned the spotlight on the lives of movie stars as well as themes concerning the film industry
Shoma A. Chatterji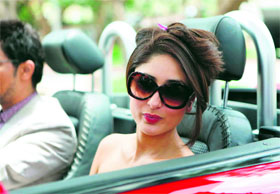 Madhur Bhandarkar's Heroine and Zoya Akhtar's Luck By Chance reveal Indian filmmakers' obsession to unfold some stories within the industry. The audience gets an insight into cinema as an art form, cinema as a mirror to society, cinema that reflects social concern and as a tool of expression for the filmmaker. Most filmmakers, wittingly or unwittingly, tend to make, at least, one self-reflexive film-within-a-film at some time or another.

Kareena Kapoor in Heroine.
The charismatic cartoonist-turned-politico, Balasaheb Thackeray, commanded a great influence over Bollywood
The allure of Thackeray
Deepa Ranade
His commanding persona, his flowing saffron robe, rudraksh beads entwined in his hands, shawl on his shoulders, his quick silver wit and sharp speeches made the charismatic Balasaheb Thackery not only Maharashtra's beloved leader but also a great muse for filmmakers.
---
Shoot a wow wedding film
Mriganka Dadwal
Read on to know the secrets of shooting a great wedding movie:
1Crisp is Cool: People insist on increasing the duration of shots in general and movie in particular. This only makes their movie look drab and never-ending. Trust your wedding film-maker when he/she tells you to keep it crisp. Anyway, you will not be watching those never-ending repetitive videos so why make them in first place?


---
LIFE's lessons
A gift of love!
"Can I see my baby?" the happy new mother asked. When the bundle was nestled in her arms and she moved the fold of cloth to look upon his tiny face, she gasped. The doctor turned quickly and looked out the tall hospital window. The baby had been born without ears.
---