Bollywood Scales the Great Wall of China
Indian films have attracted more Chinese eyeballs than anything else. They have done in a couple of years what diplomacy has been unable to do in over five decades. Hindi-Chini bhai bhai is being said over films and peppy numbers
Narendra Kaushik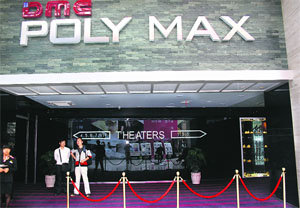 Kunming: When Eric Su (32) croons "Chaali aa thou chaali aa" from Aradhana with what you call, to borrow a term from John Keats' Ode to Nightingale, full-throated-ease, his singing evokes fun. He is quite aware that this is one of the best songs from Hindi cinema. Su knows more than many Indians about Bollywood. He has watched Lagaan, Ghajini, Dilwale Dulhaniya Le Jayenge, Chandni Chowk to China, Don, Robot, Slumdog Millionaire, 3 Idiots, My Name is Khan and several other Hindi movies — of course with English sub-titles — on the internet and in cinema halls.
Slumdog Millionaire and 3 Idiots were among the 22 films, Chinese cinema can import from outside every year. 3 Idiots was dubbed in Chinese and struck a chord with stressed-out Chinese university students with its promotion of innovations against rote learning in studies. Su is surprised when you tell him that you have not watched Slumdog Millionaire. He cannot pronounce Freida Pinto's name but finds her "dusky" sexuality searing. Su also liked the performance of Irrfan Khan, the actor with "big eyes". Su cannot phonate Lagaan but loved and remembers till date every twist of the epic cricket contest between British and Indian peasants led by "Amir Kan" took during the over three-hour-long drama. He cannot comprehend difference between "Kan" and Rajni "Kant," but loved the antics of South Indian superstar opposite Abhishek's wife Aishwarya in Robot. His favourites among Indian actors are Shahrukh Khan and Aamir Khan. He finds Aishwarya "incredibly beautiful but a little dark by Chinese standards." The Chinese, like Indians, appear to be enamoured with white skin.
Su, a professional in a South Asia-based think tank in Shanghai, the second largest city of China, is an unabashed admirer of Bollywood. He is not alone. There are many among the around 1.35 billion Chinese who like the song- and-dance routine of Indian cinema. They may not be bothered so much about the political turn of events in their South and West but every minor and major happening in Bollywood interests them. This gets reflected in the Chinese media.




Eric Su croons Hindi songs




A dancer in the Kunming Forest




Scott Liu is a Bollywood buff
CCTV News, a 24-hour-news channel (a rarity in China) of China Central Television, which mainly caters to international Chinese and the miniscule English-speaking population of China, makes no mention of India for several days till Bollywood filmmaker Yash Chopra (80) passes away. The Chinese female news anchor of the CCTV News devotes a few minutes of her bulletin to the King of Romance, talking about the filmmaker's lifespan, films and awards even as the channel screens clips from his various films, including the Shahrukh Khan-starrer Dilwale Dulhaniya Le Jayenge. China Central Television gets its dose of Bollywood content from India's Eros International.
It would not be an exaggeration to say that in last few years the Indian films have attracted more Chinese eyeballs than anything else. They have done in a couple of years what the Indian and Chinese diplomacy has failed to do in over five decades. It started with Slumdog Millionaire in March 2009. Though Danny Boyle's eight Oscar winner film was a Hollywood production, it told the story of a Mumbai street kid who finds himself one question away from winning the Indian version of Who Wants To Be A Millionaire. Its cast ensemble included Pinto, Irrfan Khan, Anil Kapoor and Dev Patel. Karan Johar's My Name is Khan built on the foundation laid by Slumdog Millionaire. Earlier this year when China Film Group's third release 3 Idiots raked in Rs 11 crore at the Chinese box office within two weeks of its release, Bollywood announced its transition from video-sharing websites like Douban and pirated DVD market to the big screen.
For the first time, a big Chinese star Tang Wei dubbed for the female lead of 3 Idiots i.e. Kareena Kapoor. 3 Idiots might give a leg up to Gold Struck, the first Indo-Chinese joint venture announced in 2010 in the wake of Chinese premier Wen Jiabao's visit to India. The film was expected to dispel prevalent stereotypes about the Indians and the Chinese in a humourous way but has seen no forward movement after its announcement. Eros International, which was supposed to have partnered Hong Su-based Light House Productions in distributing the film globally, seems to have put it in the cold storage. "I've never heard about it. Even our overseas managers do not remember anything about it," says Shalin Nair, Manager-PR with Eros, when he was asked about the status of the movie. Even a senior of Nair, Amita Naidu, had difficulty in remembering the name of the film. The film has obviously lived up to its last name and is struck.
Fortunately, Gold Struck has had no impact on collaboration between Chinese and Indian film makers on international scene. A proof of this is the canning of Life of Pi, a film adapted from Yann Martel's booker winner, where Ang Lee, an Oscar-winning film maker of Chinese origin, has directed Indian actors Irrfan Khan and Tabbu. Lee visited several temples and zoos in South India which find mention in Pi's journey before he shot the film.
This writer came across many in Kunming, the eternal spring city of Southern China in Yunnan province, who have seen Indian films, like to hum their romantic songs and dance on them. Luo Zhisipa, a "full-time English speaking" tourist guide at stone forest of Kunming even has several Shahrukh Khan songs on his mobile. "I am a big fan of Indian film songs," Zhisipa, who has adopted English name Scott for foreigners, says, playing one of the songs from Kabhie Khushi Kabhie Gham.
Chinese dance troupes which perform outside the stone forest, UNESCO-recognised heritage site near Kunming, and in motor boats in the big lake in the city love shaking legs to the beat of Hindi cinema. Their motley dresses and dance movements, which are a mix of Chinese, western and Indian, regale the holiday crowds.
This looks like the second birth of Indian cinema in China. Earlier Raj Kapoor's Awara, Shri 420 and other movies created a major fan following in Beijing as communist China and Soviet Union swayed to "Awara Hoon". Huan Xiangyang, a journalist with China Daily, is a living proof of the rediscovery of the Bollywood in China. Xiangyang (40 plus), who grew up on Raj Kapoor's movies, recently resumed watching Hindi cinema when he saw 3 Idiots.
Music the unifier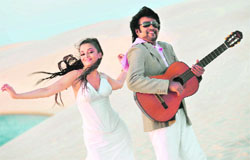 Eric Su and Scott Liu are not the only ones in China when it comes to crooning Indian songs. You can hear people sing them outside cinema halls, in discotheques, pubs and spas and even singing competitions like Super Idol, which are contested on Chinese entertainment channels. Since 2009, Bollywood music has made a comeback. Romantic and peppy lyrics and music of Roja, Dilwale Dulhaniya Le Jayenge, Rab Ne Bana Di Jodi, 3 Idiots and Lagaan have captured the imagination of young China. Youth stretch their vocal chords on "Haule haule ho jayega pyaar," "All Izz Well" and "Chinna Chinna Aasai" etc. A number of Hindi songs like the title song of "Mere Yaar Ki Shaadi" have been parodied in Chinese. Hindi songs were popular in China before 1962 but after the Indo-China war, Bollywood and its songs went on a sabbatical, only to return in 2009. Salim Merchant of Salim-Sulaiman fame, whose RNBDJ songs enthrall the Chinese says,"This is a very special time. It only shows music has no boundaries," he says. One of the songs, "Tujh mein Rab dikhta hai" made it to Super Idol 13 in 2009 when one of the participants, Lao Ping, chose it to exhibit his singing talent.
Sajid of Sajid-Wajid fame, who has scored music for Son of Sardar, claims people are in Chinese pubs are dancing to his song "Pon Pon" (albeit with Chinese lyrics). " Music has no bar, no language," he says. Last year, a Chinese girl took music maestro A R Rahman by surprise when she sang "Chinna Chinna Aasai" from Mani Ratnam's Roja (Tamil). A Chinese girl Emmy Karishma has uploaded her rendition of many Hindi songs on YouTube, including "Yaara Rab."


Enter The Dragon, Doing the Bhangra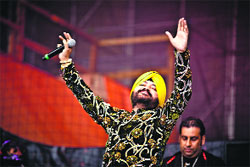 It all started almost a decade back when Punjabi music travelled abroad, with the internet fast catching up. It is hard to believe, but the Chinese eagerly follow peppy Punjabi numbers. In 2012, Daler Mehndi's song "Tunak tunak tun….", got 70 million hits on the internet, thanks to the Chinese! The Punjabi pop icon is all smiles. Daler, who performed a few years back in China during a concert, says that he was overwhelmed by how the Punjabi numbers were so popular in the land of the dragon. "I had heard their official language is Mandarin and only a few per cent speak English, but when I saw them dancing to my numbers and majority of them knowing the exact lyrics of my hit number "Tunak tunak tun", I was awestruck", says Daler. "One of my promoters recently told me how popular my songs were in China and every year, the demand for not only my music but Punjabi music is growing rapidly in China," he says. Daler recalls how the Chinese crowd started dancing to his popular numbers, demanding more. "It was amazing to see them all lost to Punjabi tunes and bhangra beats. When they demanded 'Tara rara..,' we were spell-bound. I took a one-minute water break. By then the crowd was singing the song and clapping to its beat", Mehndi said, adding that Punjabi music is popular across the world, with foreigners dancing to foot-tapping numbers.
Aman Sood