Sports

Mandeep Jangra, Senior National Boxing Champion in the light welterweight category, finds a role model in Akhil Kumar

A fistful of passion
Amit Khanna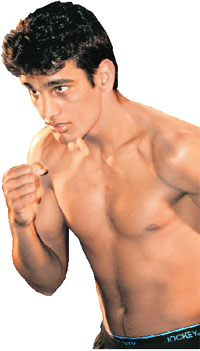 People can go any lengths to follow their passion. Mandeep Jangra, current Senior National Boxing Champion in the light welterweight (64 kg) category, was one of those. He lied, concealed it from his parents and, at times, was severely reprimanded and even got beatings from his father. Though good at studies, Jangra always knew his calling was somewhere else.
"As far as I can remember, it was always boxing which I really wanted to follow. My parents used to take it as an excuse for not studying and they wanted me to concentrate on my studies only. But the craze for the game got the better of me, I guess. I joined an academy without telling them. Only after I got a gold medal in the district-level championship in my school days, did they get to know about it," shares the 20-year-old, who hails from Haryana and represents the Railways.
It was a matter of luck when Mandeep met Akhil Kumar in Pune when he was just 12. "Akhil bhai was training at the Army Sports Institute then and I was with the Army's Boys Scout Company. It was like a dream come true and my fondness for the sport grew further Whatever I am today is all because of him."
"My father was a mason then and my family could not have afforded my following the sport. Akhil bhai took
care of all my training expenses and asked me to work hard. He told me that rest will be taken care of. I wanted to prove him right."
Mandeep did not let anybody down and went on to beat Delhi's Manish Pawar 11-3 in the final in the recently concluded National Boxing Championship at Hyderabad. "I had a wrist injury in my right hand and I almost played the whole tournament with one hand. I was so scared to tell Akhil bhai about the injury thinking he might take it as an excuse and scold me. But I just wanted to win," adds Mandeep who also works as a Travelling Ticket Examiner at the New Delhi station.
"Job security is something I always wanted to get out of my head. I am thankful to the authorities for giving me that. It helps me in supporting my family and I can concentrate on my goal fully. Besides I enjoy my work a lot."
A silver medallist in the last year's Nationals, Mandeep is currently a part of the National camp in Patiala. "I was the part of the National camp for a month earlier this year also. It was a great learning experience for me, sweating it out alongside all the great names in the game. I had learnt a lot from that experience. I will be putting in my best this time too and looking to learn the nuances of the game from the best in the business."
With the Commonwealth Championship and the SAF Games around the corner, the experience should stand him in good stead.
Weight is always a sensitive topic. "I was in the 69-kg category before, but now I have shifted to the 64 kg category. Though I feel it is easy to maintain an upper weight category than a lower one, but you cannot just change it every now and then. I intend to carry on in this category now."
Milestones
Participated in World Series of Boxing 2011-12 in Italy and Russia

Quarter-finalist in Senior Asian Boxing Championship 2010-11 in Korea

Silver medal in Senior National Boxing Championship 2011-12 in Chennai

Silver Medal in National Games 2010-11 in Jamshedpur

Silver Medal in All-India University 2010-11 in Udyapur

Gold in All-India University 2009-10 in Banaras

Participated in Junior World Championship 2009-10 in Armania

Best Boxer in Yuva Cup 2010-11 in Bombay

Participated in Youth National Championship 2010-11 in Visakhapatnam

Won gold in Delhi State Boxing championship 2011-12 in Delhi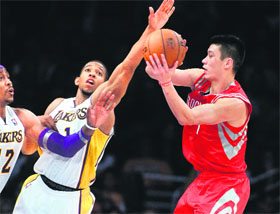 A different ballgame
The NBA regular season started on October 30, 2012, when the 2011–12 NBA Champions Miami Heat defeated the Boston Celtics 120-107. The regular season will end on April 17, 2013. For the first time since 2008, the NBA has not scheduled any Thanksgiving games. The NBA's annual Christmas games will feature, in chronological order, the Boston Celtics at the Brooklyn Nets, the New York Knicks at the Los Angeles Lakers, the Oklahoma City Thunder at the Miami Heat, the Houston Rockets at the Chicago Bulls, and the Denver Nuggets at the Los Angeles Clippers.

The picture shows Houston Rockets point guard Jeremy Lin (R) making a pass inside as Los Angeles Lakers centre Dwight Howard (L) and Lakers point guard Darius Morris (1) defend during the second half of their NBA basketball game in Los Angeles, California. Lakers won the game 119-108. Photo: Reuters/Alex Gallardo