Society

The proposal to convert R K Narayan's house into a state government-funded memorial has, unfortunately, got entangled in a controversy

No house for the Malgudi Man
Rajnish Wattas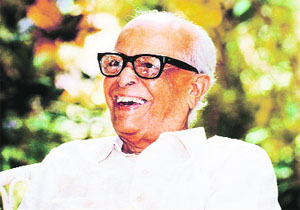 R.K. Narayan
About 10 years ago, I fulfilled my long-cherished desire to see R K Narayan's house in Mysore, where he had penned his endearing, tragic-comic tales and novels of Malgudi. The quaint, fictional town exists everywhere yet nowhere. With Narayan's magic the landmarks and landscapes of Mysore, visible from his Yadavgiri house then, transformed into Malgudi's skyline. "I had designed a small study — a bay-room with eight windows in the house affording me a view in every direction: The Chamundi Hill temple on the south, a variety of spires, turrets, and domes on the east, sheep and cows grazing in the meadows on all sides ... such perfection of surroundings, as I had already realised in my college days, was not conducive to study or writing," Narayan later recalled in his autobiography, My Days. He lived in the house till the early 1990s and then shifted to Chennai when his health began to fail to be with his daughter. Sadly, the story of this Malgudi home might soon come to an end. Along with its crumbling down rubble will bite dust as will some literary history of Mysore too.
Since Narayan's birth centenary celebrations in 2006, many proposals had been made to honour the famous resident of Mysore in some form or the other. A vigorous campaign by the popular blog Churumuri, supported by intellectuals, journalists and writers like Ramachandra Guha and N.Ram made two suggestions. One, to name a train between Bangalore and Mysore as Malgudi Express. This was approved by the Railway Ministry only in 2011. The other of converting Narayan's house into a state government-funded memorial, has unfortunately now got entangled in a controversy. Initially, the Karnataka Government agreed to this proposal and allocated an appropriate budget for it, but the Mysore Municipal Corporation has now suddenly stalled the project. The already damaged house is in a state of limbo.
The whole proposal is now mired in parochial, linguistic chauvinism. Surprisingly, some Kannada writers and activists have questioned Narayan's literary contributions and even his status as a Mysorean! On the other hand, Jnanpith awardees UR Ananthamurthy and Girish Karnad have strongly challenged this myopic view, and believe that in fact, through his writings, he opened the fascinating world of South-Indian ethos to the entire world to savour. "My Days is replete with mention of his daily walks and conversations in Mysore, and how these wanderings and encounters later became the basis for his sketches of astrologers, pickpockets, artisans, clerks and other such characters," write N. Ram and Susan Ram, Narayan's biographers.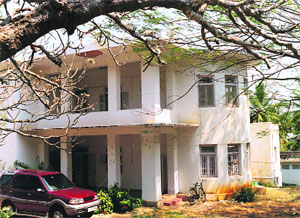 The writer's house in Mysore. He lived here till the early 1990s, before moving to Chennai Photo by the writer
Numerous world famous writers like Graham Greene, Sir V S Naipaul, Jhumpa Lahiri, Alexander McCall Smith and many others have the highest adulation for Narayan. In Pico Iyer's words he is, "engagingly amused and indulgent," towards his characters and "the typical hero is a luckless, but affable conman who inspires confidence and finally, to his surprise, deserves it." John Updike described Narayan as, "a writer immersed in his materials" and his town "as sharply chiselled as a temple frieze, and as endless, with always, more characters around the corner."
Speaking to Bhuvaneshwari (Minnie), R K Narayan's granddaughter, about the recent controversy, the pain and anguish of the reclusive and publicity-shunning family comes through intensely. "The old house was made in lime morta. Much that we cherished it, it had started crumbling with age and disuse. And if left in that state, would probably have come down. The only recourse for the family was to rebuild it with new materials and technology, so that we could use it," says Minnie. In any case, any decision about the future of the house ought to be the choice and will of the family only.
"However, if the government wishes to honour grandpa, we will give up that plan, let the government acquire the property, restore it sensitively, and turn it into a memorial whose concept and programme should be very sensitively and carefully conceived." The proposal by the Mysore University that intends to have a museum-cum-study
centre, abuzz with scholars and
academics to research, hold seminars and promote Narayan studies, sounds quite appropriate.
There are other concerns of Minnie as well, "Grandfather was a very simple man. He had very few possessions. There is also hardly any furniture,
artefacts or his belongings to display. For a museum it would be
necessary to obtain facsimiles of his original manuscripts from Boston University, to which they were given away long time back."
Given the global appeal of such a project, this should really be not a problem. Besides manuscripts-there can be the collection of his brother R K Laxman's brilliant illustrations of Malgudi on display too. And the archives of the famous TV serial Malgudi Days made by Anant Nag, that brought the heart-warming world of Swami and Friends come alive, could also be added.
R K Narayan, if alive today, would perhaps have been highly amused by such a proposition. "Grandfather never liked self-adulation. He did not like writers to be glorified. If he had been alive he would not think of a memorial," cautions Minnie. "And for us he was just a grandpa who told stories."
But such modesty and self-effacement is usually the mark of all great men — and therefore, makes for even a stronger case to commemorate his life and literature. Hopefully, Mysore will not say: "No Malgudi".