travel

On a tea trek

It drives Sri Lanka's GDP. It is an employment generator and brings the fringe benefits of fame — the eminence of the famous Ceylon Tea
Preeti Verma Lal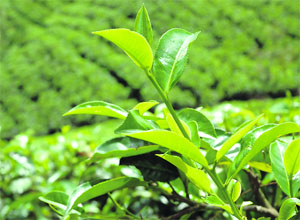 'Tea is liquid wisdom'. At 6,000-ft above sea level driving through a misty cloud forest and tidily terraced tea gardens in Haputale, Sri Lanka, an anonymous wit's repartee is the last temptation. Tea is all around. Not merely as liquid wisdom but as the sole reason for everything else to exist. The hills stand like sentinels, the air is laden with the whiff of tea and women pluck tea leaves so fastidiously that you'd think they are cats on helium. In Sri Lanka, tea is beyond liquid wisdom. It drives the nation's GDP. It is an employment generator. And it brings the fringe benefits of fame — the eminence of the famous Ceylon Tea.
That is how the Trekurious Tea Tour begins in Sri Lanka — in the cloud forest of Haputale. But who would have thought that the Sri Lankan tea tale will begin with blight. A blight in 1869 had wiped out entire coffee plantations in what was then known as Ceylon. Tea was not an option for planters. Cinchona was. However, in the Loolecondera coffee estate, James Taylor was brewing other plantation ideas. The seeds and tea plants were brought from the Botanical Garden in Kolkata and tea was first planted commercially in 1867. The blight sounded the death knell for coffee and out of the debris of dead coffee trees grew Lanka's most famous export: Tea. The first tea was shipped out five years later. The weight: two small packs weighing 23 pounds. The price: 58 rupees.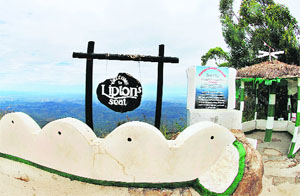 Sir Thomas Lipton's bungalow in Haputale, Sri Lanka.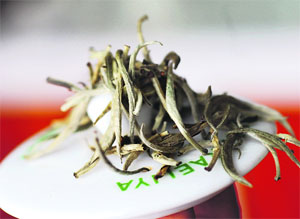 Lipton's Seat: This is where Sir Lipton sat and surveyed his tea estate.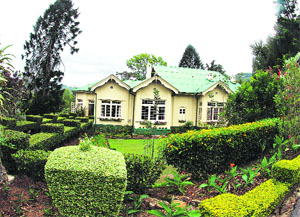 Different kinds of tea in Dambatenee Tea Factory established by Sir Thomas Lipton in 1890 Photos by the writer
Suddenly, tea became the Ceylonese flavour. The tea industry was flourishing, but it was still staid. It took the flamboyance of a British millionaire called Sir Thomas Lipton to add glamour to the tea party. And it was in the misty mountains and the terraced terrain of Haputale that Lipton stepped into one fateful day — he was on a ship to Australia, but hopped off in Sri Lanka, to rewrite the tea story. He bought estates, coined a new slogan: 'Straight from the garden into the tea pot', and laid the bricks for Dambatenne Tea Factory in 1890. He built a colonial bungalow and even found at 'seat' for himself at 6,000 ft, in what is now known as the 'Lipton's Seat'. Sitting under a canopy on the edge of a cliff, Lipton would survey his estate and boasted, "Everything that you can see from here is mine."
For years the doors to Lipton's bungalow were closed for public. It took the ingenuity of Rukmankan Sivaloganathan, CEO and co-founder of Trekurious, a high-end travel marketplace, to rejig Lipton's heritage into an experiential tea tour in Haputale. Beyond the neatly trimmed green shrubs lies the 100-year-old bungalow with slanted roofs and teak doors. Here, Sir Lipton not only mulled over marketing strategies to sell tea in 300 of his stores in England, he also entertained celebrities, including the grandmother of Camilla Parker Bowles, the Duchess of Cornwall. In the lawn, Sivaloganathan poured Freixenet Premium Cava, Elvis Presley piped in the backdrop and at the breakfast table stories about Sir Lipton were told and retold.
A not-so-long drive up the terraced terrain is Lipton's Seat, the tea planter's favourite spot, where he often sipped tea out of porcelain cups and surveyed his tea estates. A few miles away in the Dambatenne Tea Factory, you can see green tea leaves being withered, rolled, twisted, sieved, winnowed for that special Simondou Tea — the low plantations in Sabaragamuwa lending a darker shade and the high-grown tea in Dimbula and Uva acquiring an unusual mellow rosiness.
However, what's a tea tour without history thrown in. And the best place to gape at the beginnings of Sri Lankan tea is Ceylon Tea Museum in Kandy. There's a 100-year old Little Giant Tea Roller, a hand operated tea roller; Venetian Drier, the first tea drier ever made by W&J Jackson in 1880; the oldest known packet of Ceylon Tea, still in its original packing; and even a photograph of the world's largest tea bush.
As part of the Trekurious Tea Tour, one can pick up everything needed to know about tea, but, they say, the test lies in the taste. In the 200-year old Moorish mansion (now Casa Colombo), it is in the T-Republic that you can swirl the porcelain cup and sniff the blissful flavour of the sun-dried silver-tip tea, which sells for the price of gold. Slouched in a rattan chair, one can imagine the Sir Lipton with a bushy moustache, wearing a tuxedo rewriting the tea tale of a nation. In the tea nation, it is a thought worth sipping!
Fact file
Getting there: Sri Lankan Airlines has direct flights to Colombo from New Delhi and Mumbai. Haputale is a 4-hour drive from Colombo.
Trekurious tea tour: The tour can be booked online at www.trekurious.com. Cost $ 3000 per couple, includes meal, breakfast in Sir Lipton's bungalow; stay in Thotalagala bungalow, sight-seeing, tour of Dambatenne Tea factory, pick-up drop off from airport/railway station.
Other sites: The Ceylon Tea Museum is 3 km from the Kandy General Hospital.
Must try: In Colombo, the best tea can be had in Halediv Tea Club (in Old Dutch Hospital), T-Republic in Casa Colombo hotel, high tea in Galle Face Hotel.



Globetrotting
Hair raising:
Models present some interesting and innovative hairstyle creations by Kazakhstan's Art East salon during Kazakhstan Fashion Week held in Almaty recently. Photos: Reuters