Entertainment

Cinema within cinema

Many a filmmaker has turned the spotlight on the lives of movie stars as well as themes concerning the film industry
Shoma A. Chatterji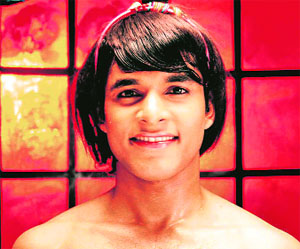 Sudipto Chatterjee's Pankh
Madhur Bhandarkar's Heroine and Zoya Akhtar's Luck By Chance reveal Indian filmmakers' obsession to unfold some stories within the industry. The audience gets an insight into cinema as an art form, cinema as a mirror to society, cinema that reflects social concern and as a tool of expression for the filmmaker. Most filmmakers, wittingly or unwittingly, tend to make, at least, one self-reflexive film-within-a-film at some time or another. Most Indian filmmakers use this self-reflexive style to explore the psyche of people involved in films, the jugglery that goes on, the stakes involved in changing lives and lifestyles, and more importantly, to involve the audience in this politics of representation. Heroine explores in flashback, the slow rise and fall of a famous Bollywood actress Mahi, who, like the late Rajesh Khanna, allowed herself to be swallowed by her own stardom.
Self-referential films offer different aspects of cinema such as filmmaking, (Kaagaz Ke Phool, Samar), movie stars (Sone Ki Chidiya, Rangeela, Akele Hum Akele Tum, Halla Bol, Bhumika, Billu, Heroine), institutions of the film industry (Zubeidaa, Guddi, Luck by Chance, Khoya Khoya Chand), movie theatres (Akele Hum Akele Tum, Traffic Signal), a film being shot on location or in the studios (Bade Miyan Chhote Miyan, Samar), the audience (Mast), one special film, (Darmiyaan, Guddi), etc. But unlike Kieslowski's Camera Buff, or Guru Dutt's Kaagaz ke Phool, for most filmmakers, a film-within-a-film is not autobiographical.
Cinema-within-cinema also draws the attention of the spectator to filmic codes, e.g. camera angle, montage, colour, music, sound, and so on. The presence of cinematic items, objects and other paraphernalia, such as the movie camera, boom, lights, make-up, costumes, make-up room, huge posters of films and filmstars, the back office of a studio classify a self-reflexive film into a special genre. This extends to characters munching popcorn and watching a movie in a darkened theatre in Farhan Akhtar's Dil Chahta Hai where Sonali Kulkarni and Saif Ali Khan go to watch a movie and transport themself into the song-dance number on screen. The director takes his audience down memory lane, with a quick flashback to the manner in which films picturised and choreographed song-dance scenes through the 1950s into contemporary times. Kalpana Lajmi plays a similar celluloid tribute to film song sequences of old times in Darmiyaan. The casting couch is often referred to in these films.
In RGV's Akele Hum Akele Tum, Aamir Khan and the child actor playing his son find a place in the projection room of the theatre where Manisha Koirala's first film is being premiered. The child yells out "dekho, mummy" with joy, but the mother (on screen) can neither see nor hear the response. The notorious practice of lifting tunes, or, buying off compositions from strugglers and passing them off as their own by famous music duos is parodied beautifully in the film. In Rab Ne Bana Di Jodi, the Sardar garage owner runs to fetch his mother, who is looking for "Raj Kapoor" for the past five years! Raj Kapoor used this strategy in Boot Polish. As the two kids in the film commute in a local train, the brother suddenly spots Raj Kapoor sleeping on one of the seats and shouts "Dekh, Raj Kapoor!" Dharmendra plays himself in Hrishikesh Mukherjee's Guddi to demolish the teenage Guddi's fascination for his star image.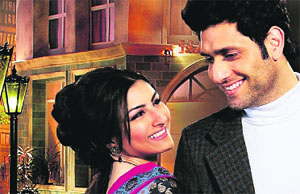 Soha Ali Khan and Shiney Ahuja in Khoya Khoya Chand
In Khoya Khoya Chand, Sudhir Mishra captures the behavioral pattern of stars, budding actors and filmmakers to perfection. The tantrum-throwing heroine or the finicky producer, who is a 'Yes Man' to the superstar or the heroine's mother and her companion, who live off the heroine's money are reflections of real life.
Guru Dutt's Kaagaz Ke Phool (1959) is, perhaps, the most telling among self-reflexive films made in India. It is a subtle tribute to the glorious days of the studio era, using its history from about the 1930s to the 1940s as its backdrop. An early shot in the film reveals Suresh leaning from the balcony of a cinema hall where Vidyapati (1937), an unforgettable musical romance, is playing to a full house. The films that Suresh is shown making or having made in the film are films that actually exist in the archives of Indian cinema.
Sudipto Chatterjee's Pankh (2010) was an incisive attack on over-ambitious mothers who push their children into films to play roles that go against their biological sex. The five-year-old boy forced to portray little girl's roles becomes Baby Kusum, a child star. But when he comes back 20 years later to try his luck as a hero, he fails. He is constantly dogged by his mother's vicarious obsession to make him a star, his hallucinations and conversations with an alter-ego, a fantasy woman and his conflict about his gender identity as a grown man. Said to have been based on the story of a child star, the film could have defined a new insight into the film industry. It did not because it was not publicised at all and was a badly made film.
Is this creative arrogance on overdrive? Or, is it an attempt to show the dark truths that lie behind the glitter and the gloss of stardom? Is it a sad pointer to the creative artist having run out of ideas? Or, is it a self-critique? Whatever the reasons, there are just too many films running the race to show off what they are really worth.