Entertainment

The charismatic cartoonist-turned-politico, Balasaheb Thackeray, commanded a great influence over Bollywood

The allure of Thackeray
Deepa Ranade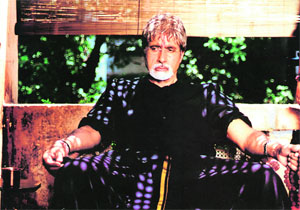 Amitabh Bachchan essayed Balasaheb's character in Sarkar and Sarkar Raj with the requisite aplomb
His commanding persona, his flowing saffron robe, rudraksh beads entwined in his hands, shawl on his shoulders, his quick silver wit and sharp speeches made the charismatic Balasaheb Thackery not only Maharashtra's beloved leader but also a great muse for filmmakers.
An accomplished cartoonist, Thackeray observed life closely and commented on it wittily. The versatile Thackeray enjoyed a game of cricket or a Bachchan film as much as his afternoon glass of beer and pipe. Well-informed on any topic under the sun, Saheb could hold court on any theme. With Lata Mangeshkar, he could speak with authority about music, Sachin Tendulkar about cricket and Michael Jackson about pop music! "He was simply mesmerising," observes veteran journalist Vinod Mirani.
Thackeray's earliest brush with Bollywood goes back to Guru Dutt's Mr & Mrs 55 in which Guru Dutt played a cartoonist. The scenes which showed a hand etching out cartoons was none other than Thackeray's! His younger brother and Raj Thackeray's father, Shrikant, started off as a film critic and produced Marathi films later.
"Balasaheb was a great authority on Hindi films," informs S. Ramanathan, veteran filmmaker, who's credited with hits like Bombay to Goa and Mahaan.
In 1969, when he launched anti-South India campaign, he also banned films made in the South from being released in Mumbai. The release of one such film, Do Kaliyan, was withheld by him for more than two weeks. "We came and met Saheb then. He gave us a fair settlement," acknowledges Ramanathan, the Chennai-based producer-director. Vyjayanthimala had even produced a Marathi film, Jhep (Flying) as an olive branch to Saheb then!
"His command over the film industry started from there. His corrective stance and then rewarding gestures endeared him to filmdom. From Dilip Kumar, Dev Anand, Manoj Kumar, Sunil Dutt, Amitabh Bachchan, Hema Malini to Salman Khan — all sought his counsel," observes senior film journalist and the co-author of a Marathi book on Shiv Sena.
In 1982, after the near-fatal accident while shooting Coolie, when an injured Amitabh Bachchan was brought to Mumbai, only Shiv Sena had the ambulance big enough to accommodate a six-footer. Bachchan has tweeted gratefully about this, "When I fought for my life after the Coolie accident, he came to visit me in hospital, with a cartoon he had drawn, "Yamraj defeated!" Yamraj — God of Death, defeated by me…wish I was as proficient a cartoonist as he, for tonight I would wish to draw that for him!" Also during the Bofors accusations, Saheb had sided with Bachchan.
Similarly, Sunil Dutt ran pillar to post to get son Sanjay out of the jail but he found support from nowhere. It was during the Shiv Sena regime that Sanjay was finally released from the jail. As an act of gratitude, Sanjay acted in his daughter-in-law Smita Thackeray's home production Haseena Maan Jayegi.
Slowly but firmly, Balasaheb established his quasi court in Bollywood. Fairly liberal in his thoughts, he decreed the Khalnayak song, "Choli ke pichche kya hai" wasn't vulgar or Manisha Koirala's Ek Chhoti Si Love Story wasn't against the Indian values or that Dev Anand's Dus Karod starring a Pakistani heroine may, only this once, be allowed to release.
Balasaheb's magnetism even drew the King of Pop, Michael Jackson, to his lair, besides Southern supernova Rajnikanth to him during the release of Robot. His sons Vinda and Jaidev turned producers with Agnisakshi and Sapoot. Balasaheb's colourful personality first appeared in Mani Ratnam's Bombay where Tinnu Anand played a character fashioned on him. Saheb was shown the film prior to the release and only after his approval did it make it to the theatres.
Ram Gopal Varma is so overwhelmed by him that he made two films — Sarkar and Sarkar Raj based on his life wherein Bachchan essayed Balasaheb's character with the requisite aplomb. Varma also included his look in his last release Department. Aptly known as the tiger to his fans and followers, Balasaheb, even Salman Khan will wholeheartedly agree, was the "Ekta (the only in Marathi) Tiger" of Mumbai.