M A I N N E W S
Sanjeev Bhatt's wife to take on Modi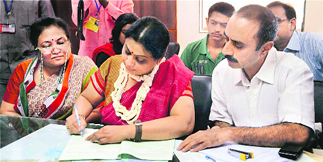 Shweta Bhatt, wife of Sanjeev Bhatt (R), files her papers as the Congress candidate from the Maninagar seat on Friday. — PTI

Ahmedabad, November 30
The war of attrition between Narendra Modi and Sanjeev Bhatt today shifted to the electoral arena with the Congress fielding the wife of suspended IPS officer Sanjeev Bhatt against the Gujarat Chief Minister.
The BJP said this has "exposed" the Congress as the "architect" of the "hate campaign" in the state.
The Congress nominated Shweta Bhatt, wife of Sanjeev Bhatt, who has taken on Modi accusing him of complicity in the post-Godhra riots in 2002, to contest the Maninagar seat of the Chief Minister. Both Modi and Bhatt today filed their papers before returning officer PK Jadeja. Friday was the last day of filing of nomination papers for the second phase of polls.
The BJP reacted sharply to Congress' decision to pit Shweta, a political greenhorn, against the party's potential prime ministerial candidate, with party spokesman Prakash Javadekar saying, "The Congress is exposed thoroughly today. Whatever Bhatt did in last 10 years, the whole architect, script writers and directors were the Congress. In the last 10 years, they carried out a hate campaign... They defamed Gujarat to the hilt. And Sanjiv Bhatt became a major pawn in the hands of Congress," he said.
Shweta told reporters after filing her papers: "I have chosen to fight because they have implicated my husband in a very bad way. My family and I are struggling to overcome it. Then I realised, it was not only my family but many other families who were struggling," Shweta, who accompanied by her husband led a march of her supporters from Mahatma Gandhi Ashram before filing her papers, said. — Agencies

BJP protests with EC against direct cash transfer scheme
New Delhi: The BJP today lodged a strong protest with the Election Commission against the UPA government's announcement of the direct cash transfer scheme ahead of assembly elections in Gujarat elections and sought its immediate withdrawal. A BJP delegation, led by senior leaderL K Advani, said the announcement was intended to influence the voters in Gujarat. The delegation included Leaders of the Opposition in the two Houses of Parliament Sushma Swaraj and Arun Jaitley.
The delegation also handed over a memorandum to Chief Election Commissioner V S Sampath for taking an appropriate decision in the matter. ''The Election Commission has assured us that all the issues raised by us will be taken care of before taking a proper decision in this regard," Advani told reporters after the meeting.