Sapna Aggarwal
Planning to deck up your daughter's room can be a daunting task, more so if she is a tween or a teen. There's a whole lot that she may want and anything against her wishes may not go down very well. Though individual choices do matter the most, there are certain "magical" elements that have a universal appeal with all little princesses. Here we have some ideas that can help you put together the right elements in her room.
Every little girl I know loves pretty colours. So for her room she'll cherish, select fabrics with flowers, trellises, cute animals, or butterflies. You might stencil flowers, vines, and butterflies on walls as a colourful accent, using paint colours matched to your fabric or wallpaper choices. Don't forget soft, airy curtains for the windows.
Ocean
If water and beach is her favourite theme then create an ocean theme using watery blues for the wall, sand colours on the floor, and clouds in the sky (ceiling). Take colour cues from a beachy border wallpaper, art print, or piece of furniture like a colourful stool. You'll almost be able to hear the waves!
Starry trends
Starlight is a great theme, and you'll find many fabrics, wallpapers, and bedsheets with star patterns. This theme appeals to both boys and girls, and is available in many colours both bright and pastel. You might get star-shaped rubber stamps (or sponges) and dip into wall paint to create your own star border, decorate furniture, or make random stars all over the walls or ceiling. A star quilt or rug will complete the theme.
Create a wonderful, soft look with the light of moon. The ceiling might be midnight blue, with painted moon and stars, or use some of the stick-on glow-in-the-dark stars. Embellish a colourful painted bookshelf with crisp white stars, or liven up a plain white chest with a rainbow of star shapes. Find a moon and star quilt or fabric to use for window treatments. Then add a moon cutout headboard.
Angels, fairies, and elves
This universal theme will be adored by girls of any age. Angel themes could use faux painted skies and clouds, fluffy canopy beds, and soft icy pinks, blues, and lavendars. Fairy shapes are appealing with transparent wings, sparkling wands, and silvery magic dust. Try to incorporate some sparkles with glittering accents, silver paint, and magical designs.
Flower power
Bright and bold oranges, sun yellows, lime greens, and watermelon pinks are the basis of this retro-60s look. Find colourful borders and fabrics featuring stylised simple flower shapes in hot colours, and match these with some plain fabrics for ruffles, valances, and window seat pillows. These flower shapes would be easy to enlarge on a copy machine and trace onto the walls in random patterns, then paint with wild colors matched to the fabrics.
Merry sunshine
Paint a mural of hills, with the sunrise peeking over the top. Use sunny yellow checked bedding and quilts, green rugs for grass, and paint the ceiling a soft sky blue. Waking up will be easy and fun using this summery look which is sure to please many a young child.
Cute cottage style
This is a great theme if your child will be using hand-me-down furniture for her room. Think lots of white and paint all the furniture for creating a cottage style room. Then use either light colours (pink, sky blue, pale green) or set the white off against bright clear colours like grass green or marine blue. You can also use fabric patterns such as tea-stained cotton florals, or use brighter florals, ginghams, or stripes.
Mary Engelbreit
You'll find lots of cute ideas for decorating a girl's room in the "Mary Engelbreit's Childrens Companion" book. Just find a photo you like and follow this whimsical artist's lead. Colourful walls, painted furniture, and stencil designs will give the room a smile. Then "don't look back," as Mary likes to say.
Cats, dogs, and more
Cats, dogs, horses, bunnies, or other darling animals may be the perfect choice for an up-to-date girl's room. Certainly your little one has a favorite, or make it a menagerie if she can't decide. Choose from colour themes in pastels, medium tones, brights, or primary colors, and use these happy designs on furniture, borders, and accessories.
Princesses and castles
Your princess can have a room befitting her high status if you use sheer fabrics and fanciful details. Embellish the walls with faux painted castle walls, murals, and blue skies for a truly memorable girl's room. Contrast the weighty look of faux stone walls with trails of stenciled ivy or flowers and swaths of pretty netting used as a bed canopy.
Tea party
Pretty hats can adorn a room with a tea party theme. She can arrange her toy pals in chairs around a tea table and play until supper time. Be sure to include a pretty tea set and other tea themed accessories throughout the room. Cheerio!
Sports
Young girls who avidly participate in any sport — whether it's riding, skating, softball, swimming, or soccer — can readily identify with this decorating theme. Wallies or a wallpaper border is a perfect place to start for a colour scheme and in a search for coordinating curtains and bedding. Look for innovative touches to support the theme and be sure to include display shelves to house awards, game photos, and medals.
Toiles
The toile look has made a huge comeback in recent years and can help create a more sophisticated look for an older girl. Find this timeless design in fabrics and wallpapers, in colours that range from blue, red, green, black, and beige patterns on a white background, to newer iterations that incorporate multi-colours such as yellow and blue on white or ivory.
— The writer is Creative Director Ansa Interiors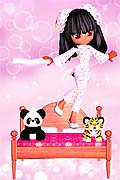 Storybook characters
Beatrix Potter's Peter Rabbit, the Little Mermaid, or Barbie might be the starting point for a wonderful theme room. Search the net for specialty character sheets and bedding, then take your colour cues from there. Frame book illustrations as wall art or use cutouts of book pages for decoupage on furniture.
Colour themes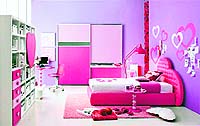 This theme is easy. Just pick the colour that your little one LOVES, and go with it — everywhere. Paint the walls in her favourite colour, then go for it in borders, fabrics, pillows, and accessories. Whether it is pink, purple, blue, or primary crayon colours, your little one is sure to feel right at home in a room done just for her.
Butterflies, bees, and dragonflies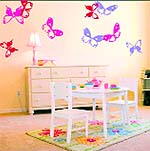 Anyone who has purchased gifts for girls in the past few years knows that butterflies are big! If your little one loves this look, there are many ways to incorporate it into a room. A mural of garden and butterflies is a natural, or go with a butterfly fabric for the comforter. Small painted designs can be added to chair backs, picture frames, headboards, and flit around a colourful chest-of-drawers as well. Use butterfly hair clips to perch on a lampshade, bulletin board, or along one edge of a curtain.