Sweet symphony
There's something definitely addictive about chocolates that gets people hooked and transforms them into chocoholics
Sonali Seth
Sensual, lascivious, molten, erotic, pleasurable, exquisite, sinful, decadent, what would you associate these words with? The answer is chocolate. Whether it is Valentine's Day, Christmas, Divali, an anniversary or any other happy occasion, there is just one preferred gift — chocolate.
Variously called the food of the gods and black gold, chocolates are available worldwide as bars, truffles, candies, cakes, creams, brownies and cookies in various shapes and sizes. These are used in innumerable concoctions and desserts, and can be had solid, liquid, granulated, powdered, hot or cold.
Chocolates are also associated with fantasies as these are reported to have aphrodisiac qualities. It is believed that Casanova, the Italian libertine, always ate a chocolate before his nocturnal adventures with high society women.
Remarkable journey
These have made a remarkable journey since these were first discovered in 1500 BC, by the Aztec Indians in South America. From Mexico to Spain, and then to the world, from being used primarily as liquid concoctions to the variety of bars available in most stores, chocolates can be found everywhere at a price to suit your pocket.
The love for chocolates is global. All over the world, chocolates have become a pleasurable gastronomical pursuit. It will be hard to find anyone who has not been infatuated with sweet and crunchy chocolates or the preparations made from them. Whether it is a cake or a mousse, a scone or a tart, chocolates have the quality of completely overwhelming the tastebuds and senses.
Besides the addiction, there is a certain romance associated with chocolates and this is because of their inherent ingredients. These contain mood-changing chemicals like phylethyalamine, amphetamine and anandamide, which make you feel euphoric. Chocolates also increase the levels of serotonin (another feel-good chemical) in the brain. It is no wonder, then, that chocolate is the first and automatic choice of the romantically inclined people.
Burgeoning demand
With the easy availability of global brands in India, the chocolate addiction seems to be catching on thick and fast. During the festive season, such is their demand that the neighbourhood halwai has already started feeling the pinch.
Not that the chocolates have edged out the traditional mithai but designer chocolates, in an array of shapes and flavours, are making inroads into the festive gifting territory so fast that many traditional sweets shops have also started retailing chocolates. That's because a box of chocolates, besides looking elegant, cost almost the same as sweetmeats, and it has a longer shelf life.
"The trend has been catching on for sometime," says a department store owner. "Even on traditional occasions like Raksha Bandhan, Bhai Duj, wedding-related functions, birthday gifting and success in examinations, people have started preferring presentation chocolates. The demand is growing every year."
Changing scenario
The Indian chocolate industry scenario is changing rapidly. Over the past decade, the size of the market has burgeoned from around Rs 350 crore annually in 2001 to an estimated Rs 2,200 crore. It is growing at a healthy rate of 18 per cent every year although sales go up by close to 40 per cent during the festive season.
Till about a couple of years ago, Cadbury's Dairy Milk and 5-Star led the charge with around 55 per cent of the market share while Nestle's Kit Kat, Munch, Bar One and Milky Bar had an estimate 28 per cent share with Amul cornering nine per cent, and the rest is shared by local chocolate manufacturers.
Dramatic changes
However, all this is poised to change dramatically. Seeing the market potential here, global leaders are moving in fast. With the easy availability of international brands like Ferraro Rocher, Toblerone, Galaxy, Guylian, Godiva, Lindt and more, an air of excitement and competitiveness has gripped the market.
Though most of these brands are being imported and sold in India, Ferraro Rocher has set up its own manufacturing facility in Baramati, near Pune, in Maharashtra.
In the second year of manufacturing, the company's turnover has crossed $170 million, indicating the rising demand for premium chocolates. In the last couple of years, global players have already started impacting the Rs 250-crore chocolate gifting market and the impact is prominent during festivals like Divali and Christmas and other occasions like weddings and birthdays.
Though the per capita consumption of chocolates by Indians is said to be a little more than 50 gm a year in comparison to around 10 kg in the West, the sweet temptation is catching on, and if industry green shoots are any indication, it is likely to grow into a full-blown obsession in the years to come.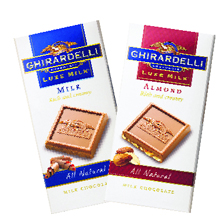 GHIRARDELLI — DELECTABLY LUSCIOUS
Not a common name in India but extremely popular in the West, the Ghirardelli products of milk, caramel, mint and dark chocolates are delectably luscious and many with real fruit. The American chocolate was made by chocolatier Domenico Ghirardelli more than 175 years ago.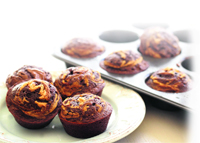 Price: pack of 263 gm ghirardelli chocolate squares Rs 1,060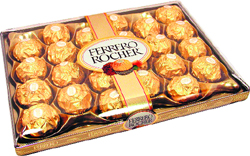 FERRERO ROCHER

FAVOURITE TREAT

It is a favourite chocolate treat for most Indian children. Ferrero Rocher, the spherical chocolate made by Italian chocolatier Ferraro Spa is individually packaged in a golden wrapper and has a crunchy wafer shell has a creamy chocolate filling and delicious hazelnut at the centre.

Price: box of 300 gm Rs 750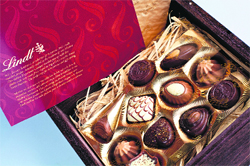 LINDT — PASSIONATE FOLLOWING
Arguably the best chocolates in the world, the Lindt & Sprungli Company of Switzerland has a passionate following spawning chocolate lovers' societies worldwide. Rudolphe Lindt is considered the father of the modern chocolate and Lindt chocolates are available around the globe.
Price: lindt milk chocolate Rs 255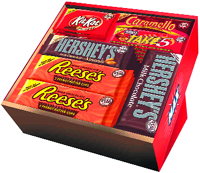 HERSHEY — UNIVERSAL FAVOURITE
The Hershey chocolates, which are today a universal favourite, are more than a century old and come from Pennsylvania in the US. These classic milk chocolates are widely used as an anytime snack by all age groups. The company is also known for its syrups, dessert toppings and milkshakes.
Price: 226 gm hershey's milk chocolate Rs 390
CALLEBAUT — EXQUISITE CHOCOLATES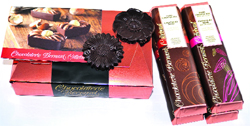 Barry Callebaut is one of the world's leading manufacturers of exquisite Callebaut chocolates. The present company is the result of a merger between the Belgian Callebaut and the French Cacao Barry. In 2005, it was honoured with the title of the "world's biggest chocolatier."
Price: box of 24 chocolates $25 Rs 1,375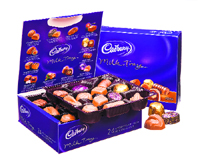 CADBURY — MARKET LEADER
The name is almost synonymous with chocolates. Cadbury has been a market leader in India over the past six decades and has a variety of chocolates and gift packs. Apart from the popular Dairy Milk and its variants, its other brands include 5-Star, Perk and Bournville.
Price: milk chocolate bar of 38 gm Rs 22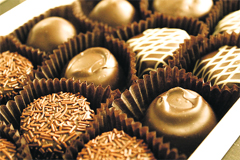 RUSSELL STOVER
Though not a well-known brand in India, the Russell Stover company is one of America's most favourites chocolates and handmade confections. The largest manufacturer of boxed chocolates in America, the company's unique selling point is chocolates with a personalised photo and message.
Price: $13 for a 680-gm assorted chocolate box Rs 715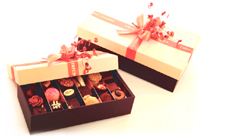 NEUHAUS — GOURMET CHOCOLATES
Another example of the fine Belgian gourmet chocolates, Neuhaus creations are the culmination of more than 150 years of the art of chocolate making. These creamy and smooth luxury chocolates are made using traditional techniques passed down the generations of the Neuhaus family.
Price: 20 piece box $35 Rs 1,925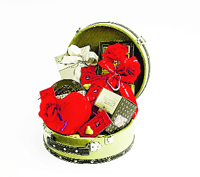 PATCHI — FESTIVE PACKS
Gaining in popularity for its gift packs, Patchi chocolates are becoming a leading premium brand. One of the few brands that do not originate from Europe or the US, these Lebanese chocolates come in ornately decorated packages, specially designed for festive occasions.
Price: starting from Rs 1,100