Larger-than-life frame

Showman, a title or a way of living — the man is every bit the word; completely bringing out the real meaning in his frames. Whether it is about giving the film industry a new face, literally every season, or creating music that is as big as the heroes or doing a peek-a-boo appearance in his films, Subash Ghai and his creations are every bit a showman's job! Dressed in black, looking intently at the audio visual that plays a bit of his upcoming project Kaanchi, snapshots of the success of Whistling Woods International and the successful years of his production house Mukta Arts, Subash Ghai feels he has just arrived and that means there is loads he has to do now. The showman spins his story.



LENS EYE: Subash Ghai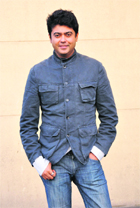 Spaced out
There have been no negotiations with space and volume, and they have maintained the delicate balance between rooted and futuristic. For Bobby Mukherji, the principal architect for the upcoming The Lalit Chandigarh, the all-pervading Le Corbusier's influence, in fact, made things easy. "The coffee shop at the hotel has a big background inspired by the façade of the Secretariat. Then there are the little elements here and there, which reflect his lifestyle. There's a piece of him in every room through his characteristic furniture."



Master Plan: Bobby Mukherji
Dream role
All her life, Annie Gill had dreamt of nothing but acting and she is living her dream now. Playing Rano on Sony channel's new show Anaamika, this girl from Punjab shares excerpts from her journey so far.
Social calling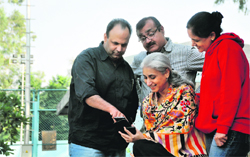 A genuine concern, a dream and a sincere wish to give back, all combined with a certain restlessness have contributed to the birth of the portal, LudhianaCares.com. The city, a burgeoning metropolis with the infrastructure trying to keep pace, naturally would have many concerns and what is beautiful is that the elite and the educated are applying their minds to it and taking many like-minded people into their fold.
Patrons of the website
the foodies
Factory-made delight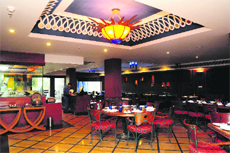 Infusing warmth into the winter evenings is the newly-opened The Great Kabab Factory (TGKF) in Sector 34. With a variety of kebabs, biryani and some of the restaurant's signature dishes, the delicate yet flavoursome kebabs lend a new meaning to the otherwise hot and spicy alternatives in the name of kebab. The restaurant is a franchisee of the Indian specialty restaurant of Radisson Blu Hotels India that specialses in kababs. It has a no-fuss interior with a hint of royal blue and ceramic tiles on the walls and wrought iron and wood furniture for that leisure eating.
TROUBLE SHOOTER
On the neutral ground
I get very angry and lose control at times. I am a 38-year-old farmer. My father also used to get very angry and among all us brothers and sisters he used to single me out and often beat me when I was a child. I was naughty but his beatings were quite harsh. I have been divorced twice and have problems with my current marriage too. I get angry over small things, that is what my family tells me, like if my wife does not keep the kitchen clean etc. I do want to control this. Can I do something?
first-day-first show
Full of suspense
When Aamir Khan comes back on silver screen after a long wait of three years, expectations are high. Reema Kagti's Talaash, a suspense thriller, has Aamir Khan, Rani Mukerji, Kareena Kapoor, Vivan Bhatena and Nawazuddin Siddiqui in lead roles. The film explores the underbelly of Mumbai in the backdrop of flesh trade. Here is how the audiences rate this film…
Exotic slice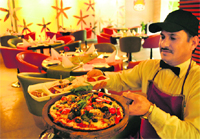 It's a yummy start to the winter…Hotel ShivalikView is all set to usher December in good cheer by organising a four-day pizza festival starting from today. A favourite place for mini-meals among the late diners, especially during wee hours, this Le Café is throwing open a gastronomic treat. The décor inside the coffee shop gels with the theme of the festival and has live music. The best, however, is that one can enjoy unlimited thin-crust gourmet pizzas by the slice and by the pie for Rs 150 per person (vegetarian) and Rs 175 per person (non-vegetarian).
Right cut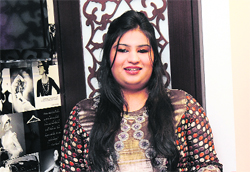 It's an attempt at adding to the city's already-crowded, ever-growing labels by offering couture, prêt and diffusion all under one roof. Anand Design Studio, Sector 7, brainchild of Damini Anand, promises vibrant styles, colours, fabrics…. replete with all the jargon of a design studio. She says, "The colours on offer by the label are enchanting. In my collection, I've used colours like bottle-green, deep-aqua, citrus-orange, muted-gold and frosted-blue."
Punjabi Tadka
Full of Masti
He has been singing for almost 16-17 years, but he is not in a hurry to cross any finish line. Punjabi singer and performer Ashok Masti mixes peppy beats and desi style, and is known for his electrifying masti type performances.
Smoking hot
In order to introduce something new to city palate, chefs at Hometel have brought delicacies from some 13 countries around the world. International Kebab Festival on at Terrace Grill has special smoky treats on offer.
High Spirits
Pine-berry sangria
Let's celebrate Sangria Festival this December.
star track
Bollywood stars seek Dalai Lama's blessings
Glam doll
Friendships gone Sour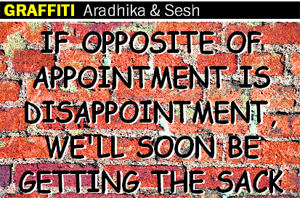 Irrfan Khan unplugged!
Getting intimate
Goodwill hunting
Age's just a number
A Christmas to remember
Paris in Goa!
Top of the line
Charity begins at Halloween!
Don't understand the fuss about Oscars: Mira Nair
Halle Berry selling Hollywood home
chatter box
Bebo returns with a bang
Shikha's in love!
Yeh Rishta takes a leap
Mummy's day out
Kaun Banega Crorepati completes 500 episodes!
Starry night