knowledge management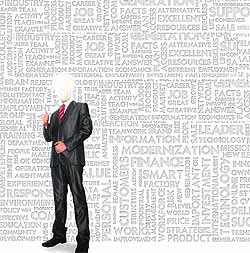 The new mantra of success
We are living in a knowledge-centric society where individuals as well as organisations have started to realise how important it is to 'know what they know' and make use of it for their benefit. The growth and evaluation of present day organisations is the direct outcome of their competence management i.e. continuously improving competence management is new learning and Knowledge Management (KM) is the process of new learning. But this is possible only if organisations make conscious efforts to remove the impediments to learning - the biggest being the inability to share knowledge and competencies.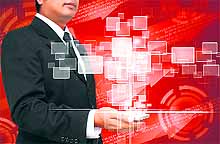 CEOs' Smart tactics
High-end smartphones are playing a major role in career management activities as more and more senior level professionals are using these to look for greener pastures. Job search and career management portal exclusively for senior professionals HeadHonchos.com has reported that share of traffic from mobile devices to its site has doubled in the past 12 months.
The right match
Employees need to find jobs that match their character in order to have fun at work, a new study has revealed. Researchers at the University of Zurich suggest that a job is particularly valued if it suits one's own signature strengths, including morally positive character traits like self-control, teamwork or kindness, Live Science reported. The study's authors, Claudia Harzer and Professor Willibald Ruch, said most people typically have between three and seven signature strengths.
Career Hotline
How can I become a curator?
Q. I'm an avid cricket fan but could not go in for the professional training to make it in this field. Please tell me something about cricket curator. What is the process of becoming one? — jaspreet ahluwalia

Can I submit TOEFL scores to study in UK?


How much experience is required for getting into an MBA course?


Suitable explanation
Salary hike to remain low in 2013
Employees across corporate India are expected to get a slightly lower average salary hike of 11 per cent in the current fiscal compared to 12-13 per cent last year as firms grapple with sluggish economic activity, experts have said.
field in focus: space science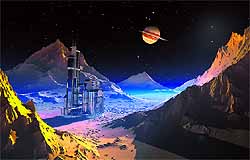 Step towards the final frontier
Are you looking for a career that brings about a marriage of job and adventure? One such field that has both these aspects is the space science. Besides space, the knowledge of space science is now also put to use in weather forecasting, locating mineral reserves, television broadcasting, telecommunications and other GPS systems with the help of satellites and other such space technologies.
food service management
Happy to serve
Food service managers oversee the day-to-day running of restaurants, bars and other establishments that prepare and serve meals and beverages to customers.
Pre-paid card for students applying to colleges abroad
Leading express logistics company, DHL will offer a specialised pre-paid card 'Express Easy Student' (EES) for students sending university application documents anywhere in the world.
CareerCature
sANDEEP jOSHI
Sir, please don't bother to hire anyone now. The board has already decided to fire you.

Happiness @ work
Gems of ancient wisdom
Give an occasional pep talk
Routine is boring. As work is a routine affair, it naturally becomes boring after a while. So it is vital that bosses should arrange a pep talk or self-improvement workshop to inject fresh life into juniors.
news board
ICSE students to get 30 minutes more for science papers
Students appearing for ICSE (Class X board exams) in 2014 will get half-an-hour more to write their science papers, the Council for Indian School Certificate Examinations (CISCE) has decided.